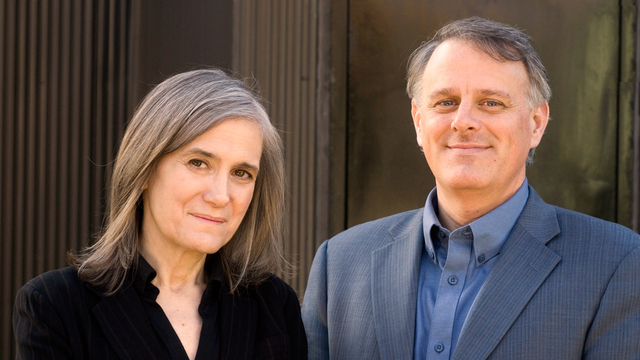 Media Options
By Amy Goodman with Denis Moynihan
"People say that Australia has given two people to the world," Julian Assange told me in London recently, "Rupert Murdoch and me." Assange, the founder of the whistle-blowing website WikiLeaks, was humbly dismissing my introduction of him, to a crowd of 1,800 at East London's Troxy theater, in which I suggested he had published perhaps more than anyone in the world. He said Murdoch took that publishing prize.
Two days later, the Milly Dowler phone hacking story exploded, and Murdoch would close one of the largest newspapers in the world, his News of the World, within a week.
On Tuesday, Murdoch claimed before the British House of Commons Select Committee on Culture, Media and Sport that it was his "most humble day." But what does it mean for a man with no humility to suffer his most humble day? The principal takeaway from the committee hearing must be, simply, that Rupert Murdoch is not responsible for the criminal activities under investigation, from police bribery to phone hacking. When asked if he was ultimately responsible, his answer was simple: "No." Who was? "The people I trusted to run it and maybe the people they trusted."
The monosyllabic denials stood in stark juxtaposition to his rhetorically nimble son, James Murdoch. Frequently reminding the committee that he was not present at News of the World during the dark days of hacking and bribing, James used more words to say essentially the same thing: I know nothing.
The performance, for now, seems to have worked. No, the buck doesn't stop with Rupert Murdoch, but the money sure rolls in nicely. News Corp.'s stock price inched up throughout the day. The Murdochs' apparent success in the hearing might be attributed to the stone-faced lawyer sitting directly behind James throughout: News Corp. Executive Vice President Joel Klein.
Klein is a new addition to the executive stable at Rupert Murdoch's media empire, hired, according to a News Corp. press release, as "a senior adviser to Mr. Murdoch on a wide range of initiatives, including developing business strategies for the emerging educational marketplace." Klein formerly was deputy White House counsel to President Bill Clinton.
More lately, and more likely germane to his hiring by Murdoch, was Klein's tenure as chancellor of New York City schools, the largest school system in the U.S., serving more than 1.1 million students in more than 1,600 schools. Klein, under Mayor Michael Bloomberg, undertook controversial restructuring of the school system. My colleague at the "Democracy Now!" news hour, Juan Gonzalez, who is a columnist at the New York Daily News (the main competitor to Murdoch's New York Post), consistently documented Klein's failures as chancellor, reporting on "countless parents and teachers who long ago grew weary of his autocratic and disrespectful style." Klein's attempt to shutter 19 schools in some of the city's poorest neighborhoods was reversed by the New York State Supreme Court. Claims of improved performance on standardized tests made under Klein's direction were shown to be based on inflated scores.
Less than two weeks after his hire was announced, News Corp. bought a privately held company, Wireless Generation. Murdoch said of the $360 million purchase, "When it comes to K through 12 education, we see a $500 billion sector in the U.S. alone."
Which is why one of the leading education tweeters, Leonie Haimson, a New York public-school parent and executive director of Class Size Matters, is concerned. She told me: "With all the allegations about phone hacking, etc., we really have concerns about the privacy of New York state students. And secondly, we don't want to open up the public coffers wide for the Murdoch companies to make money off of our kids."
New York City public schools have already granted the company a $2.7 million contract, and the New York State Education Department is close to granting Wireless Generation a $27 million no-bid contract.
News Corp. has announced the formation of a Management and Standards Committee that will answer directly to Klein. Klein, who sits on the News Corp. board of directors, will report to fellow board member and former fellow Justice Department attorney Viet Dinh. Dinh was assistant attorney general under George W. Bush and a principal author of the USA Patriot Act, the law that, among other things, prompted an unprecedented expansion of government eavesdropping. According to recent Securities and Exchange Commission filings, Dinh and other directors lined up on July 3 to sell off stock options, with Dinh netting about $25,000, just as the scandal broke.
News Corp. is far from a news corpse, though the term is sadly relevant, with the initial exposé of News of the World's grotesque hacking of murder victim Milly Dowler's voice mail, giving false hope to her family that she was alive. The FBI is now investigating whether Murdoch papers tried to profit from hacking into the voice mails of victims of the 9/11 attacks. U.S. journalists must now dig into News Corp.'s operations here, to expose not only potential criminality, but also the threat to democracy posed by unbridled media conglomerates like the Murdoch empire.
Amy Goodman is the host of "Democracy Now!," an independent, daily global TV/radio news hour airing on more than 950 stations in the United States and around the world. She is the author of "Breaking the Sound Barrier," recently released in paperback and now a New York Times best-seller.
© 2011 Amy Goodman
---