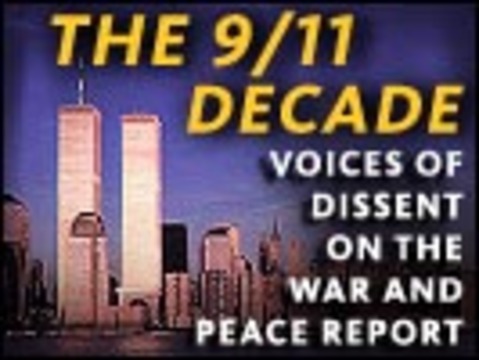 Media Options
Democracy Now! kicked off Pacifica Radio's 9/11 anniversary special on Sunday with an hour of voices from our coverage in the past decade.
The memorial broadcast began the way Sept. 11, 2001, began for many Pacifica listeners, with Amy Goodman reporting 'live' from New York, just a few blocks away from where the planes hit the World Trade Center towers. It also includes the voices of Democracy Now! producers Brad Simpson, Miranda Kennedy, and Anthony Sloan; Donald Rumsfeld; Chalmers Johnson; George W. Bush; Manning Marable; Christine Todd Whitman; unnamed rescue workers interviewed by Miranda Kennedy; rescue worker, Joe Picurro; Odetta; Rita Lasar and Masuda Sultan; Noam Chomsky; Terry Rockefeller (9/11 Families for Peaceful Tomorrows); Alex Ryabov (Iraq Veterans Against the War); Seymour Hersh; Yanar Mohammed; and Afghan activist, Rangina Hamidi.
Click the link below to listen to Democracy Now!'s special report for Pacifica Radio's 9/11 anniversary special.
---