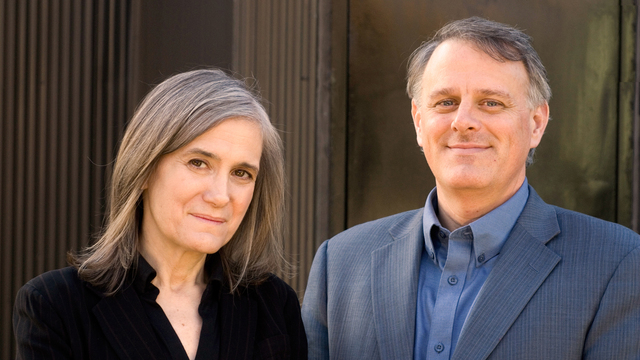 Media Options
By Amy Goodman and Denis Moynihan
"The Palestinian people want to be free of the occupation," award-winning Israeli journalist Gideon Levy summed up this week. It is that simple. This latest Israeli military assault on the people of Gaza is not an isolated event, but part of a 45-year occupation of the sliver of land wedged between Israel and the Mediterranean Sea, where 1.6 million people live under a brutal Israeli blockade that denies them most of the basic necessities of life. Without the unwavering bipartisan support of the United States for the Israeli military, the occupation of Palestine could not exist.
At the time of this writing, the overall Palestinian death toll of the seven-day assault, dubbed Operation Pillar of Cloud by the Israel Defense Forces, is more than 116, more than half of them civilians, including 27 children and 11 women. Hamas has fired hundreds of rockets from Gaza into Israel, which, to date, have killed three Israeli civilians.
President Barack Obama said on Sunday, "There is no country on earth that would tolerate missiles raining down on its citizens from outside its borders. So, we are fully supportive of Israel's right to defend itself from missiles landing on people's homes and workplaces and potentially killing civilians."
"No one questions that right," responds Richard Falk, the United Nations special rapporteur on human rights in the Palestinian territories, professor emeritus of international law at Princeton University and the author of more than 50 books on war, human rights and international law.
"The question is: When and how is it appropriate? Here, as before in 2008, when Israel launched a similar devastating attack on the population and people of Gaza, there were alternatives, and this kind of approach to security ends up with a new cycle of violence at higher levels of intensity. It's time for the international community to take some responsibility for protecting the people of Gaza."
Since 2000, according to an article from the British medical journal The Lancet, the Israeli military has killed more than 6,000 Palestinians. They are harassed at checkpoints, imprisoned arbitrarily, denied clean water and sanitation, and suffer from systemic malnutrition, all part of the illegal siege and blockade. World-renowned linguist and author Noam Chomsky recently visited Gaza, describing it as the world's largest open-air prison.
Amidst reports of an imminent ceasefire, I spoke with Dr. Mona El-Farra in Gaza. She is the health chair of the Palestinian Red Crescent Society of the Gaza Strip, which, as part of the International Federation of Red Cross and Red Crescent Societies, is protected under the Geneva Conventions. "Airplanes are still in the sky, drones are in the sky, and we can h ear intermittent shelling. People are tense, hoping for a cease-fire, but people don't want a cease-fire at any cost. We want guarantees from Israel that this will not happen again."
I asked her what it is like to endure an air raid: "Every other minute, directly in my area, the airplanes are there, and they hit within 100 meters of my building. You can overhear from the other areas, because it is very noisy, F-16s bombing with large explosions. The whole building shakes, and some of my windows have been shattered." Dr. El-Farra and her 20-year-old daughter hide under their table. She gets only a few minutes sleep at a time. "With every air raid, you can see the fire from my window, the fire and the smoke."
She also braves the open streets to attend to her responsibilities with the Red Crescent Society. They have set up phone banks to provide psychological counseling to Gazans who are dealing with death and injury, who are living under the stress of continuous air bombardment and the threat of imminent ground invasion. "We have terrified children in Gaza, children who do not have enough water, do not have enough food, no medicine … with all that, children have no safe place. There is no place safe in Gaza. I don't know what will happen next if this madness continues. In the last week, it has been like hell for us. It is ugly, it is horrible."
Jody Williams, winner of the 1997 Nobel Peace Prize for her work with the International Campaign to Ban Landmines and chair of the Nobel Women's Initiative told me, "It is very hard to think about Israel calling what it is doing defending itself when it is occupying Palestinian territory. It's collective punishment. We cannot support punishing an entire population because of the policies and attacks of Hamas. It's illegal."
The answer is simple, and increases the chances of security on all sides: End the occupation.
© 2012 Amy Goodman
---