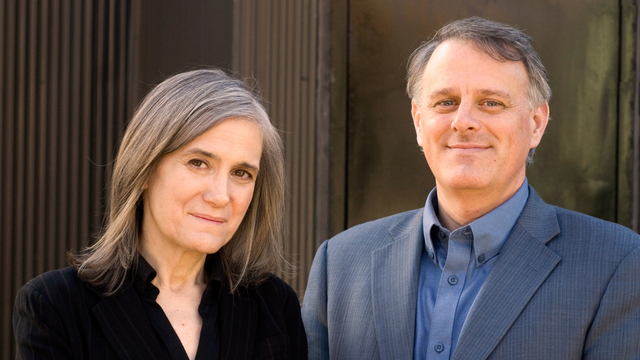 Media Options
By Amy Goodman with Denis Moynihan
Undocumented immigrants in the United States number around 12 million people, a group larger than the populations of most countries on the planet. Among those are as many as 800,000 young people who are now most likely eligible for limited legal status, thanks to executive action taken last week by President Barack Obama. In a Rose Garden speech, Obama said that he and Secretary of Homeland Security Janet Napolitano were working "to mend our nation's immigration policy, to make it more fair, more efficient and more just—specifically for certain young people sometimes called 'Dreamers.'" Behind the speech was a movement for social change, built by millions, each with their own story.
The "Dreamers" are those who are here without legal documentation, often derogatively referred to as "illegals," but who came to this country as children, in some cases as infants. As he said in his speech: "These are young people who study in our schools, they play in our neighborhoods, they're friends with our kids, they pledge allegiance to our flag. They are Americans in their heart, in their minds, in every single way but one: on paper." For 10 years, people have pushed for an act of Congress to give these young people legal status, through a bill called the DREAM Act, short for the Development, Relief and Education for Alien Minors Act.
People in the movement don't consider themselves "alien." They call themselves "undocumented Americans." One of those who stands to directly benefit from White House's decision is Lorella Praeli, from New Haven, Conn., a member of the United We Dream national coordinating committee. She fought for passage of the Connecticut version of the DREAM Act. The bill was signed into law last year, making undocumented students eligible for in-state tuition at state colleges. Praeli is a 2011 graduate of Quinnipiac University, which she attended on a scholarship.
"I had a car accident when I was 2 and a half, which resulted in the amputation of my right leg," she explained. "My family and I sought treatment at Shriners Hospital. So for many years, we spent time between Peru and Tampa, Fla., which is where the hospital is. When I was 10, my family decided to move to Connecticut. That's how I ended up here."
She went on, "I didn't know I was undocumented until toward the end of my high-school career, applying to colleges. … You need to fill out FAFSA [Free Application for Federal Student Aid], and you need a Social Security number. That was kind of my introduction to what being undocumented really meant and to start to internalize what it meant to be undocumented, feeling very isolated."
She was invited by the New Haven mayor's office to speak at a press conference. She recalled: "I didn't have anything prepared. I got up, and I said something like 'I am done standing on the sidelines.' And that was my coming out, very publicly. And that, I think, just changed my life for the better."
They call them "coming out" stories. Another young immigrant, Jose Antonio Vargas, said it was, for him, less daunting to come out as a gay teenager than to come out as an undocumented American. He came from the Philippines at the age of 12, to stay with his grandparents in California. He didn't learn that he was "illegal" until he applied for his driving permit at the age of 16. Vargas ultimately became a reporter at The Washington Post. There he was part of a team that won the Pulitzer Prize for reporting on the Virginia Tech massacre in 2007. By 2011, after hiding his immigration status for almost 15 years, Vargas "came out" in a New York Times Sunday Magazine article.
He explained what prompted his decision: "Watching United We Dream and watching these four activists from Miami, [who] walked from Miami to Washington, D.C., to fight for the DREAM Act, the Trail of Dreams. I felt like a coward, and I felt accountable. And that's when I decided that, you know what? I've got to go do this."
Movements — whether they are civil rights, gay rights or immigration rights — are built on a foundation of innumerable small acts of courage. Like the four undocumented students who marched from Miami to D.C., or those who sat in at four of Obama's campaign offices around the country, immediately before his announcement last week (risking arrest, and thus, potentially, deportation), these "Dreamers" are committed, and organizing. As the anthropologist Margaret Mead said: "Never doubt that a small group of thoughtful, committed people can change the world; indeed, it's the only thing that ever has."
Amy Goodman is the host of "Democracy Now!," a daily international TV/radio news hour airing on more than 1,000 stations in the U.S. and around the world. She is the author of "Breaking the Sound Barrier," recently released in paperback and now a New York Times best-seller.
© 2012 Amy Goodman
---