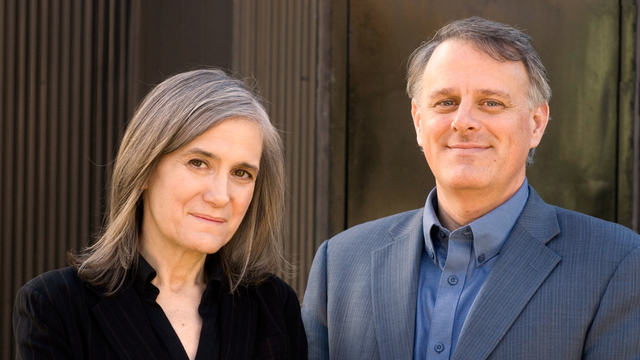 Media Options
By Amy Goodman with Denis Moynihan
Elsa Cruz filed a federal lawsuit in New York this week, months after police shot her husband dead. Last May, Cruz called 911 asking for help with her husband, Samuel. She feared he hadn't taken his medication while she was on vacation in her native country, the Philippines. Eight months, almost to the day, before Cruz was killed, not far away in Harlem, Hawa Bah called 911 to ask for medical help for her son, Mohamed. Rather than getting medical help, Mohamed Bah was confronted by the New York City Police Department. Within hours, he, too, was shot dead by police, hit eight times, once in the head. Mohamed's sister, Oumou Bah, is suing the City of New York and unnamed police officers. While neither lawsuit will bring back the dead, they may prevent future deaths by forcing the New Rochelle Police Department and the NYPD to adopt an increasingly mainstream police practice for dealing with emotionally distressed people, called "The Memphis Model."
In an exclusive interview Tuesday on the "Democracy Now!" news hour, I had the chance to interview Hawa Bah and Elsa Cruz. They were meeting each other in our studios for the first time.
Hawa Bah made annual visits to New York from the West African nation of Guinea to see her son, Mohamed. On her most recent visit, she was struck by Mohamed's deteriorating condition. He had lost weight and had a cut above his eye. He was acting erratically. She suspected he was depressed, and wanted him to go to the hospital. Unable to convince him to go, she sought advice from friends, who suggested she call 911. She told me, "When I saw the police car, I see him, I say, 'Hey, I don't call police. I call an ambulance.' He say, 'No, ma'am, don't worry. In New York here, when you call an ambulance, we will come first. We will look at the person and call an ambulance.' He said, 'Don't worry, he will be OK.'"
The NYPD never told Mohamed Bah that they were there at his mother's request. Hawa Bah told me, "He didn't tell Mohamed, 'Your mom say go to the hospital.' He just say, 'Mohamed, open the door. I came for you.'" She begged the police to let her talk to her son. Her attorney Randolph McLaughlin explained what happened next: "They broke the door down, tasered, beanbagged and shot him eight times. The last bullet went into his head and had stippling around the entry wound, which says that that shot, which probably took his life, was at close range."
On May 26, Samuel Cruz, like Mohamed Bah, was acting erratically. Elsa called 911. She recounted to me what she told the operator: "There's something wrong with my husband. He needs help. Can you please send us somebody to help me to assisting him to go to the hospital?" She said, "Your husband is harming anybody?" And I said, "No, ma'am, no. He's a very nice person. He never harm anybody. Could you please send us somebody, or whatever?" And then, "OK." The New Rochelle police arrived, dressed, as Elsa recalls, "for war." They forced their way into the apartment and shot her husband dead.
Both the NYPD, in Bah's case, and the New Rochelle police, in Cruz's case, claim that the distressed individual lunged at officers with a knife. As Bah and Cruz's other attorney, Mayo Bartlett, noted: "The thing that's striking in these cases is the fact that the police are not called in response to a crime. There's no rush. There's no need to take such immediate action."
This is where "The Memphis Model" comes in. Maj. Sam Cochran is a retired officer with the Memphis, Tenn., police. In 1987, police responded to a man who was harming himself, and threatening others, with a knife. The police killed the man. Community outcry prompted the mayor to call for a solution. They developed the Crisis Intervention Team. Sam Cochran explained to me, "It's a community program [with] three main partnerships: law enforcement, local mental-health services providers and also advocacy." CITs put a trained officer or mental-health professional on the scene, to de-escalate a situation. Since its inception in Memphis, it has been adopted in more than 2,500 communities in 40 states, as well as internationally.
The Cruz and Bah families are suing, demanding that the New Rochelle Police Department and the NYPD adopt CIT policies. As attorney Randolph McLaughlin summarized: "The police say the exact same thing in Bah and in Cruz: 'He came at us with a knife, and we killed him.' … What was their plan? Did they have a plan when they broke in the door? Why did they break in the door? Why didn't they slow things down? Why did they aggravate the situation? In fact, the officers in all of these cases have not been trained in crisis intervention. They've been trained in the use of force—deadly force. And if that's all the officer has at his disposal, he will use it."
Amy Goodman is the host of "Democracy Now!," a daily international TV/radio news hour airing on more than 1,000 stations in North America. She is the co-author of "The Silenced Majority," a New York Times best-seller.
© 2013 Amy Goodman
---