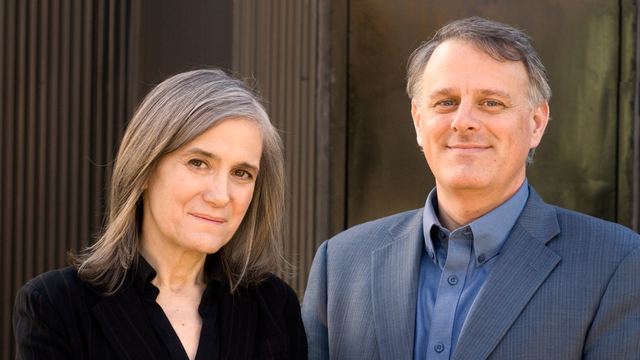 Media Options
By Amy Goodman and Denis Moynihan
As the clock counts down to the New Year and the world welcomes 2016, another clock will continue ticking, counting the days, hours, minutes and seconds since May 23, 2013, the day President Barack Obama promised to free all those prisoners at the U.S. base at Guantanamo Bay who have been cleared for release. That clock was created by independent journalist Andy Worthington, and is on the Internet at gtmoclock.com. Jan. 22, will mark the seventh anniversary of the day Obama signed Executive Order 13492, ordering the closure of the Guantanamo Bay prison within one year. As Obama's time in the White House winds down, the prospects of closing the notorious gulag grow bleaker. Currently there are 107 men imprisoned there, 48 of whom have been cleared for release for almost six years. While the Republican-led Congress has long thwarted efforts to close the island prison, Reuters recently reported that the Pentagon itself, which is supposed to be under the civilian control of Commander-in-Chief Obama, may be resisting the order to close Guantanamo.
Obama's executive order in 2009 created the Guantanamo Review Task Force, chaired by then Attorney General Eric Holder. It included representatives from the departments of Justice, Defense, State, Homeland Security, the Office of the Director of National Intelligence and the Joint Chiefs of Staff. All prisoners cleared for release have received unanimous consent from those authorities. While some of those prisoners have been released, it shocks the conscience to think that scores of men are suffering indefinite detention with no charges against them, many held for more than a decade.
Tariq Ba Odah is one of those men who was cleared for release. "He was assigned to Guantanamo in February of 2002. He's nearing the 14-year mark of indefinite detention, nearly nine years of that time on hunger strike and detained in solitary confinement," his attorney, Omar Farah of the Center for Constitutional Rights, told us on the Democracy Now! news hour. "The president has to insist that the Department of Defense and all other agencies fall in line behind what he says is his objective and ensure that Mr. Ba Odah is released immediately."
The hunger strike Farah described has reduced Tariq Ba Odah to a shadow of his former self. "I visited Mr. Ba Odah in March and April of this year and found him in utterly disastrous physical condition," Omar Farah said. "According to the government, not me, Mr. Ba Odah is just 74 and a half pounds, and that's 56 percent of his safe body weight." Ba Odah is forcibly fed twice daily through a nose tube. The force with which the U.S. military jailers insert the tube causes extreme pain, and has been deemed torture by the United Nations Human Rights Commission.
Tariq Ba Odah is from Yemen, but, because of the civil war there, the Obama administration will not release Yemenis directly to their home nation. Farah told us: "There is a foreign country, a third country, ready to accept him and help provide him medical care and rehabilitate him. This is a person who's desperately, desperately ill. And the last step of that negotiated release, it seems, is the simple task of forwarding his medical records." The Pentagon refuses to release his medical records, citing privacy rules. "That's a lie. And it's a bad lie," Farah told us. "I sat with Mr. Ba Odah while he provided his informed written consent to release his medical records to me as his counsel and also for the specific purpose of negotiating his release."
Reuters reporters Charles Levinson and David Rohde (the former New York Times reporter who was held captive by the Taliban in Afghanistan for seven months, until he escaped) cite Ba Odah's case in their latest article, writing, "Pentagon officials have been throwing up bureaucratic obstacles to thwart the president's plan to close Guantanamo."
While the Pentagon says it will release the first of 17 prisoners in January, you never know. However, what you can be sure of, like clockwork, peace activists from Witness Against Torture, wearing orange jumpsuits like the Guantanamo prisoners, will vigil as they do every Jan. 22 to mark the anniversary of Obama's executive order to close Guantanamo.
Last Thanksgiving, a delegation from Witness Against Torture went to Cuba, within view of the U.S. base, to hold a symbolic "Forced-Feeding, Not Feasting at Guantanamo." They described their action: "Twelve persons, all fasting for the day, sat at a table in front of empty plates to represent the terrible pain endured by hunger strikers, past and present, at Guantanamo. At the head of the table, one member dressed as a detained man sat in front of the terrible apparatus of forced feeding." They also wore orange jumpsuits, and each spoke about their reasons for coming. After each speaker, the group sang:
"Courage, Muslim brother
You do not walk alone
We will walk with you
And sing your spirit home."
---