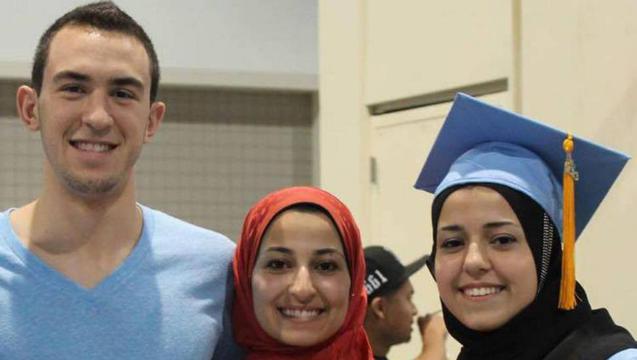 Three Muslim students have been shot dead in a possible hate crime at the University of North Carolina. The victims were killed Tuesday night when a gunman opened fire at a residential complex in Chapel Hill. They have been identified as 23-year-old Deah Barakat; his 21-year-old wife, Yusor Mohammad; and her sister, 19-year-old Razan Mohammad Abu-Salha. A suspect, Craig Stephen Hicks, has been arrested and charged with three counts of first-degree murder. Hicks had made online posts declaring himself a supporter of the group "Atheists for Equality."
While Chapel Hill police described the killing as a dispute about parking, the father of the women, Dr. Mohammad Abu-Salha, described it as a hate crime.
In an interview with the News & Observer he said: "It was execution style, a bullet in every head. This was not a dispute over a parking space; this was a hate crime. This man had picked on my daughter and her husband a couple of times before, and he talked with them with his gun in his belt. And they were uncomfortable with him, but they did not know he would go this far."
Dr. Abu-Salha said his daughter had described Hicks as "a hateful neighbor" just last week. "Honest to God, she said, 'He hates us for what we are and how we look,'" he said.
The hashtag #MuslimLivesMatter has spread across social media with Internet users criticizing what they call a lack of national media coverage of the shooting.
Tune in to Democracy Now! on Thursday for continued coverage of this story.
Recent Posts on Social Media About the Killings

Remember them like this. Barakat and Yusor had names, dreams and families. #MuslimLivesMatter #ChapelHillShooting pic.twitter.com/RVIumEMA1R

— MuhammadUsman™ |Gaza (@usmi_sargodhian) February 11, 2015
3 Muslim college kids in NC killed execution style. Deah Barakat, his wife Yusor Abu-Salha & her sis Razan Abu-Salha. pic.twitter.com/0W5HJgXec3

— Linda Sarsour (@lsarsour) February 11, 2015
This #ChapelHillShooting has cast a shadow over this beautiful city of mine. RIP Deah, Yusor and Razan pic.twitter.com/vM7c9GYaRi

— Adeyemi Adenola MD (@dradenolawhyte) February 11, 2015
Yusor Abu-Salha volunteered in the summer of 2014 to help Syrian Refugees in Turkey.Remember her like this الله يرحمك pic.twitter.com/p3CH0jHoIe

— MohaNNad أبو مازن (@TheMoeDee) February 11, 2015
---