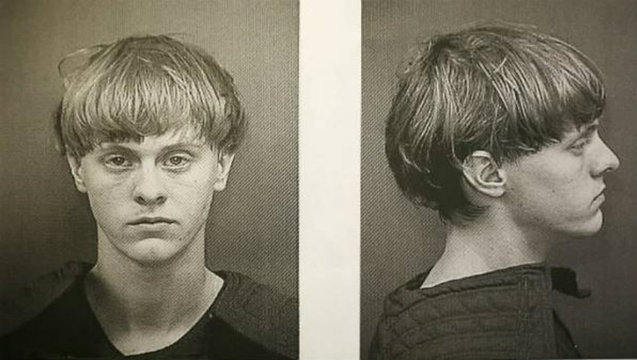 This is viewer supported news. Please do your part today.
Donate
Police have reportedly arrested the gunman who shot dead nine people attending Bible study at the Emanuel African Methodist Episcopal Church. Authorities identified the suspected gunman as 21-year-old Dylann Roof. The known victims include the church's pastor, the Rev. Clementa Pinckney, a state senator, and his sister.
On Friday's Democracy Now! we dedicated the hour to the Charleston shooting.
Below are updates from Twitter and around the web:
Son of #CharlestonShooting church victim says, 'We forgive the shooter': http://t.co/XEq9su2w5c pic.twitter.com/CQHsgDiUMw

— The Root (@TheRoot) June 19, 2015
Refusal to Call Charleston Shootings "Terrorism" Again Shows It's a Meaningless Propaganda Term http://t.co/XK3Z10SWKT by @ggreenwald

— The Intercept (the_intercept) <a href="https://twitter.com/the_intercept/status/611968812716572673">June 19, 2015</a></blockquote> <script async src="//platform.twitter.com/widgets.js" charset="utf-8"></script> <blockquote class="twitter-tweet" lang="en"><p lang="en" dir="ltr"><a href="https://twitter.com/hashtag/CharlestonShooting?src=hash">#CharlestonShooting</a> suspect reportedly confesses, says he wanted to start a race war: <a href="http://t.co/sC7J4EpFmg">http://t.co/sC7J4EpFmg</a> <a href="http://t.co/3uFBkMtGM1">pic.twitter.com/3uFBkMtGM1</a></p>&mdash; The Hill (thehill) June 19, 2015
Is nowhere safe for black Americans? A medidation from @JamilSmith: http://t.co/Si1I6koYaW pic.twitter.com/xzU91XfQQK

— The New Republic (@tnr) June 19, 2015
Watch ncnaacp</a> president Rev. Dr. Barber discuss <a href="https://twitter.com/hashtag/CharlestonShooting?src=hash">#CharlestonShooting</a> with <a href="https://twitter.com/AriMelber">AriMelber on @TheLastWord here: http://t.co/wt0Q0yF9u4

— NC NAACP (@ncnaacp) June 19, 2015
Let's call Charleston for what it is: Terrorism. http://t.co/qjj6G3iLO1 pic.twitter.com/YkRC0dFqgJ

— Mother Jones (@MotherJones) June 19, 2015
Obama on #CharlestonShooting: "This kind of mass violence does not happen in other advanced countries." http://t.co/uAbSmM8IIq

— Mother Jones (@MotherJones) June 18, 2015
Obama speaks on #CharlestonShooting: 'I've had to make statements like this too many times' http://t.co/Z5HoHD5hdN pic.twitter.com/mgenglI3Lb

— The Root (@TheRoot) June 18, 2015
.@POTUS references MLK in #CharlestonShooting comments: pic.twitter.com/h1gBmzG8Qb

— SPLC (@splcenter) June 18, 2015
A pastor, a track coach, a recent grad & a librarian. Here's what we know about the #CharlestonShooting victims http://t.co/m9VoEDmhc9

— Mashable (@mashable) June 18, 2015
UPDATE: Authorities say suspect in #CharlestonShooting was arrested during a traffic stop http://t.co/NddxtyAh9d pic.twitter.com/cPwQrK3JeU

— Newsweek (@Newsweek) June 18, 2015
Dylann Roof seen with 2 flags on his jacket — top is apartheid-era South African flag, bottom is Rhodesian flag. pic.twitter.com/0TsCKQWO6B

— CNN Breaking News (@cnnbrk) June 18, 2015
Attorney General Loretta Lynch on #CharlestonShooting: "This is an egregious crime" http://t.co/tg4wSrdFAg http://t.co/oRBB8Sa8zb

— CNN Politics (@CNNPolitics) June 18, 2015
The #CharlestonShooting was at #DenmarkVesey's church, during the anniversary of his rebellion. http://t.co/glq8daow0t

— War Resisters League (@resistwar) June 18, 2015
This photo is excruciating. #CharlestonShooting pic.twitter.com/WomxMbydyG

— Yamiche Alcindor (@Yamiche) June 18, 2015
Emanuel AME isn't just a church. It's a symbol of black resistance: http://t.co/6JslwUlYiV #CharlestonShooting pic.twitter.com/tOcnoIS8O3

— Slate (@Slate) June 18, 2015
A gun range ad was on the @postandcourier's front page just hours after #CharlestonShooting http://t.co/jvLVBydPYx pic.twitter.com/lX0gotlAx2

— Mashable (@mashable) June 18, 2015
---