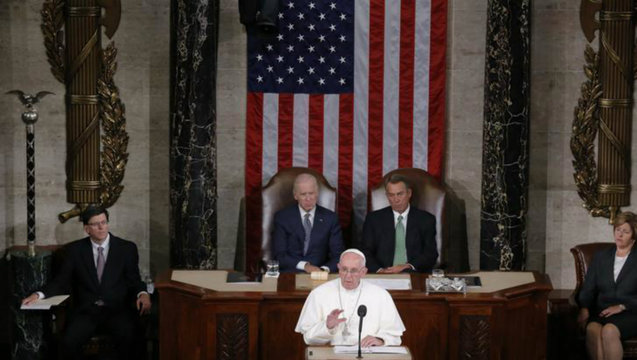 Pope Francis today became the first Pope to ever address a joint session of Congress. Below are some key passages from the Pope's speech.
On Four Great Americans
A nation can be considered great when it defends liberty as [Abraham] Lincoln did, when it fosters a culture which enables people to "dream" of full rights for all their brothers and sisters, as Martin Luther King sought to do; when it strives for justice and the cause of the oppressed, as Dorothy Day did by her tireless work, the fruit of a faith which becomes dialogue and sows peace in the contemplative style of Thomas Merton.
On Dorothy Day
In these times when social concerns are so important, I cannot fail to mention the Servant of God Dorothy Day, who founded the Catholic Worker Movement. Her social activism, her passion for justice and for the cause of the oppressed, were inspired by the Gospel, her faith, and the example of the saints.
On Refugees & Immigration
Our world is facing a refugee crisis of a magnitude not seen since the Second World War. This presents us with great challenges and many hard decisions. On this continent, too, thousands of persons are led to travel north in search of a better life for themselves and for their loved ones, in search of greater opportunities. Is this not what we want for our own children? We must not be taken aback by their numbers, but rather view them as persons, seeing their faces and listening to their stories, trying to respond as best we can to their situation. To respond in a way which is always humane, just and fraternal. We need to avoid a common temptation nowadays: to discard whatever proves troublesome. Let us remember the Golden Rule: "Do unto others as you would have them do unto you."
On the Arms Trade
Why are deadly weapons being sold to those who plan to inflict untold suffering on individuals and society? Sadly, the answer, as we all know, is simply for money: money that is drenched in blood, often innocent blood. In the face of this shameful and culpable silence, it is our duty to confront the problem and to stop the arms trade.
On Climate Change
In Laudato Si', I call for a courageous and responsible effort to "redirect our steps" and to avert the most serious effects of the environmental deterioration caused by human activity. I am convinced that we can make a difference and I have no doubt that the United States – and this Congress – have an important role to play. Now is the time for courageous actions and strategies, aimed at implementing a "culture of care" and "an integrated approach to combating poverty, restoring dignity to the excluded, and at the same time protecting nature."
On Finance Capital
If politics must truly be at the service of the human person, it follows that it cannot be a slave to the economy and finance. Politics is, instead, an expression of our compelling need to live as one, in order to build as one the greatest common good: that of a community which sacrifices particular interests in order to share, in justice and peace, its goods, its interests, its social life. I do not underestimate the difficulty that this involves, but I encourage you in this effort.
On The Death Penalty
The Golden Rule also reminds us of our responsibility to protect and defend human life at every stage of its development. This conviction has led me, from the beginning of my ministry, to advocate at different levels for the global abolition of the death penalty. I am convinced that this way is the best, since every life is sacred, every human person is endowed with an inalienable dignity, and society can only benefit from the rehabilitation of those convicted of crimes. Recently my brother bishops here in the United States renewed their call for the abolition of the death penalty. Not only do I support them, but I also offer encouragement to all those who are convinced that a just and necessary punishment must never exclude the dimension of hope and the goal of rehabilitation.
On Cuba
I would like to recognize the efforts made in recent months to help overcome historic differences linked to painful episodes of the past. It is my duty to build bridges and to help all men and women, in any way possible, to do the same. When countries which have been at odds resume the path of dialogue – a dialogue which may have been interrupted for the most legitimate of reasons – new opportunities open up for all. This has required, and requires, courage and daring, which is not the same as irresponsibility.
---