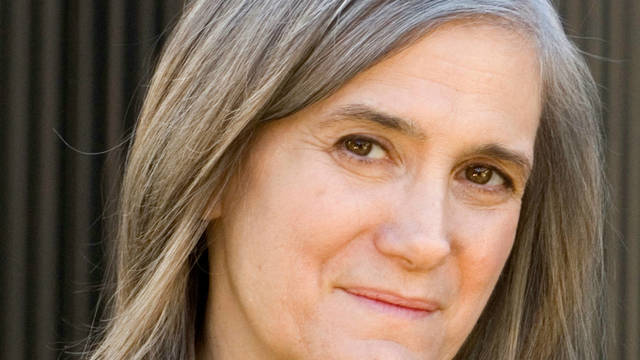 Bismarck, North Dakota–October 15, 2016 — A North Dakota state prosecutor has sought to charge award-winning journalist Amy Goodman with participating in a "riot" for filming an attack on Native American-led anti-pipeline protesters. The new charge comes after the prosecutor dropped criminal trespassing charges.
State's Attorney Ladd R. Erickson filed the new charges on Friday before District Judge John Grinsteiner who will decide on Monday (October 17) whether probable cause exists for the riot charge.
Goodman has travelled to North Dakota to face the charges and will appear at Morton County court on Monday at 1:30 p.m. local time (CDT) if the charges are approved.
"I came back to North Dakota to fight a trespass charge. They saw that they could never make that charge stick, so now they want to charge me with rioting," said Goodman. "I wasn't trespassing, I wasn't engaging in a riot, I was doing my job as a journalist by covering a violent attack on Native American protesters."
In an e-mail to Goodman's attorney Tom Dickson on October 12, State's Attorney Erickson admitted that there were "legal issues with proving the notice of trespassing requirements in the statute." In an earlier email on October 12, Erickson wrote that Goodman "was not acting as a journalist," despite that fact that the state's criminal complaint recognized that, "Amy Goodman can be seen on the video … interviewing protesters." In that email Erickson justified his quote in the Bismarck Tribune in which he had said that "She's [Amy Goodman] a protester, basically. Everything she reported on was from the position of justifying the protest actions." The First Amendment, of course, applies irrespective of the content of a reporter's story.
The charge in State of North Dakota v. Amy Goodman stems from Democracy Now!'s coverage of the protests against the Dakota Access pipeline. On Saturday, September 3, Democracy Now! filmed security guards working for the pipeline company attacking protesters. The report showed guards unleashing dogs and using pepper spray and featured people with bite injuries and a dog with blood dripping from its mouth and nose.
Democracy Now!'s report went viral online and was viewed more than 14 million times on Facebook and was rebroadcast on many outlets, including CBS, NBC, NPR, CNN, MSNBC and the Huffington Post.
On September 8, a criminal complaint and warrant was issued for Goodman's arrest on the trespassing charge.
"Filming Native Americans being violently attacked as they defend their land is not rioting, it's called journalism, it is protected by the First Amendment, and indeed, it is an essential function in a democratic society," said Professor Katherine Franke, chair of the board of the Center for Constitutional Rights.
The pipeline project has faced months of resistance from the Standing Rock Sioux tribe and members of over 100 other tribes from across the U.S., Canada and Latin America.
Goodman is the host and executive producer of Democracy Now!, a national, daily, independent, award-winning public television/radio news program that airs on over 1,400 stations worldwide. Goodman has co-authored six New York Times bestsellers and won many of journalism's highest awards in more than three-decades working as a reporter.
You can see Democracy Now!'s coverage of the pipeline and the protests here.
Press information:
Contact Denis Moynihan:
+1-646-217-7231
media@democracynow.org
or Reed Brody +1-917-388-6745
Court appearance by Amy Goodman,
1:30 p.m. CDT (anticipated) , Monday October 17 2016
Morton County Courthouse, 210 2nd Ave NW, Mandan ND
Press Statement by Amy Goodman in front of Morton County Courthouse,
Following her appearance in court.
Expected Time: 1:45 p.m. CDT, Monday October 17, 2016
Live camera positions with satellite uplink connection available onsite to interview Amy Goodman or for use by your correspondent, see below for details.
---