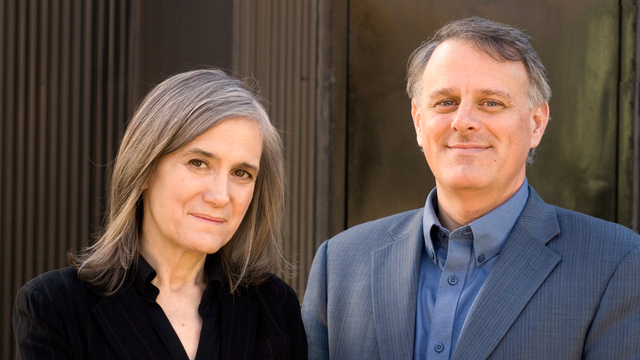 Media Options
By Amy Goodman & Denis Moynihan
Anne Frank would be 87 years old had she not perished in Bergen-Belsen, a Nazi concentration camp in Germany. What words of wisdom might she offer the Trump administration as it crafts its latest iteration of its Muslim and refugee ban? Anne Frank is known for her famous diary, written while she and her family hid from the Gestapo in a "secret annex" of a house in Amsterdam from 1942 to 1944. Long before the family went into hiding, Anne's father, Otto Frank, desperately sought visas to bring his family to the United States. Like tens of thousands of other European Jews at the time, they were repeatedly denied.
Anne Frank and her family were betrayed and sent to the concentration camps. Only her father, Otto Frank, survived. He went on to publish her writing as "The Diary of a Young Girl," which has entered the canon of resistance literature. It should be required reading as Donald Trump and his coterie of xenophobes attempt to ban Muslims and refugees from gaining the same safe haven that the Frank family was denied 75 years ago.
"Anne Frank was denied immigration at least twice. Otto Frank, her father, appealed to the Franklin Roosevelt administration, roughly between the periods of 1939 to 1941," Stephen Goldstein told us on the "Democracy Now!" news hour. He is the executive director of the Anne Frank Center for Mutual Respect. "Otto Frank … was able to get communications very high up in the Roosevelt administration, saying, 'Please, save my family. Save the Frank family.' It didn't work. FDR refused refugee Anne Frank."
This aspect of Anne Frank's story was unknown until papers were discovered decades later and made public in 2007. The 81 pages document Otto Frank's attempts to gain visas for his family for travel to the United States. Fanning flames of fear that Nazi Germany would be sending agents and saboteurs amidst the potential flood of refugees, anti-Semites in the State Department blocked as many refugees as they could, condemning tens of thousands to their deaths at the hands of the Nazis. "Whether this kind of evil prejudice against refugees was perpetrated by a Democrat like Franklin Roosevelt or a Republican like Donald Trump, it is an unconscionable blot on the American national conscience," Goldstein added. "That's why, in the name of Anne Frank, we have an obligation to stand with Muslim refugees and to stand with all refugees to help them come into this nation."
Since President Trump took office, there has been a surge in threats and attacks against both Jews and Muslims. At least 69 bomb threats have been directed at 54 Jewish Community Centers across the United States since the inauguration. On Wednesday morning, the Anti-Defamation League, which tracks these threats, received a bomb threat at its New York City offices. In University Hills, Missouri, just outside of St. Louis, more than 100 headstones at a Jewish cemetery were overturned.
As images of the anti-Semitic vandalism emerged, two Muslim activists—Linda Sarsour, co-chair of the Women's March on Washington, and Tarek El-Messidi—launched a crowdsourced campaign to raise funds to repair the damage. They hoped to raise $20,000. Within 24 hours, they had raised more than $90,000. "Any remaining funds after the cemetery is restored," they wrote, "will be allocated to repair any other vandalized Jewish centers." Two weeks earlier, on Saturday, Jan. 28, the Islamic Center in Victoria, Texas, was burnt to the ground. The local Jewish community gave the Muslim worshippers the keys to their synagogue, saying there was room for them all to pray there. An online campaign was launched to rebuild the mosque. Within weeks, more than $1.1 million was raised. Construction is already underway.
Jan. 27 was International Holocaust Remembrance Day. President Trump issued a statement that was widely criticized for failing to mention Jews at all. Then, at a press conference held with Israeli Prime Minister Benjamin Netanyahu, when asked by an Israeli reporter about the rise of anti-Semitism since his election, Trump responded by gloating about his election victory. When questioned several days later by a Hasidic Jewish reporter, again about the rise of anti-Semitism, Trump scolded the reporter, telling him to sit down, saying, "Quiet, quiet, quiet."
After widespread criticism over his failure to condemn the waves of bomb threats against Jewish Community Centers, President Trump finally called anti-Semitism "horrible" and "painful." Then Vice President Mike Pence visited the Missouri cemetery that had been vandalized.
---