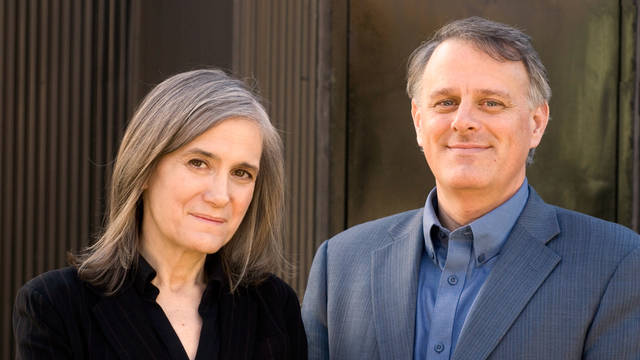 Media Options
By Amy Goodman & Denis Moynihan
President Donald Trump's alleged attempt to quash the FBI investigation into his former national security adviser, Lt. Gen. Michael Flynn, and his subsequent firing of FBI Director James Comey, has rightly inspired endless speculation in the mainstream media about whether he could be impeached. Certainly, the evidence presented by The New York Times, along with everything else that is already consuming Trump's first few months in office, warrants an independent investigation. Perhaps, as with the Watergate scandal that forced President Richard Nixon to resign in disgrace in 1974 to avoid impeachment and removal from office, the cover-up will end up being greater than the crime. But what if Donald Trump were actually held responsible for real crimes: killing civilians in drone strikes, forcing refugees to suffer or die by refusing asylum, or driving the planet headlong into climate change catastrophe? What if Donald Trump keeps his outrageous and inflammatory campaign pledges, many of which, if implemented, would amount to high crimes? Sadly, excessive and too-often lethal executive presidential power is now considered normal.
Within days of taking office, Donald Trump, over dinner with his son-in-law Jared Kushner and other associates, approved a SEAL Team 6 raid in Yemen. The raid cost Navy SEAL William "Ryan" Owens his life, as well as the loss of a U.S. military helicopter. But what about the civilian casualties? Despite Trump administration claims that the raid netted extensive intelligence, reports surfaced of at least 30 civilian deaths, including many children. According to Reuters, U.S. military officials said, "Trump approved his first covert counterterrorism operation without sufficient intelligence, ground support or adequate backup preparations." This was just one raid in Yemen, among thousands, in a devastating civil war exacerbated by U.S. arms and involvement, both direct and indirect. He is going to visit Saudi Arabia this week, the first foreign country he will visit as president. Donald Trump is the commander in chief, and his casual order over that dinner led to the violent death of tens of innocent people. Is that not a high crime?
Jump ahead to mid-April. The U.S. military dropped a bomb on an alleged ISIS target in Afghanistan, which wouldn't garner a line in the news these days, as the longest war in U.S. history drags on into its 17th year, with promises by Trump to expand it by sending thousands more troops. But this was no ordinary bomb. Trump dropped the MOAB—what the Pentagon has nicknamed "the Mother of All Bombs." The GBU-43/B Massive Ordnance Air Blast bomb is the largest non-nuclear bomb in the world. It has been in the U.S. arsenal since early in the Iraq War, but was never used–until Commander in Chief Donald J. Trump took office.
Dr. "Hakim," a medical doctor who has provided humanitarian relief in Afghanistan for more than a decade, reacted to the MOAB's first-ever deployment, on the "Democracy Now!" news hour. He works with Afghan Peace Volunteers, an interethnic group of young Afghans dedicated to building nonviolent alternatives to war. Speaking from Kabul, he kept his back turned to the camera, afraid that he would suffer retaliation if identified:
"I think it's an insult to nickname the bomb 'The Mother of All Bombs.' One of the Afghan Peace Volunteers, Ali, said: 'Would any mother do that to Mother Earth? Or would any mother do this to any children?' The effect is what the U.S. military or what militaries across the world want to inflict upon ordinary citizens, which is fear, panic, hunger, anger."
While the mainstream media have assumed a more oppositional tone since Trump took office, it gets in line when he engages in military action. Then, the media declare, Trump is acting "presidential."
The same New York Times article that alleged Trump interfered in the Flynn-Russia investigation contained another startling revelation: "Mr. Comey should consider putting reporters in prison for publishing classified information, according to one of Mr. Comey's associates," the Times reported. A free press is the bedrock of our democratic society. Trump also has promised to expand libel laws to make it easier to go after his critics.
Deputy Attorney General Rod Rosenstein has just appointed former FBI Director Robert Mueller III as special counsel to oversee the ongoing investigation of alleged Russian influence over the 2016 U.S. election. Mueller should pursue the facts vigorously, and make his findings public. But a complete inquiry into the crimes of Donald Trump must go much further.
---