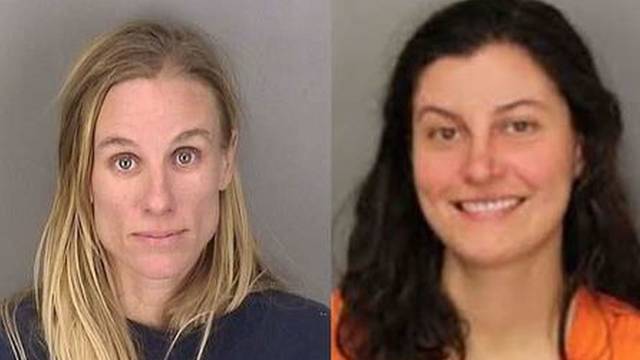 In Iowa, two Catholic Worker activists said Monday they had carried out multiple acts of sabotage aimed at stopping the construction of the $3.8 billion Dakota Access pipeline, which stretches from North Dakota through South Dakota, Iowa and into Illinois.
Jessica Reznicek and Ruby Montoya said that on Election Day last year, the two set fire to five pieces of heavy machinery being used to construct the pipeline. The two then taught themselves how to destroy empty pipeline valves, and moved up and down the pipeline's length, destroying the valves and delaying construction for weeks.
The two say they are claiming responsibility for the sabotage in order to inspire more to take action. This is Catholic Worker Jessica Reznicek.
Jessica Reznicek: "We are speaking publicly to empower others to act boldly, with purity of heart, to dismantle the infrastructures which deny us our rights to water, land and liberty. We, as civilians, have seen the repeated failures of the government, and it is our duty to act with responsibility and integrity, risking our own liberty for the sovereignty of us all."
Ruby Montoya: "Some may view these actions as violent, but be not mistaken. We acted from our hearts and never threatened human life nor personal property. What we did do was fight a private corporation that has run rampantly across our country seizing land and polluting our nation's water supply."
And that was Catholic Worker Ruby Montoya. The two were speaking in front of the Iowa Utilities Board office. After delivering their statement, the two used a hammer and a crowbar to damage the letters of the Iowa Utilities Board sign in protest of the board's decision Friday to reject a lawsuit by environmental groups seeking to have the pipeline's state permit revoked, which would have forced the pipeline to shut down. The two women were arrested Monday for damaging the sign, and are being held on $1,000 bond. Oil is now flowing through the Dakota Access pipeline after the project was greenlighted by President Trump, despite months of massive nationwide resistance against the pipeline, led by the Standing Rock Sioux of North Dakota.
---