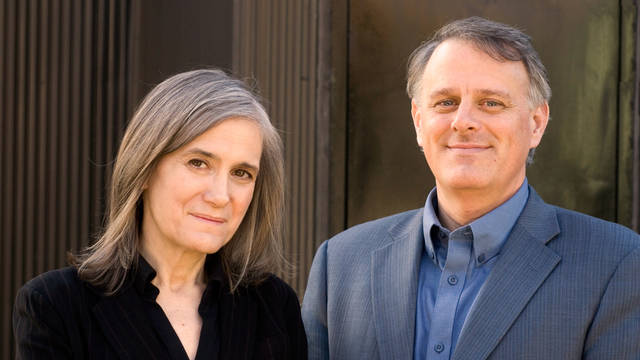 Media Options
By Amy Goodman and Denis Moynihan
The rolling resistance to the repeal of the Affordable Care Act (ACA), popularly known as Obamacare, is, literally, rolling. At the forefront of the protests against the various draconian repeal bills before the U.S. Senate are people in wheelchairs. Organized by the national nonprofit disability rights group ADAPT (Americans Disabled Attendant Programs Today), scores of disabled activists have been arrested on Capitol Hill and at senators' offices back in their home states, demanding no cuts to Medicaid.
"Kill the bill, don't kill us!" and "Shame, shame, shame!" were the chants that rained down from the Senate visitors' gallery onto the Senate floor, as Senate Majority Leader Mitch McConnell called for the first vote in the Senate's process to repeal the ACA. Two Republicans, both women—Susan Collins of Maine and Lisa Murkowski of Alaska—joined every Democrat and the two independents in the Senate, in voting against opening debate. Vice President Mike Pence was forced to make a rare tiebreaking vote, passing the measure 51-50.
Thirty-one protesters in the gallery were arrested, while 64 more, many in wheelchairs, were arrested in the atrium of the Hart Senate Office Building. These are just the latest in a relentless series of nonviolent actions opposing ACA repeal.
Stephanie Woodward, an ADAPT attorney who uses a wheelchair herself, joined a group of close to 60 people at McConnell's D.C. office on June 28. "We staged a die-in to demonstrate that people with disabilities will die with these proposed cuts of over $800 billion to Medicaid. We're not just going to sit around and be quiet when you're proposing to kill us," Woodward told us on the "Democracy Now!" news hour shortly after her arrest. "We engage in civil disobedience after every other step doesn't work. We do meetings. We do advocacy in what people view as the polite way. When that doesn't work, we do civil disobedience to prove that we will fight for our rights."
Another ADAPT group in Denver (where ADAPT was founded in the 1970s) occupied the offices of Republican Sen. Cory Gardner. They spent two nights in Gardner's offices. Staffers literally turned up the heat, attempting to force the disabled protesters to flee the sweltering office. They refused, and were eventually hauled off by Denver police.
Medicaid is a significant part of the U.S. health care system. It was created at the same time as Medicare, signed into law by President Lyndon Johnson in 1965. It has changed, and grown, over its more than half-century in existence. Medicaid provides insurance coverage to the poor and disabled. According to a recent analysis by the Congressional Research Service, Medicaid pays for 15 percent of all health care in the United States, including half of all births, 40 percent of children's health care and two-thirds of all Americans living in nursing homes. It also covers almost half of all long-term services and supports (LTSS). The LTSS program provides critical, daily support for people living with disabilities. Without that, many would be unable to work, function, and some would literally die.
As a candidate, Donald Trump repeatedly pledged not to touch Medicare, Medicaid or Social Security. Republican Speaker of the House Paul Ryan, however, has long promised just the opposite. Ryan recently told National Review editor Rich Lowry, referring to a keg party during their early years in Washington, D.C.: "Medicaid: Sending it back to the states, capping its growth rate. We've been dreaming since I've been around, since you and I were drinking at a keg." Ryan is an ideologue intent on shrinking so-called entitlements. They say they want to shrink the government, but then enthusiastically vote to increase the military budget. This is about eliminating the social safety net, and passing the savings on to the wealthy.
The Republicans have inserted into the Obamacare repeal bills a radical shift in how Medicaid funding is calculated, capping it and limiting how it keeps pace with inflation. This will lead to a cut in Medicaid over the course of a decade of an estimated $800 billion.
The Congressional Budget Office has predicted that repealing the ACA will lead to at least 22 million more uninsured over the next decade. The effort to kill Obamacare is not complete, and, even if the Senate passes some version of a repeal, it would most likely have to be reconciled with the House bill before Donald Trump could sign it into law. Expect vigorous protests throughout August, led by the activists of ADAPT and their allies. Vowed Stephanie Woodward, "I won't stand by and let my brothers and sisters with disabilities across the nation have their life and liberty in danger because of a bill."
---