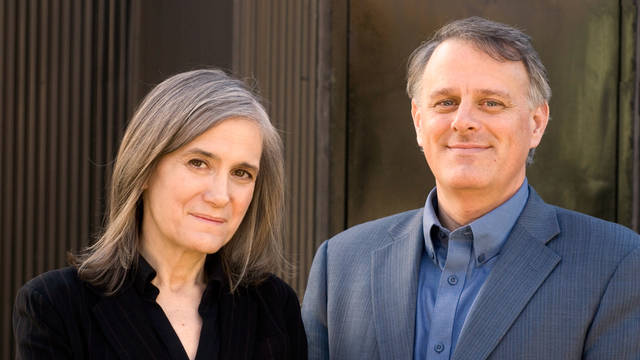 Media Options
By Amy Goodman and Denis Moynihan
President Donald Trump can't seem to get over the fact that he lost the popular vote to Hillary Clinton. He lost massively, by over 2.8 million votes, but he won the Electoral College, and thus the presidency. Yet he has repeatedly claimed that 3 million to 5 million people voted illegally for Hillary Clinton, a number that, if true, would mean that he also won the popular vote. The problem is, it's not true. So, in order to bolster his fantastical claims, Trump announced on May 11 that he was launching the "Presidential Advisory Commission on Election Integrity" to investigate fraudulent voting. He named Kansas' controversial and fiercely anti-immigrant Secretary of State Kris Kobach as the commission's vice chairperson.
On June 28, Kobach sent a letter to all 50 states and the District of Columbia, with a sweeping request for voter rolls with details about every voter in the country: name, address, Social Security number, party affiliation, voting history, military status and more. The response was swift and bipartisan: Forty-four states and D.C. partially or fully refused to hand over the data. Mississippi's Republican secretary of state, Delbert Hosemann, replied that Kobach can "go jump in the Gulf" of Mexico, and suggested Mississippi would be a good place from which to jump.
California Secretary of State Alex Padilla, a Democrat, said: "I will not provide sensitive voter information to a commission that has already inaccurately passed judgment that millions of Californians voted illegally. California's participation would only serve to legitimize the false and already debunked claims of massive voter fraud made by the President, the Vice President, and Mr. Kobach." Even Kobach himself is not fully complying with his own request. He admitted in an interview: "In Kansas, the Social Security number is not publicly available."
What is most troubling to voting-rights and civil-rights activists is the potential that this commission is ramping up and institutionalizing voter suppression, which has long been central to Republican electoral strategy. In the fall of 1980, Paul Weyrich, a conservative Republican activist who went on to found such right-wing institutions as The Heritage Foundation, the Moral Majority and the American Legislative Exchange Council, addressed a conference in Dallas. "I don't want everybody to vote," he said. "Elections are not won by a majority of people, they never have been from the beginning of our country, and they are not now. As a matter of fact, our leverage in the elections quite candidly goes up as the voting populace goes down."
Think of Kris Kobach as the new Paul Weyrich. "The ACLU has sued Kobach four times on voter suppression—and won every case," the American Civil Liberties Union wrote about Trump's new election commission. "The problem we have in this country isn't voter fraud—it's voter suppression. And on that front, Kobach is Public Enemy No. 1." Ari Berman is a journalist who has been writing about voter suppression for years, and has written a book on it. "Kobach is really the leading architect of voter-suppression efforts nationwide," he said on the "Democracy Now!" news hour. "Before he was a leading proponent of voter suppression, he was a leading proponent of restricting immigration … basically what he was saying was that all of these people were in the country illegally and that they were voting illegally, as well. So he combined anti-immigrant sentiment with policies that would restrict voting rights."
The Lawyers' Committee for Civil Rights Under Law has filed a Hatch Act complaint against Kobach. "This is a law that was passed by Congress in 1939 … it prohibits federal employees from using their official government position to engage in political activity," Kristen Clarke, the group's president and executive director, told "Democracy Now!" The complaint names numerous instances where Kobach has violated the law. "There are 200 million registered voters in our country, and we've never seen an effort like this to comb and pull together this extensive and vast amount of data on individuals in our country."
The Electronic Privacy Information Center (EPIC) filed an emergency motion to block the disclosure of state voter information to the commission, arguing it's a violation of the constitutional right to privacy, and that the mere transfer of the data puts private information of the entire American electorate at risk. Yes, Donald Trump lost the 2016 popular vote. But if Kris Kobach and his Republican allies get their hands on the data and succeed in suppressing the vote, then Trump may well be on his way to a landslide victory in 2020.
---