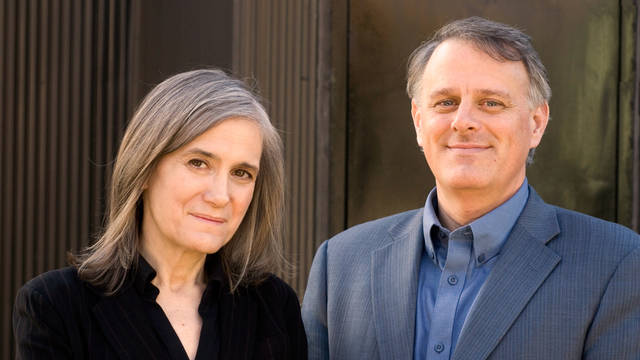 Media Options
by Amy Goodman and Denis Moynihan
On Sunday, Pope Francis sainted Salvadoran Archbishop Óscar Romero. The pope was wearing Romero's bloodstained rope belt, the one Romero wore when he was assassinated on March 24, 1980. The day before he was killed, the archbishop gave a sermon that commanded El Salvador's soldiers to disobey the orders of their superiors:
"I would like to make a special appeal to the men of the army, and specifically to the ranks of the National Guard, the police and the military. Brothers, you come from our own people. You are killing your own brother peasants when any human order to kill must be subordinate to the law of God which says, 'Thou shalt not kill.'" He went on, "In the name of God, in the name of this suffering people whose cries rise to heaven more loudly each day, I implore you, I beg you, I order you in the name of God: Stop the repression."
Matt Eisenbrandt, human-rights lawyer and the author of "Assassination of a Saint: The Plot to Murder Óscar Romero and the Quest to Bring His Killers to Justice," described that sermon on the "Democracy Now!" news hour: "You can hear on the audiotapes of the radio broadcast the way that that applause built as he led up to that line saying, 'Stop the repression.' That then echoed throughout the radios around the country into every corner of El Salvador."
A day later, at a hospital chapel, a gunman shot Romero once in the heart, killing him.
Archbishop Óscar Romero gave that sermon as the U.S.-backed military violence against civilians that ravaged Central America in the 1980s and early 1990s was growing in intensity and brutality. Death squads allied with the right-wing Salvadoran junta dumped bodies on city streets nightly. Romero's assassination shocked the world and helped galvanize a global solidarity movement.
In 1980, one year after the revolutionary Sandinistas overthrew the U.S.-backed dictator in nearby Nicaragua, the Pentagon and the CIA intensified clandestine support for violent right-wing governments, arming and training their militaries and paramilitaries. Sadly, with the support of President Ronald Reagan, a reign of terror and mass slaughter swept the region, from Guatemala to Honduras to El Salvador, with hundreds of thousands of civilians tortured and killed, and countless villages razed.
Liberation theology, a movement within the Catholic Church, had been growing for decades, seeking to empower the masses to escape poverty and inequality. This was seen as a threat to the ruling elites, who began a campaign of assassination against priests advocating for liberation. Months after Romero's assassination, four U.S. Catholic Church women were raped and murdered by Salvadoran soldiers. In 1989, the military killed six Jesuit priests and their housekeeper and her daughter.
"All of these cases, along with the thousands of others, they have been graduates of the U.S. Army School of the Americas [SOA]," Father Roy Bourgeois said on "Democracy Now!" The SOA (now called WHINSEC, Western Hemisphere Institute for Security Cooperation — "new name, same shame," Bourgeois told us) is a military training program at the U.S. Army base in Fort Benning, Georgia. Bourgeois has led a vigorous protest movement against the SOA. One night in 1981, Bourgeois climbed a tree on Fort Benning grounds, outside barracks housing 525 Salvadoran troops, and blasted an audio recording of Romero's last sermon. For that protest, Father Bourgeois served a year and a half in prison. The organization he founded, SOA Watch, held annual protests for years outside Fort Benning. SOA Watch now rallies each November at the U.S.-Mexico border, as Bourgeois says, "in solidarity with our migrant brothers and sisters."
Father Roy Bourgeois sees a direct connection between the violence in Central America in the 1980s and the massive number of refugees fleeing the region today: "The militarism of the School of the Americas, with 70,000 Latin American soldiers trained in the art of killing, coupled with U.S. economic policies today, is an important part of the root cause of why so many flee their countries," he told us. "They are doing what we would do in their situation. If they stay, they die."
---