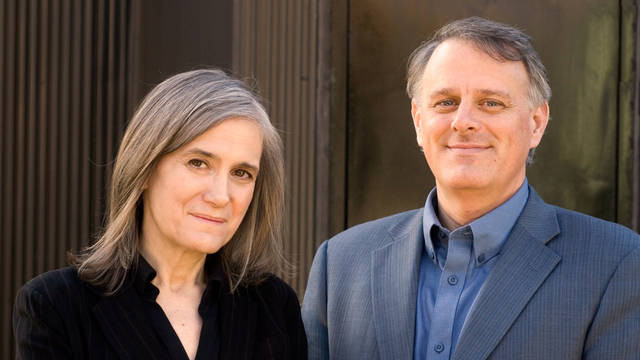 Media Options
By Amy Goodman & Denis Moynihan
On Monday, President Donald Trump fired Secretary of State Rex Tillerson by tweet. Despite the scores of administration officials who have been ousted, escorted out or simply left, Trump is still managing to make an indelible mark on the federal government, installing scores of conservative judges to lifetime appointments, gutting hard-won regulations and slashing vital social safety net programs. In the same tweet in which he fired Tillerson, he announced two promotions: CIA Director Mike Pompeo would be his new secretary of state, and Deputy CIA Director Gina Haspel would replace Pompeo to head the spy agency. Haspel's career at the CIA spans more than three decades. Her work is shrouded in secrecy, but two things are well-known: She ran a CIA "black site" where people were brutally tortured, then she helped cover up the torture through the destruction of videotapes, against presidential orders.
These alone should immediately disqualify her for confirmation by the U.S. Senate. "Would I approve waterboarding? You bet your ass I would, in a heartbeat," Trump boasted from the podium at an Ohio campaign stop in November 2015. He repeated the pledge throughout his campaign, and while president. He suggested a slew of other techniques, including the execution of family members in front of interrogation suspects as an inducement to talk. If Trump gets his way and installs Gina Haspel as CIA director, he will have someone with direct, hands-on experience with torture, a leader in the George W. Bush administration's notorious torture program.
In 2002, Gina Haspel ran a CIA torture center in Thailand, where al-Qaida suspects were brought to be interrogated. The best-known victim at that site is Abu Zubaydah, who was subjected to a horrific array of torture techniques, all technically authorized through a series of legal memos written by lawyers in the Bush-Cheney administration. Waterboarding, constricted confinement in a box for long periods of time, humiliation, forced feeding through the rectum and numerous other painful procedures were used. In 2005, working as chief of staff to Jose A. Rodriguez Jr., the head of the CIA's Counterterrorism Center, Haspel drafted a memo that he sent ordering the destruction of 92 videotapes of those very torture sessions she led, despite a White House directive not to destroy them.
John Kiriakou, a 14-year veteran of the CIA, blew the whistle on the Bush-era torture program and, for speaking out, was imprisoned for two years. He is, to date, the only U.S. official jailed in relation to Bush's torture program. "We did call her Bloody Gina," Kiriakou said on the "Democracy Now!" news hour. "Gina was always very quick and very willing to use force … there was a group of officers in the CIA's Counterterrorism Center, when I was serving there, who enjoyed using force. Everybody knew that torture didn't work." Kiriakou asked, "Was it moral, and was it ethical, and was it legal? Very clearly no. But Gina and people like Gina did it, I think, because they enjoyed doing it. They tortured just for the sake of torture, not for the sake of gathering information."
After President Barack Obama's election, the torture program was dismantled, but those who authorized it, those who oversaw it and the torturers themselves all avoided prosecution. "We need to look forward as opposed to looking backwards," Obama said in 2009.
"This is where we Europeans come in," human-rights attorney Wolfgang Kaleck told us on "Democracy Now!" He is founder of the European Center for Constitutional and Human Rights, and last year asked German prosecutors to issue an arrest warrant for Haspel for her role in the torture program. "Torture has to be prosecuted everywhere in the world. We have a number of laws in Europe, and we used these laws in the last 15 years to file numerous criminal complaints in numerous jurisdictions against the torturers of the U.S. … the interesting result of our network's legal work is that the torturers of the U.S. are not untouchable anymore. They have to take care where they travel."
Kaleck said of Haspel: "We decided to target her last year, because as a deputy director, she is traveling a lot around the world. We think it's important that the judicial authorities in Germany, in other European countries, try to investigate her role in Thailand and elsewhere, and that they are prepared — if Gina Haspel travels to our countries — that they arrest her. Notorious torturers shouldn't be allowed to travel freely through Europe."
Republican Sen. Rand Paul has already said he will oppose her. Arizona Republican Sen. John McCain, who was tortured as a prisoner of war in North Vietnam, has called the Bush torture program "one of the darkest chapters in American history." All senators should close the book on torture now and vote to oppose Gina Haspel's confirmation.
---