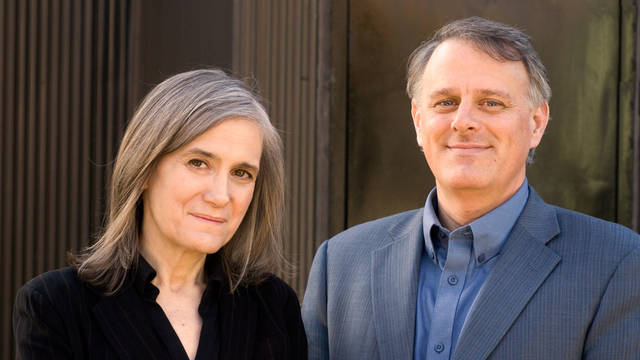 Media Options
By Amy Goodman & Denis Moynihan
In the midst of thousands of teachers walking out of schools around the country, demanding fair salaries and proper funding for their classrooms, one teacher, Mandy Manning, was invited into the White House last week, where President Donald Trump presented her with the 2018 Teacher of the Year Award. While the press heard Trump's remarks, they were not allowed to witness her acceptance speech. The little we know about what transpired is thanks to one of Manning's friends, who made a cellphone recording of her speech. In his remarks, Trump failed to mention that Manning teaches math and English to refugee and immigrant students at the Newcomer Center at Joel E. Ferris High School in Spokane, Washington. If he had his way, many students like hers would be banned from entering the United States in the first place.
"I am honored and humbled to be the vehicle through which my students may tell their stories," Manning said in the historic East Room, as billionaire Education Secretary Betsy DeVos and Labor Secretary Alex Acosta looked on. "I am here for David, a future IT specialist who hopes to one day be able to attend university. I am here for Tamara, who is currently studying pre-med at Eastern Washington University. I am here for Safa and Tara, both future elementary school teachers. I am here for Solomon and Gafishi, who believe that the United States is the place where they have found the center of their lives, where they can have dreams and hopes to be someone."
These are the words that the White House didn't want broadcast. We don't know why the press wasn't allowed to be in the room. Perhaps they didn't want reporters to see the six buttons Mandy Manning was prominently wearing on her dress. Her buttons included artwork from the 2017 Women's March, a rainbow flag and the slogan "Trans Equality Now!" One displayed the quote "Life begins at the end of your comfort zone."
Manning brought letters from her students, addressed to Trump. "I had my opportunity to hand the letters to the president from my students," Mandy Manning told us on the "Democracy Now!" news hour. "I also asked him if he would be willing to come to Spokane and meet my immigrant and refugee students, to see how amazing, dedicated, focused and what productive members of our community they are as future citizens of our United States."
She read one of the letters on "Democracy Now!": "Dear President Trump, My name is Yusif, and I am from Iraq. In January 2017, you won the presidency. I should have arrived in the U.S.A.; however, because you signed the immigration ban, I had to wait until March. My mother was already here in Spokane, Washington, and I had not seen her in four years … if you want to learn more about me and my mom's story, you can watch our video on YouTube. Search 'Maha Al'Majidi' and click on the video called 'Iraqi refugee reunites with her son.' Sincerely, Yusif."
Trump reportedly remarked in the Oval Office last January, "Why are we having all these people from sh**hole countries come here?" Mandy Manning's students are examples of exactly why: "All of the students who come through my classroom have three things in common: They are just learning English. They have escaped trauma to find new lives in our nation, and they are focused and determined to be productive citizens of our United States. And most importantly, they succeed," she told us.
It isn't the White House that chooses Teacher of the Year, but the nonprofit, nonpartisan Council of Chief State School Officers. As she ended her speech, Manning said: "Over the next year, I will be sharing my students' stories and profound insights into our country throughout the nation. I am here for refugee and immigrant students, for the kids in the gay-straight alliance, and for all the girls I've coached over the years, to send them the message that they are wanted, they are loved, they are enough, and they matter."
In this era of border walls and refugee bans, and a rolling rebellion of teachers from coast to coast, all of us are fortunate to have a champion like Mandy Manning, advocating for students from our country's most vulnerable populations. The White House may not have wanted the media to hear Manning deliver her speech, but let's hope President Trump turns off the TV, takes a break from tweeting and reads the letters she delivered to him.
---