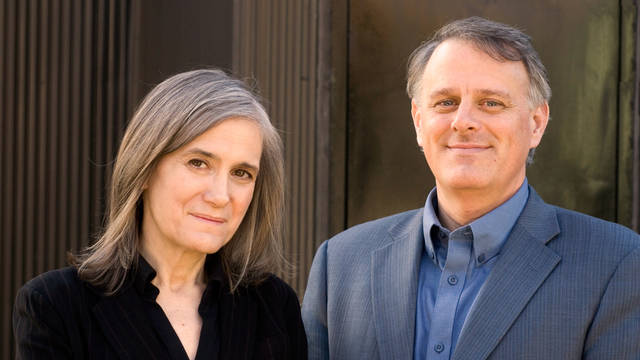 Media Options
By Amy Goodman and Denis Moynihan
As the United States and Israel celebrated the official opening of the U.S. Embassy in Jerusalem on Monday, May 14, about an hour away the Israeli military was firing on thousands of Palestinians in the Gaza Strip. The Palestinians were part of a massive, nonviolent protest movement called the Great March of Return. On that day alone, Israeli forces killed over 60 Palestinians and injured 2,700. Among the injured was a Canadian emergency room doctor, Tarek Loubani, who had gone to Gaza to help injured Palestinians. Since March 30, the Israeli forces have killed over 119 Palestinians and injured over 12,000.
The Israel Defense Forces had sniper posts up and down the Israeli-built fence that keeps close to 2 million Palestinians in a state of virtual imprisonment in Gaza. "We were away from the protest area, 25 meters south of the protesters. It was calm," Tarek Loubani said on the "Democracy Now!" news hour. "We could see the sniper posts. For sure, they could see us. I was just sort of talking to the medical team. … That's when, unfortunately, I heard a loud bang, found myself on the ground and realized I had been shot."
Dr. Loubani described his rescue: "The first rescuer who came to me was a man named Musa, a paramedic, who was excellent and who I've trained with and helped train. He sort of came over, was like, 'Look, Doctor, what have you done to yourself here?' looked at my leg, cut my pants and started work." A bullet had passed through both of his legs. Musa asked if the doctor wanted a tourniquet. "I knew that I needed one, but I thought, 'We only have eight.' One of them was in my back pocket. I took it out. I threw it to them, and I said, 'No, use it for somebody else.' I knew there were many more gunshots to come."
Dr. Loubani continued: "Musa Abuhassanin was a great guy. I'm talking about him in the past tense because about an hour after he rescued me, he ended up going back to the field on a call, and, unfortunately, he was shot in the chest. There was so much fire around him and so much live ammunition that his colleagues couldn't get to him and couldn't treat him."
Dr. Loubani tweeted a photo captioned: "A haunting photo, Friday, May 11. Left: Mohammed Migdad, shot in the right ankle. Hassan Abusaada. Tarek Loubani, shot in left leg and right knee. Moumin Silmi. Youssef Almamlouk. Musa Abuhassanin, shot in the thorax and killed. Volunteer unknown. Photographer: shot and wounded."
Loubani said he or any other trauma responder could have saved Musa, but the Israeli sniper fire prevented the well-marked medical personnel from reaching him. Reporting from the same protest, Sharif Abdel Kouddous, "Democracy Now!" correspondent and Puffin Fellow at The Nation Institute, told us: "The sniper bullets don't come in quick succession. It's not a barrage of fire. It's methodical. It's patient. It's precise. You hear a shot, and someone falls down. Then his bloodied body is carried away. You wait a few minutes, you hear another shot, and another body falls."
As far back as 2010, then British Prime Minister David Cameron called Gaza "a sort of open-air prison." The United Nations has declared Gaza "unlivable."
People around the globe have expressed outrage at the slaughter, including from inside Israel. Nine prominent Israelis, including Avraham Burg, former speaker of the Knesset, wrote that they were "appalled and horrified by the massive killing of unarmed Palestinian demonstrators in Gaza. None of the demonstrators posed any direct danger to the state of Israel or to its citizens. The killing of over 50 demonstrators and the thousands more wounded are reminiscent of the Sharpeville Massacre in 1960 in South Africa."
In the midst of the six-week protest, Jerusalem-born, Israeli-American Oscar-winning actor Natalie Portman declined to go to Israel for her $2 million Genesis Prize, saying in a statement: "[T]he mistreatment of those suffering from today's atrocities is simply not in line with my Jewish values. Because I care about Israel, I must stand up against violence, corruption, inequality, and abuse of power."
At the United Nations, the U.S. blocked a Security Council motion to launch an investigation. President Donald Trump was represented at the U.S. Embassy ceremony by his daughter Ivanka and son-in-law Jared Kushner, who in his speech blamed the violence on the Palestinians.
Lies take lives. An investigation is not enough. The occupation must end, and those responsible for the slaughter must be held accountable.
---