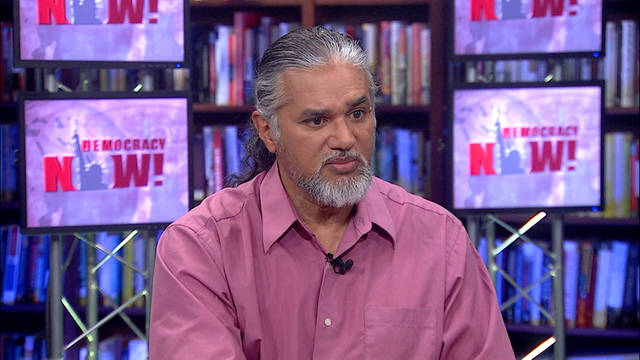 Outspoken immigrant activist Ravi Ragbir won a stay of deportation in February after he filed a free speech lawsuit that argued ICE targeted him for his work as executive director of the New Sanctuary Coalition of New York City. On Wednesday, U.S. District Court Judge Kevin Castel lifted the stay.
"Political speech is worthy of the highest protection, and so long as Ragbir remains in the United States, the First Amendment guarantees him the freedom to speak and associate on any subject of his choosing," Castel wrote in his order. "But his decision to speak does not confer upon him an immunity from the enforcement of a pre-existing final order of removal."
Ragbir told Democracy Now! he was surprised the judge issued the order without a hearing to hear briefs submitted on his behalf by New York elected officials, 140 religious leaders, twenty immigrant rights groups, and several constitutional rights lawyers and scholars.
"We are all entitled to the protection of the Constitution whether we are an undocumented immigrant or citizen," Ragbir said. "We thought this would be a strong case for a hearing.
Another stay of deportation related to a separate case in New Jersey remains in place for Rabgir until at least June 22, and July 27 is his next scheduled check-in with ICE. The other case seeks to vacate his 2001 wire fraud conviction.
While his legal team plans to appeal, attorney Jessica Rofé told Democracy Now! it is important to note that the judge's order did not "foreclose on other claims made by Ragbir" and the organizations joining him in the case.
"The judge invited us to discuss with the government our briefing schedule for reminder of our claims. So we are pushing forward," Rofé said. "We really feel in the free speech context, there are thousands of others like Ravi and nobody should be disappeared because of their vocal criticism of our immigration system."
Other claims address federal surveillance of Ragbir and his fellow activists, unlawful arrest, targeting of immigrant leaders across country, and the chilling impact this has had on a immigrant communities.
The organizations joining Ragbir in the case include New Sanctuary Coalition of New York City, the National Immigration Project of the National Lawyers Guild, and Detention Watch Network.
"It is very clear that Trump's ICE is trying to make an example out of us, and that they are using every tool they have against us," said undocumented activist Maru Mora Villalpando of NWDC Resistance, a member of Detention Watch Network.
In March, Villalpando tried to argue in court that ICE tried to deport her when it labeled her an activist, and sought to have ICE officers testify at her evidentiary hearing. A judge denied both motions and her next hearing is June 26. She has also filed a federal lawsuit to push ICE to respond to her Freedom of Information Act request for documents that show how it targets and surveils activists.
In the meantime she and Ragbir both plan to continue their activism. Ragbir continues to organize from his New Sanctuary Coalition office in the basement of Judson Church in Manhattan, and says volunteers are needed for the increasingly crowded weekly immigration clinics for people facing deportation. In Seattle, Villalpando will help the Latinx group Mijente launch a national anti-ICE tour next month that plans stops in Chicago and cities in Tennessee and North Carolina.
"We have to speak up and be willing to sacrifice," Ragbir said.
See more of our coverage of Ravi Ragbir and Maru Mora Villalpando.
---