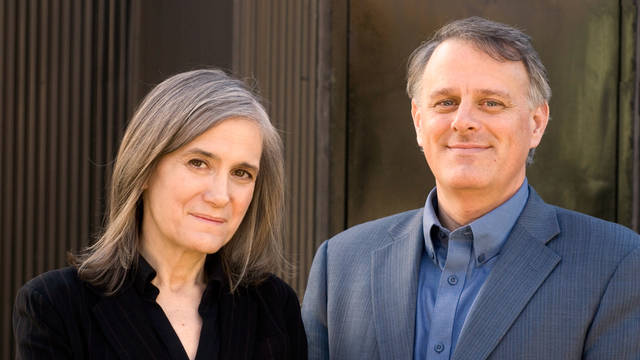 Media Options
By Amy Goodman and Denis Moynihan
SAN FRANCISCO — Evidence of global climate disruption blankets the Earth, pummeling communities with the full arsenal of nature's fury, from hurricanes, tornadoes, relentless rainstorms and thousand-year floods, to historic droughts and searing heat waves. In California, wildfires have raged in record numbers and intensity, pushing the state's firefighting crews to the limit and busting the state's firefighting budget. New wildfires are exploding across the Golden State as thousands of people converge in San Francisco for this week's Global Climate Action Summit, convened by Gov. Jerry Brown and others deeply concerned with the climate change crisis and President Donald Trump's obstinate denial of its very existence. Joining the professional firefighting crews on the front lines of these massive fires are thousands of California prisoners, brought out of their jails to engage in this dangerous work, all for a dollar an hour or less.
"Democracy Now!" traveled to Delta Conservation Camp, an hour north of San Francisco, to meet the prisoners who are fighting these devastating wildfires. You wouldn't know from its name that it's a prison camp. There are 44 of these detention facilities, including three for women and one for juveniles, fighting the scores of wildfires that plague California with increasing frequency and ferocity.
Up to 25 percent of California's wildfire firefighters are prisoners.
"The inmate firefighters are the backbone of Cal Fire. They get the toughest assignment there is, out there," Sgt. Steven Reeder, one of the corrections officers at Delta, said on the "Democracy Now!" news hour. "They get the toughest assignments in the worst conditions, 110 degrees in the middle of the sun, wearing two layers of clothing, carrying 40 pounds of gear. And then they have to carry all their food and water for a 24-hour shift, and then swing a tool the whole time."
Gov. Brown also praises them for their heroic firefighting efforts: "I want to personally thank … the thousands of inmates who are also on the line fighting to protect lives and bring these fires to a quick close."
Prison firefighters, with their abysmal pay of $1 per hour, save California up to $100 million per year by official estimates. "I believe that they should make more than the dollar an hour," Delta Camp commander Lt. Sid Turner said on "Democracy Now!" "They have been at that rate of pay for many decades." Turner admitted that if the prison population were to decline, the firefighting system would be challenged: "California needs hand crews. If we don't have the inmates to perform that function, then they've got to find the labor from someplace else." And Cal Fire, the state firefighting agency, is running out of money, fast.
Marty Vinson, a 25-year-old African-American prisoner who had been at Delta for two months, spoke to "Democracy Now!" When asked about the wages he earns, he replied, "When you're fighting a fire, a dollar an hour." When they're not fighting fires? "You make $1.45 a day," he said. When asked what he thought of some describing the wages as slave labor, he laughed nervously, with the guard looking on, and said, "I don't really want to call the work slave work, but … we're getting paid a dollar an hour."
Prisoners and ex-prisoners have told "Democracy Now!" that a key incentive to engage in this dangerous work is to receive time off their sentences. They can get two days off their prison sentence for each day at a firefighting camp. Remarkably, after fighting wildfires for years, these prisoners are prevented from working as firefighters when they are freed, because they are ex-felons.
This past weekend, tens of thousands of people marched in San Francisco as part of a global day of protest demanding action on climate change. Central to this modern-day movement is the concept of environmental justice, addressing how climate change impacts communities differently, based on race, economic status and gender. Perhaps nowhere is this clearer than on the fire lines in California, where thousands of prisoners, mostly poor people of color, get paid slave wages to risk their lives by fighting raging fires, made more frequent and more intense by climate change.
---