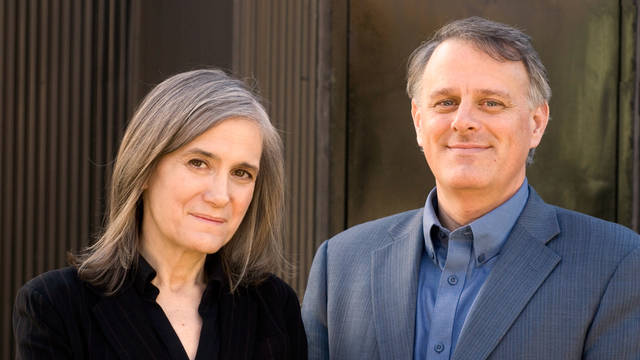 Media Options
By Amy Goodman & Denis Moynihan
As the United States becomes increasingly diverse, and the Democratic Party even more so, the presidential nomination process remains heavily weighted by two states that are among the whitest in the nation, Iowa and New Hampshire. When we asked about this racial disparity at a presidential candidate forum that the "Democracy Now!" news hour co-hosted in South Carolina last week, Democratic candidate Elizabeth Warren bristled, replying, "I'm just a player in the game." Warren and the other Democratic candidates need to answer why their party's primary process favors these two small, rural, aging and almost entirely white states, and they need to explain how this "game" that weeds out candidates so early in the process is anything other than a glaring example of systemic racism.
The forum was held at South Carolina State University, an HBCU (historically black college or university) in Orangeburg, S.C. Here is the question and answer, in full:
AMY GOODMAN: Senator Warren, just 30 seconds left. But speaking about racial injustice, do you think the order of the primary states should change? You have Iowa and New Hampshire —
SEN. ELIZABETH WARREN: Wait, let me make — let me just — before you finish, are you actually going to ask me to sit here and criticize Iowa and New Hampshire?
AMY GOODMAN: No, I'm asking about the order.
SEN. ELIZABETH WARREN: No, that is what Iowa and New Hampshire are all about.
AMY GOODMAN: But let me just ask. They're two of the whitest states in the country, and then we move to South Carolina with a very significant population of people of color, and it means the candidates spend so much of their time catering to those first two states. Overall, do you think that should change?
SEN. ELIZABETH WARREN: Look, I'm just a player in the game on this one. And I am delighted to be in South Carolina. Thank you.
Warren's irritated reaction to the question betrays the Democratic Party's rigid orthodoxy on first-in-the-nation status for both the Iowa caucus and the New Hampshire primary.
In 1972, Iowa Democrats moved the caucus up to Jan. 24, to give themselves extra time to process the results from all the precincts (currently numbering 1,678). That early date made the Iowa caucuses the nation's first indicator of each candidate's standing, and thus attracted extraordinary media attention.
Sensing they were on to something, the Iowa Democratic and Republican parties agreed to always hold their caucuses early, and on the same day, to maximize national press coverage. New Hampshire then managed to cement its hold as the first primary state, immediately following the Iowa caucuses. This has been the status quo since the 1970s, but nothing says it has to stay that way.
MSNBC played our exchange with Warren for Democratic presidential hopeful Julian Castro, who responded,
"I actually believe that we do need to change the order of the states, because I don't believe that we are the same country that we were in 1972. … Our country has changed a lot in those 50 years, the Democratic Party has changed a lot. Demographically it is not reflective of the United States as a whole, certainly not of the Democratic Party. And I believe that other states should have their chance. So yes, of course, we need to find other states. I don't believe that forever we should be married to Iowa and New Hampshire going first."
There are already four majority-minority states: California, Hawaii, New Mexico and Texas, along with the District of Columbia. Holding caucuses or primaries in these states first would likely have a dramatic effect on the outcome.
The lead-up to both Iowa and New Hampshire now are so long, with candidates, in some cases, spending more than a year making frequent, extended campaign swings through both states. Imagine if they were spending that much time in more diverse states, like South Carolina.
Elizabeth Warren, to her credit, did travel to Orangeburg to participate in this first-ever presidential candidate forum on environmental justice. The forum was co-moderated by Mustafa Santiago Ali, former Environmental Protection Agency official, now at the National Wildlife Federation. At the top of the forum, Mustafa defined environmental justice:
"Environmental justice is the disproportionate impacts that continue to happen in our communities. The things that no one else wants, they place them in communities of color, low-income communities and indigenous lands. They become the sacrifice zones, the sacrifice zones for coal-fired power plants, for certified animal feeding operations, for waste treatment facilities, for unhealthy housing."
The concerns of the first states in the presidential nomination process disproportionately impact the agenda for the entire race. Democracy is about representation. The primary and caucus system needs to be reformed now.
---