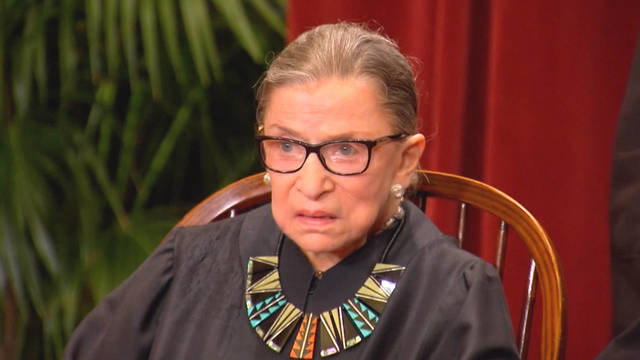 The Supreme Court has announced Justice Ruth Bader Ginsburg died Friday at the age of 87. In a statement, Chief Justice John Roberts said, "Our nation has lost a jurist of historic stature."
Ginburg's death gives President Trump a chance to name a third right-wing justice to the bench. NPR is reporting Ginsburg dictated a final statement to her granddaughter days before she died saying, "My most fervent wish is that I will not be replaced until a new president is installed."
Ginsburg first gained fame in the 1970s when she co-founded the Women's Rights Project at the American Civil Liberties Union, where she argued six gender discrimination cases before the Supreme Court. In 1993, Ginsburg became the second woman to be a Justice on the Supreme Court. In recent years, Ginsburg's public profile had soared as the court has swerved to the right.
In 2018, Democracy Now! talked to the filmmakers behind the film "RBG."

The film premiered at the Sundance Film Festival where Amy Goodman questioned Ginsburg about the "Me Too" Movement.

ACLU Executive Director Anthony Romero said in a statement: "Few individuals have had such a dramatic and lasting effect on a particular area of law as Supreme Court Justice Ruth Bader Ginsburg, who directed the work of the ACLU Women's Rights Project from its founding in 1972 until her appointment to the federal bench in 1980. During the 1970s, Ginsburg led the ACLU in a host of important legal battles, many before the Supreme Court, that established the foundation for the current legal prohibitions against sex discrimination in this country and helped lay the groundwork for future women's rights advocacy."
---