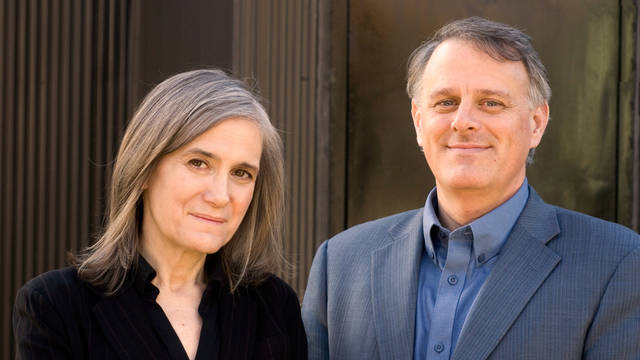 Media Options
By Amy Goodman & Denis Moynihan
Who is Pauli Murray? The pioneering African American legal scholar and organizer for racial and gender equality was celebrated this week at the annual Sundance Film Festival with the premier of the new documentary, "My Name is Pauli Murray." The film was directed by Julie Cohen and Betsy West, the duo responsible for the 2018 Oscar-nominated documentary "RBG," about late Supreme Court Justice Ruth Bader Ginsburg, who was deeply influenced by Murray.
"My name is Pauli Murray, and my field of concentration has been human rights," Murray, who died in 1985, says in the archival film clip that gave the documentary its name. "My whole personal history has been a struggle to meet standards of excellence in a society which has been dominated by the ideas that Blacks were inherently inferior to whites and women were inherently inferior to men."
Pauli Murray, born Anna Pauline Murray in 1910, orphaned in 1923, and raised by relatives, adopted the gender-neutral name "Pauli" in adulthood. Murray's diaries and letters, housed at Harvard University, indicate a lifelong struggle with gender identity and the discrimination too often inflicted on gender nonconforming people. "To refer to Pauli with gender-neutral pronouns, as opposed to with she/her pronouns, is an ask to acknowledge the complexity and the fullness and expansiveness of who Pauli was as a person," Delores Chandler, social worker in Durham, North Carolina, said on the Democracy Now! news hour. Chandler uses "they/them" as personal pronouns, and does the same when referring to Pauli Murray.
In a 1943 letter to their Aunt Pauline Fitzgerald Dame, Pauli Murray wrote, "I don't know whether I'm right or whether society (or some medical authority) is right. I only know how I feel and what makes me happy. This conflict rises up to knock me down at every apex I reach in my career. And because the laws of society do not protect me, I'm exposed to any enemy or person who may or may not want to hurt me," they wrote.
Pauli's personal struggles were a forge, producing a remarkable legal strategist and activist, professor, writer, poet, and, ultimately, Episcopalian priest. In 1940, fifteen years before Rosa Parks engaged in her legendary protest, Pauli Murray and a friend sat in the Whites only section of a Virginia bus, refusing to move. Their arrest inspired Pauli to pursue civil rights law. "At Howard Law School in the early 1940s, Pauli wrote a paper making the argument that Plessy v. Ferguson, the notorious 1896 Supreme Court case laying down the rule of 'separate but equal,' should be overturned," Julie Cohen said on Democracy Now! That legal thesis was used by Thurgood Marshall when he successfully argued Brown v. Board of Education before the Supreme Court, outlawing segregation in public schools.
Pauli wrote to President Franklin D. Roosevelt, seeking support for their legal challenge to the University of North Carolina's whites-only admissions. They sent a copy to First Lady Eleanor Roosevelt, who actually responded, launching a decades-long friendship, described in the book, "The Firebrand and the First Lady."
Harvard Law School, which at the time only accepted men, also rejected Pauli Murray. Pauli wrote back, "I would gladly change my sex to meet your requirements, but since the way to such change has not been revealed to me, I have no recourse but to appeal to you to change your minds."
Murray innovated legal theories and developed strategies of nonviolent social change that shaped the course of the civil rights movement. Pauli co-wrote a groundbreaking legal paper, "Jane Crow and the Law," arguing that laws barring discrimination based on race equally protect women against discrimination based on sex. As an ACLU attorney, Ruth Bader Ginsburg named Pauli Murray as co-author of a seminal brief in a winning Supreme Court argument several years later.
"I came to sex discrimination much later than I came to race discrimination," Pauli Murray said at a Harvard lecture on feminism in 1966. "Having fought the battle of race discrimination, I began to see how integrally these two discriminations were. Since I could not split myself, and since I had to be a unified human being, I decided that it was not I that was wrong but the society that was wrong."
After the death of their longtime partner, Irene Barlow, in 1973, Pauli entered the seminary, becoming the Episcopal Church's first African American woman priest in 1977. They ministered to the sick in Washington, DC, until their death. The Episcopal Church sainted Pauli Murray in 2012.
"She sowed the seeds for change," Episcopal Church Presiding Bishop Michael Curry said. In a time of turmoil, division, and epidemic violence against trans people of color, Pauli Murray stands as a remarkable example of what can be achieved through intellect, organizing and courage. Know their name.
---