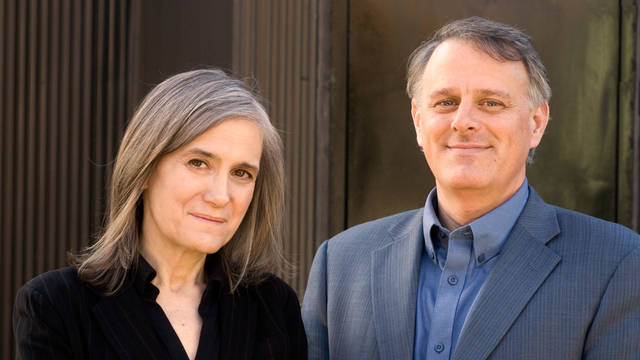 Media Options
By Amy Goodman & Denis Moynihan
One hundred years ago, Tulsa Oklahoma's thriving African American neighborhood of Greenwood, known as "Black Wall Street" for its concentration of successful, Black-owned businesses, was burned to the ground by a white mob. The violence grew from a confrontation at the Tulsa courthouse, where whites had been massing to abduct and lynch a jailed African American man who had been wrongfully accused of assaulting a white woman. Black residents of Greenwood arrived to stop the lynching. Gunshots erupted, after which the white mob set upon Greenwood for 18 hours of mass murder, arson, and looting that would become known as the 1921 Tulsa Race Massacre.
An estimated 300 African Americans were killed, and over a thousand injured. Ten thousand were left homeless as the racist mob, some of them deputized and armed by Tulsa law enforcement, along with members of the Ku Klux Klan, terrorized the Black population. Airplanes were used to drop dynamite and crude incendiary bombs on Greenwood, ultimately burning over 35 city blocks. Over 1,250 homes were destroyed along with countless businesses. The actual number of dead will never be known, as bodies were tossed into mass graves or thrown in the river.
The 1921 Tulsa Race Massacre was one of the single greatest acts of racist terrorism in U.S. history. Whites in Tulsa actively suppressed the truth, and African Americans were intimidated into silence. Efforts in recent decades to restore the horrific event to its rightful place in U.S. history are having an impact, and this centenary should, at last, secure it in our school and college curricula and in our collective consciousness. This 100th anniversary falls just a week after the first anniversary of the police murder of George Floyd in Minneapolis. The two dates fall on a timeline of terror that we as a society can no longer tolerate.
Recently, a House Judiciary subcommittee convened in Washington, DC to address the ongoing impacts of the Tulsa massacre. One speaker was Viola Fletcher, an African American woman, who, proud and alert at the age of 107, is the oldest living survivor of the massacre.
"I will never forget the violence of the white mob when we left our house," Viola Fletcher said. "I still see Black men being shot, and Black bodies lying in the street. I still smell smoke and see fire. I still see Black businesses being burned. I still hear airplanes flying overhead. I hear the screams. I live through the Massacre every day."
Viola Fletcher continued, explaining the impact the massacre had on her life: "When my family was forced to leave Tulsa, I lost my chance at an education. I never finished school past the fourth grade…for most of my life, I was a domestic worker serving white families. I never made much money. To this day, I can barely afford my everyday needs."
The two other known living survivors of the massacre also testified: Fletcher's brother, Hughes Van Ellis, 100, and Lessie Benningfield "Mother" Randle, 106, who told the subcommittee, "I have lived much of my life poor. My opportunities were taken from me. And my community, North Tulsa – Black Tulsa – is still messed up today. They didn't rebuild it. It's empty. It's a ghetto."
Greenwood and Black Wall Street demonstrated that descendants of enslaved people could thrive if only given the chance. Fleeing post-Reconstruction white supremacist violence in the Deep South, they were able to access land in Oklahoma, forming over a dozen Black towns by the beginning of the 20th century. When Oklahoma became a state in 1907, the very first law it passed was to enforce segregation in all rail travel. More racist Jim Crow laws followed. Despite this, Greenwood grew into a prosperous hub of African American success, allowing people only a generation distant from slavery to build businesses and accumulate wealth. A 2019 Human Rights Watch analysis found that the Black poverty rate in Tulsa is 34%, almost three times that of whites, and even higher in North Tulsa, where Greenwood is located.
"No white person was convicted of an offense related to killing people or destroying the property in the Greenwood District. None," author Hannibal Johnson notes in "Tulsa Burning," a new History Channel documentary about the massacre directed by Stanley Nelson and executive produced by NBA basketball star Russell Westbrook, who played for years for the Oklahoma City Thunder.
The brick foundation of the Vernon A.M.E. Church on Greenwood Avenue is the only surviving structure from before the 1921 massacre. Efforts continue to locate the mass graves. The Tulsa Race Massacre began on May 31st, 1921, a century ago. Reparations are long overdue.
---