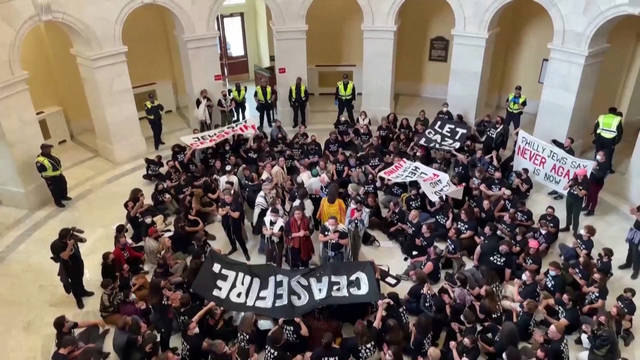 Media Options
By Amy Goodman & Denis Moynihan
The death toll in Gaza continues to climb as Israel inflicts collective punishment on the 2.4 million Palestinians trapped inside the occupied enclave, the world's largest open-air prison. Palestinians in Gaza have lived under a complete Israeli military blockade since 2007, following Hamas' victory in Palestinian legislative elections. Since then, Israel has decided how much food, fuel and water gets into Gaza, and completely controls the movement of Palestinians in or out of Gaza in a system of control that Human Rights Watch and numerous other organizations have called apartheid.
Since the brutal Hamas surprise attack on southern Israel on October 7th that killed more than 1,300 Israelis, mostly civilians and including many children, Israel has intensified its siege, unleashing a relentless bombardment on the narrow Gaza Strip. More than 3,800 Palestinians have been killed as this goes to press, with over 12,000 injured. These numbers are certain to increase as Israeli Prime Minister Benjamin Netanyahu promises a "long and difficult war."
Much of the western mainstream media on Wednesday was focused on who was responsible for the horrific explosion at the Al-Ahli Hospital in northern Gaza, which killed an estimated 500 people. The attention was directed less at the carnage in the hospital. Given the apparent scale of the explosion, responsibility was first widely believed to lie with Israel, which has a vast arsenal with numerous types of bombs, missiles and other munitions. While en route to Israel, President Joe Biden and western mainstream media almost immediately embraced the Israeli military's explanation that the explosion was caused by an "errant" Palestinian Islamic Jihad missile.
Forgotten were the thousands of Palestinians already killed by the more than ten days of Israeli bombardment and the unknown number buried, alive or dead, beneath the rubble.
"The atrocities are beyond description," Mustafa Barghouti, Palestinian physician and general secretary of the Palestinian National Initiative, said on the Democracy Now! news hour. "We're subjected now as Palestinians not only in Gaza but also the West Bank, horrifying war crimes. Ethnic cleansing. Acts of collective punishment against the population of Gaza where civilians are dying because they don't have water, electricity, don't have food, don't have medicines. An active genocide. Every five minutes a Palestinian is killed in Gaza. Every 15 minutes, a Palestinian child is killed in Gaza. And it goes on."
Across the Arab world, as well as in the United States and Europe, the protests are mounting, from Ramallah in the occupied West Bank, to Amman, Jordan, to Baghdad, Iraq, and at the U.S. Capitol in Washington, DC. There, a Jewish-led protest organized by the groups If Not Now and Jewish Voice for Peace brought thousands out to demand a ceasefire. Three hundred protesters were arrested inside the Cannon Rotunda.
Among those who attended the DC protest was Amira Hass, the renowned Israeli Jewish journalist with Haaretz who has lived in the Occupied Territories for decades. The daughter of Holocaust survivors, she said on Democracy Now!, she was there, "as a Jew, not as a journalist…This pounding of Gaza, it has to be stopped right now."
Another protest came from an unlikely quarter: from inside the U.S. State Department. Josh Paul served for 11 years as the Director of Congressional & Public Affairs, Bureau of Political-Military Affairs. This is the government office most directly involved with the delivery of weapons to foreign governments. On Wednesday, Paul wrote a 2-page resignation letter, which he shared publicly online, and deserves to be quoted at length:
"We cannot be both against occupation, and for it. We cannot be both for freedom, and against it. And we cannot be for a better world, while contributing to one that is materially worse. I believe to the core of my soul that the response Israel is taking, and with it the American support both for that response, and for the status quo of the occupation, will only lead to more and deeper suffering for both the Israeli and the Palestinian people–and is not in the long term American interest. This Administration's response…is immensely disappointing, and entirely unsurprising. Decades of the same approach have shown that security for peace leads to neither security, nor to peace. There is beauty to be found everywhere in this world, and it deserves both protection, and the right to flourish, and that is what I most desire for Palestinians and for Israelis. The murder of civilians is an enemy to that desire–whether by terrorists as they dance at a rave, or by terrorists as they harvest their olive grove. The kidnapping of children is an enemy to that desire–whether taken at gunpoint from their kibbutz or taken at gunpoint from their village. And, collective punishment is an enemy to that desire, whether it involves demolishing one home, or one thousand; as too is ethnic cleansing; as too is occupation; as too is apartheid."
---