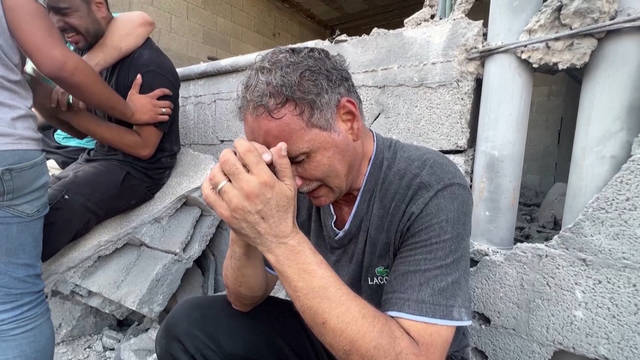 Media Options
By Amy Goodman & Denis Moynihan
United Nations Secretary-General António Guterres addressed the UN Security Council on Tuesday, saying, "To ease epic suffering, make the delivery of aid easier and safer, and facilitate the release of hostages, I reiterate my appeal for an immediate humanitarian ceasefire." He went on to criticize Israel's siege and bombardment of Gaza in retaliation for the October 7th attack by Hamas, which killed over 1,300 Israelis:
"It is important to also recognize the attacks by Hamas did not happen in a vacuum. The Palestinian people have been subjected to 56 years of suffocating occupation. They have seen their lands steadily devoured by settlements and plagued by violence, their economy stifled, their people displaced and their homes demolished. Their hopes for a political solution to their plight have been vanishing. But the grievances of the Palestinian people cannot justify the appalling attacks by Hamas, and those appalling attacks cannot justify the collective punishment of the Palestinian people."
Israel's UN ambassador demanded Guterres' resignation, adding, "we will refuse to issue visas to UN representatives…to teach them a lesson." The U.S. presented a Security Council resolution for a "humanitarian pause" in Gaza, which Russia and China vetoed saying it did not go far enough. Russia countered with a full ceasefire resolution that the US and UK vetoed.
Meanwhile, the death toll in Gaza continues to climb, with at least 7,000 Palestinians killed since October 7th, including nearly 3,000 children, according to Gaza's Health Ministry. The Israeli military and armed settlers have also killed more than 100 Palestinians in the occupied West Bank since October 7th, adding to the record number of Palestinians killed in the West Bank this year.
Israel has held the Gaza Strip under a devastating blockade since 2006, trapping its 2.4 million residents in what is arguably the world's largest open air prison. Israel limits the delivery of food, fuel, water and medicine and imposes apartheid controls on who can enter and leave. The current complete shutoff of life-sustaining supplies that Israel imposed on October 7th, compounded by the relentless airstrikes, has created what Philippe Lazzarini, Commissioner-General of UNRWA, the United Nations' Palestinian relief agency, describes as "hell on Earth." He writes, "Entire neighborhoods are being flattened over the heads of civilians."
Among those killed were the wife, daughter and son of Al Jazeera Arabic's Gaza bureau chief Wael Al-Dahdouh, called by many "the Voice of Gaza." They were killed in the south of Gaza, in an Israeli airstrike. "Wael, like many of us, like thousands of Palestinians who got the order to evacuate from the north and from Gaza City to the south, heeded that order and moved his family to the south, to Nuseirat refugee camp," Al Jazeera correspondent Youmna ElSayed said on the Democracy Now! news hour, the day after the airstrike. "When we say there is no safe place in Gaza, we're not lying…Why did they ask us to go to the south?"
Oxfam's Middle East Regional Director Sally Abi Khalil said in a statement, "The situation is nothing short of horrific–where is humanity? Millions of civilians are being collectively punished in full view of the world, there can be no justification for using starvation as a weapon of war."
Gaza's healthcare infrastructure is on the brink of collapse. Dr. Hussam Abu Safiya, the head of pediatrics at Kamal Adwan Hospital in northern Gaza told Al Jazeera, "We are overwhelmed with dozens of wounded, dying and dead children coming in…The pace of strikes is escalating, and our supplies are near depletion. When the fuel runs out tomorrow, this hospital will rapidly become a mass grave." Dr. Mohammad Abu Salmiya, the director of Al Shifa Hospital, Gaza's largest hospital, likened expected deaths of patients dependent on electricity for respirators or dialysis machines to "premeditated murder."
On Wednesday, in a White House Rose Garden speech, President Joe Biden questioned the reported numbers of Palestinians killed in Gaza. "I have no notion that the Palestinians are telling the truth about how many people are killed. I'm sure innocents have been killed, and it's the price of waging a war," he said.
Last February, months before the October 7th Hamas attack, Haaretz, one of Israel's most influential newspapers, published an editorial, referring to the collective punishment that followed sporadic attacks on Israeli citizens by Palestinans: "Laws that permit Israel to violate international law and the laws of occupation will not only fail to thwart terrorism, but will drag Israel to the defendants' dock of the international community."
Israel's collective punishment of Palestinians is nothing new. But this latest siege of Gaza, described by Israeli Holocaust historian Raz Segal as "a textbook case of genocide," must stop now.
---