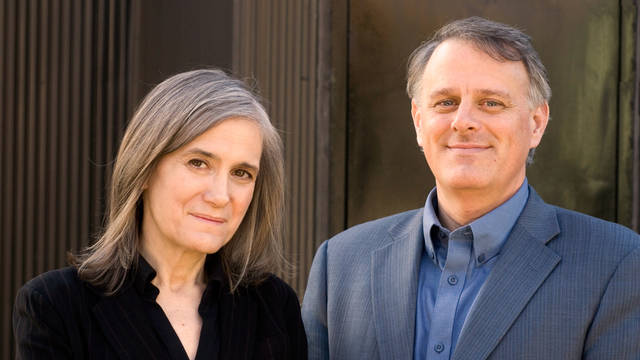 Media Options
By Amy Goodman & Denis Moynihan
Tennessee calls itself "The Volunteer State," but don't volunteer your opinion there. Free speech is by no means guaranteed in Tennessee. This month, the largely white Tennessee House of Representatives, with its heavily gerrymandered Republican supermajority, expelled two members, Representatives Justin Jones and Justin Pearson, the two youngest Black representatives in the House. They stood accused of breaching House "decorum" for non-violently protesting the chamber's inaction on gun violence in the wake of yet another mass school shooting, this one at The Covenant School in Nashville on March 27th. Three nine-year-olds and three adults were killed by the single shooter armed with an AR-15-style semi-automatic assault rifle, a weapon of war.
Days after the mass shooting – the 146th in the U.S. in 2023, according to the Gun Violence Archive – over 1,000 people marched on the capitol, flooding the Senate and House galleries, chanting demands for gun control. During a House recess, Jones and Pearson went to the floor with a small bullhorn. They were joined by Democratic Rep. Gloria Johnson, a former teacher. These elected officials were later dubbed "The Tennessee Three."
Infuriated, Republican House Speaker Cameron Sexton pledged to punish them. In a radio interview later, Sexton said the three were worse than the January 6th insurrectionists who stormed the U.S Capitol in 2021.
On Thursday, April 7th, the House held three separate votes. The Republicans voted to expel the two Justins, Justin Jones and Justin Pearson, but failed to muster enough votes to purge Rep. Gloria Johnson, who is white. When asked later why she thought she avoided expulsion, Johnson said, It might have to do with the color of my skin.
During the six-hour expulsion proceedings, each of the targeted Democrats were questioned by their Republican accusers. Justin Pearson was admonished by Rep. Andrew Farmer, whose tone, dripping with contempt, clearly echoed Tennessee's racist roots:
"That's why you're standing there, because of that temper tantrum that day, for that yearning to have attention. That's what you wanted. Well, you're getting it now."
Tennessee House Speaker Cameron Sexton drove the effort to expel the two Black legislators. It was not his first confrontation with Justin Jones. In 2020, as a Black Lives Matter activist following the police killing of George Floyd, Justin Jones led the successful movement to remove the bust of Nathan Bedford Forrest from the state capitol rotunda. Forrest, a Tennessean enslaver, plantation owner and Confederate Army general is revered by racist white Southerners. Forrest was accused of numerous atrocities and war crimes during the Civil War. He led the massacre at Fort Pillow, 40 miles north of Memphis, where Confederate forces are believed to have killed hundreds of unarmed Union troops after they had surrendered. Forrest was also the first Grand Dragon of the Ku Klux Klan, which was founded in Tennessee. Cameron Sexton voted against removing the sculpture.
On Holocaust Remembrance Day, January 27th, 2022, Sexton interrupted a floor speech by Democratic Rep. John Ray Clemmons, whose wife is Jewish. Clemmons was criticizing a Tennessee county banning the Holocaust memoir "Maus" by Art Spiegelman.
Justin Jones has repeatedly called on House Speaker Cameron Sexton to resign.
By most accounts, Sexton's campaign to purge the Tennessee Three has failed miserably. On Monday, just days after their expulsion, Justin Jones was unanimously reappointed by the Nashville City Council.
On Wednesday, Justin Pearson rallied with supporters in Memphis, in front of the historic Lorraine Motel. It was on the 2nd floor balcony of the Lorraine Motel where Martin Luther King, Jr. was assassinated on the afternoon of April 4th, 1968, almost 55 years to the day that the Tennessee House expelled these two young Black elected officials. After the Shelby County Commissioners voted unanimously to reappoint Pearson to the legislature, he spoke, invoking King's words:
"The message for all the people in Nashville who decided to expel us: You can't expel hope! You can't expel justice! You can't expel our voice! And you sure can't expel our fight! We look forward to continuing to fight, continuing to advocate, until justice rolls down like water, and righteousness like an ever-flowing stream! Let's get back to work!"
In 1892, a white mob burned the offices of the Memphis Free Speech and Headlight newspaper to the ground, in retaliation for the fearless, anti-lynching reporting by the newspaper's co-owner, legendary Black investigative journalist Ida B. Wells. Almost 130 years later, Justin Jones wrote a book about his own political trajectory, called The Peoples' Plaza, about the protests in Nashville following the 2020 police killing of George Floyd. He opens the book with a quote from Ida B. Wells:
"The way to right wrongs is to turn the light of truth upon them."
In Nashville, the Tennessee Three are doing just that.
---