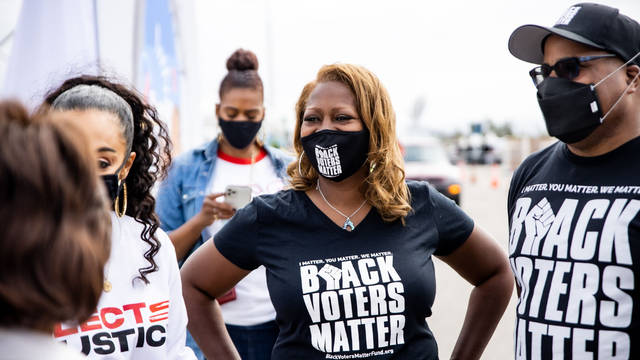 Media Options
Image Credit: Courtesy of Black Voters Matter
By Amy Goodman & Denis Moynihan
In May, 1901, 150 white men gathered in Montgomery, Alabama to rewrite their state's constitution. They elected John Knox, a prominent lawyer, to chair the convention. Knox said in his opening speech: "[W]hat is it that we want to do? Why, it is to establish white supremacy in this State…we must establish it by law — not by force or fraud." He added, "There is no higher duty resting upon us [but] to protect the sanctity of the ballot in every portion of the State." The new constitution formalized the racism inflicted on Black Alabamians, stripping them of the right to vote and further entrenching Jim Crow segregation.
Many of the remarkable achievements of the Civil Rights movement were forged in Alabama. The 1965 Voting Rights Act followed the Selma-to-Montgomery March earlier that year. The population of Lowndes County, Alabama was 80% Black, yet not one of those Black residents was registered to vote. Last November, over 120 years after the ratification in 1901 of Alabama's racist constitution, voters finally replaced it.
Yet today, the white supermajorities that control both houses of Alabama's legislature, along with Alabama's white republican governor, Kay Ivey, continue to disenfranchise Black voters.
Racist redistricting of Alabama's Congressional districts is one ploy. In 2021, Alabama lawmakers gerrymandered the state's Congressional map, reducing what should have been two majority Black districts to one. Civil rights and voting rights groups sued, and a federal judge rejected the map, declaring it in violation of the Voting Rights Act. The U.S. Supreme Court agreed with the judge, ordering the map to be redrawn. The legislature drew a new map, but defied the Supreme Court, keeping only one majority Black congressional district.
This second gerrymandered map was again rejected, this time by a panel of three federal judges, two of whom were appointed by Trump. Stating in their order that they were "deeply troubled" by the state ignoring the court's authority, they appointed a special master and a cartographer to draw a map that Alabama will be required to use for the upcoming 2024 election.
Similar court battles to preserve the voting rights of Black citizens are being waged across the South, with lawsuits in Georgia, Tennessee, Louisiana and Florida. In Florida, Republican Governor and presidential hopeful Ron DeSantis vetoed the most recent map drafted by the legislature, forcing the adoption of his own. DeSantis' map was tossed out by a judge for being racially gerrymandered.
"DeSantis and those with him, they don't want to talk about the real record. That's why they redistrict illegally," Bishop William Barber, founding director of the Center for Public Theology & Public Policy at Yale Divinity School, said on the Democracy Now! news hour. "Racist voter suppression creates death, because when you suppress the right to vote and you stack and pack and bleach Black voters, you allow extremists to get elected, who then, once they get elected, they block healthcare, they block living wages, they block addressing poverty. And when you do those things, people die. Bad public policy creates death. Racist rhetoric and division can create a context of death, give people the license to kill. All of it is deadly."
Bishop Barber was responding to yet another deadly mass shooting, this one in Jacksonville, Florida. On Saturday, August 26th, a white supremacist shot and killed three Black people at a Dollar General store, then killed himself. The shooter's semi-automatic rifle had swastikas drawn on it. Law enforcement has stated decisively that the massacre was motivated by the shooter's racism. News coverage of the mass shooting was overwhelmed when Hurricane Idalia struck Florida, but was not forgotten in Jacksonville's Black community.
"This hurricane of racism that we've been dealing with in the Jacksonville community is not new," Rodney Hurst, civil rights leader, historian and author from Jacksonville, said on Democracy Now! As a teenager, he led sit-ins at segregated lunch counters in Jacksonville. On August 27, 1960, in what became known as "Ax Handle Saturday," the young, nonviolent protesters were attacked by a mob of 200 whites armed with ax handles and baseball bats. The Dollar General shooting took place as Hurst and others were planning to mark the 63rd anniversary of that attack. In Washington, DC, thousands were commemorating the 60th anniversary of the 1963 March on Washington, when Martin Luther King, Jr. delivered his famous "I Have a Dream" speech.
The struggles of a century can be wiped out with the stroke of a pen, whether it is erasing Black history from state curricula, to gerrymandering state maps, to purging voter rolls and other methods of disenfranchising voters of color. All this is happening now in state legislatures across the country. It will take a force more powerful, the power of the people, to turn back this tide.
---