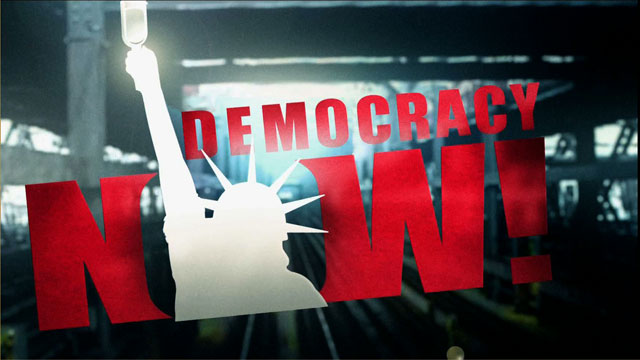 Media Options
Guests
Susan Faludi

feminist author of Backlash: The Undeclared War Against Women.
A brief excerpt from Susan Faludi's speech suggests that journalists themselves must take some of the blame for the "Disneyfication" of the media due to their eschewing of investigative reporting and social justice stories for entertainment news.
---
Transcript
This is a rush transcript. Copy may not be in its final form.
AMY GOODMAN: You're listening to Democracy Now!, Pacifica's national daily grassroots election show. I'm Amy Goodman. Coming up in a few minutes, we'll be hearing from my co-host in New York, who came out for the Media and Democracy Congress, Juan González. He's a columnist with the Daily News, and he's going to be talking about media workers. That's how he terms journalists.
But first we turn to a woman who opened the congress last night. She is author Susan Faludi. And, by the way, if you'd like a copy of today's show, if you'd like to have Jim Hightower's speech in your archives, as well as Susan Faludi and Juan González and others, you can give us a call at the Pacifica Archives at 1 (800) 735-0230. That's 1 (800) 735-0230. Our email address is democracy(at)pacifica(dot)org. That's democracy(at)pacifica(dot)org. And, by the way, the proceedings of the Media and Democracy Congress are being transmitted live all day, all weekend in fact, on the Internet, and here's how you can participate. You can listen, you can see what's happening, and you can respond. The address on the World Wide Web is www.voyagerco.com. That's www.voyagerco—that's V-O-Y-A-G-E-R-C-O—dot-com—C-O-M. And you can participate in the Media and Democracy Congress right from your home.
Now onto Susan Faludi. Susan Faludi is the author of Backlash: The Undeclared War Against Women, a six-month New York Times bestseller chronicling the campaign against women's rights in the 1980s, which won a National Book Critics Circle Award. She also received the Pulitzer Prize in 1991 for a story in The Wall Street Journal about the social costs of leverage buyouts. In addition, she was a staff writer for the San Jose Mercury News, The Atlanta Journal-Constitution and the Miami Herald. Her articles have appeared in numerous publications. Susan Faludi.
SUSAN FALUDI: I just want to add something to what Ben was saying about advertising, which is a—you don't usually get actual proof that this is what they're doing, but a while back The Atlanta Constitution, where I used to work, one of the top editors actually said, at a meeting with advertisers, that he promised that they would downgrade the newspaper so as to make it safe for advertisers, was how he put it.
But I'm going to be a bit of a grump, in that we say that we don't like the Disney World plantation we're writing for, but maybe we've gotten exactly the owners we deserve. And I'm speaking largely of those of us in mainstream media, which I'm a member, that we especially have—we have, in large part, ourselves to blame by making ourselves rather alluring to the Disneys and the Warner Brothers in the last several decades by indulging in an infotainment, surfacy, celebrity trend-mongering journalism so that long before Hollywood corporations took control of the media, the media turned themselves into Hollywood acolytes.
And we ask ourselves worriedly, "What is the future for journalism in a Disney world? Will it have the independent media's ability—will it hurt the independent media's ability to write public interest and social justice stories?" But about the same time that Reagan came into office, the so-called independent media, without any help or goading from Hollywood, seemed to completely lose interest in stories of public interest or social justice. At the time, I was a copy girl at The New York Times in 1981, and the news of Reagan's punishing cuts in fundamental social programs was of so little concern that the copy kids were writing many of these stories. So I, the utterly green 22-year-old know-nothing was writing a story about many of the daycare programs in the city that could no longer serve lunch to children. The Times ran this on something like 99-D.
We are asking ourselves worriedly, "Will the Disney-ruled media future hurt labor reporting?" But the—what labor reporting? The independent media has already largely junked labor reporting. It used to be the regular beat on any respectable newspaper, and that's not true anymore. My own experience at The Wall Street Journal, by the time I got there, they no longer had a labor reporter, even though they seemed to have every other specialty, including, you know, pork belly commodities pros.
We ask ourselves worriedly, "Will the future Disney media hurt investigative reporting?" But the so-called independent media have already largely eliminated investigative teams. And the few that retain those investigative teams have changed their mandate from investigating corruption and malfeasance to either covering social issues in a self-righteous, blame-the-victim manner, like the Washington Post investigative series on—quote-unquote "investigative"—on teen pregnancy in the ghetto, or fluffier, feel-good issues that are chosen simply because they're cute and might win a prize. I don't know if you remember that endless investigative story on dog trouble in the canine force.
So, what—and what have we replaced with all of this? We have now a media where readers are the customers that we're supposed to please. And if our readers are the customers, then what are we but the marketeers? And I submit that it's a very short couple of steps from marketeer to Mouseketeer.
AMY GOODMAN: And that was feminist author Susan Faludi, author of the book Backlash: The Undeclared War Against Women.