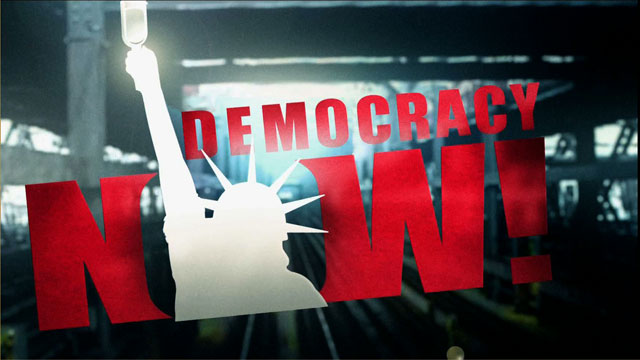 Media Options
Topics
---
Guests
John Trudell

a Santee Sioux poet, musician and longtime activist for Native American rights. He was also National Chairman of the American Indian Movement from 1973-1979.
Indigenous Hondurans today are sentencing Christopher Columbus for crimes against indigenous Americans, 506 years after his so-called discovery of the continent. The indigenous activists in July began a mock trial of Columbus on charges of genocide and robbery, resulting from the 1492 beginnings of the colonization of the Americas. An estimated 1000 Indians blocked access to Mayan ruins and other tourist sites this weekend as part of the protests leading up to Columbus day. Meanwhile in the U.S. activists around the country are expected to hold demonstrations to mark Indigenous People's Day.
As the American and National League playoffs head toward the World Series, we bring you a speech by indigenous activist Charlene Teeters on the kind of mascots used by two of the teams in the playoffs the Cleveland Indians and the Atlanta Braves.
---