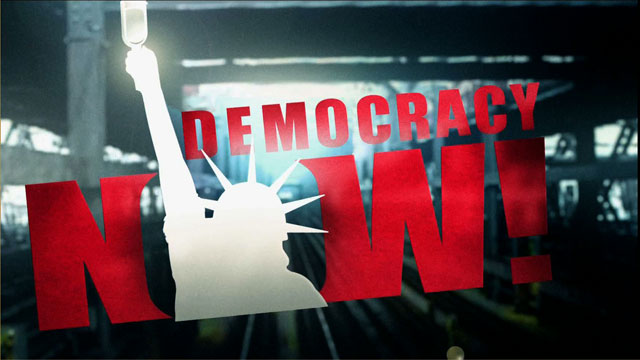 Media Options
As NATO continues to pound communications sites, factories and other so-called military targets in Yugoslavia, the Serb news agency Tanjug reports today that NATO attacks overnight have killed or injured at least 12 people in Serbia's third-largest city, Nis. This comes just one day after NATO reluctantly admitted having hit a civilian convoy in Kosovo last week that killed over 70 Kosovar Albanians–NATO had previously said that its planes had accidentally hit a tractor with civilians that was part of a military convoy. And as civilian casualties and environmental destruction caused by the bombings mount, so does the international call for an alternative to war in Yugoslavia. This past weekend, thousands of peace activists demonstrated in NATO countries against the bombings.
Yesterday off the air, we spoke with a veteran peace activist in Belgrade from the feminist peace group "Women in Black," who told us that the peace movement in Yugoslavia has had to go underground and in many cases, activists are no longer getting together for fear of reprisals. Two weeks ago, the activist said, the Serb government passed a series of "war laws" that forbid people from getting together publicly. After the murder of a well-known opposition editor in Belgrade last week, human rights groups and peace activists are more afraid than ever to speak out–they say that while they encourage people to protest NATO bombings against their country, they cannot voice their opposition to militarism and human rights abuses within Yugoslavia. So chapters of "Women in Black" in other countries are speaking on their behalf.
Guests:
Cynthia Cockburn, from the British chapter of the feminist peace group "Women in Black," which also has a group in Belgrade. Speaking from London.
Michel Colon, writer and journalist who was beaten up by the Belgian police after he demonstrated in front of NATO headquarters this past April 3rd. Speaking from Brussels, Belgium.
Niko Vokovaser, Dutch representative of the Global Reflection Foundation, an international organization that deals with global issues such as war and peace and the impact of the global economy on communities. He is organizing several protests in Amsterdam and in The Hague.
Hugh Stevens, from the Institute for Independence Studies, peace activist and organizer for a demonstration held this past weekend at Trafalgar Square in London against the U.S.-British bombings in Iraq, and for the lifting of the economic sanctions against Iraq. It included Member of Parliament Tony Benn for the Labor Party and former U.N. Deputy Secretary General Dennis Halliday. Although the protest was called for Iraq, the rally also denounced the NATO attack against Yugoslavia.
---