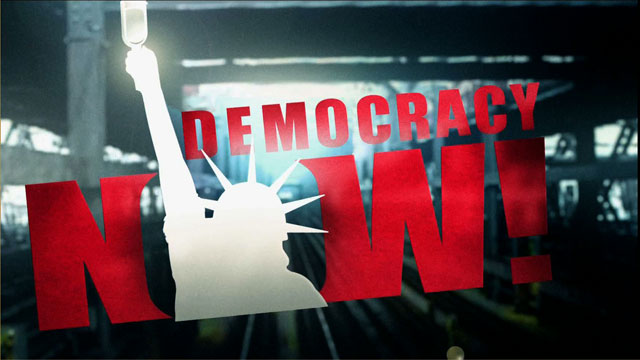 Media Options
A fresh wave of possibly decisive court rulings is expected today in the battle for the White House, which is still unresolved more than a month after the election. The Florida Supreme Court will be ruling on a bid by the campaign of Democrat Al Gore to begin an immediate recount of 14,000 ballots from several Florida counties. They are seeking to overturn the official 537-vote lead that Texas Governor George W. Bush holds in Florida. Bush opposes the recount. [includes rush transcript]
Guest:
Leslie Clark, staff reporter for the Miami Herald covering the Florida Supreme Court.
---
Transcript
This is a rush transcript. Copy may not be in its final form.
AMY GOODMAN: Speaking of hi-tech and high technology, there leaves a lot to be desired, though, when it comes to elections, although some say that's a good thing, that elections should be run from the very grassroots level by the people and not by the state. But we are going to go down now to Florida, as we have every day, to look at the race that has not ended yet.
A fresh wave of possibly decisive court rulings is expected today in the battle for the White House, which is still unresolved more than a month after the election. The Florida Supreme Court will be ruling on a bid by the campaign of Al Gore to begin an immediate recount of 14,000 ballots from several Florida counties. They're seeking to overturn the official 537-vote lead that Texas Governor George W. Bush holds in Florida. Bush opposes the recount. Meanwhile, two Florida judges will rule over whether to discard 25,000 absentee ballots that lawyers say were tainted because Republicans altered election documents. In the two cases affecting Seminole and Martin counties, judges must decide whether Republicans improperly filled in voter registration numbers on ballots that had already been cast and discarded, so that they could be counted as valid. If the judges rule the ballots should be discarded, it would give Gore a lead of thousands of votes.
We go now to Leslie Clark, who is staff reporter for the Miami Herald, covering the Florida Supreme Court. Tell us what's happening there today, Leslie Clark.
LESLIE CLARK: Well, everybody is pretty much waiting at this point for a ruling from the justices. Nobody really knows at what point they will rule. They're supposed to give us a thirty-minute warning when they've reached a decision. It's likely to come today. The last time that they ruled on a decision in this huge election, they ruled within twenty-four hours of hearing the oral arguments.
JUAN GONZALEZ: Well, Leslie Clark, I know it's hard to tell from the questioning of the judges yesterday. But it did seem that several of the judges were much more skeptical toward the Gore team in terms of whether the court should even be considering this case or — what was your sense from the line of questioning of the justices?
LESLIE CLARK: Yeah, the first thing is everyone cautions you against trying to figure it out. The court spokesman says he's only got a 50% record of guessing what they'll do, and he's been there for fourteen years. So they truly did, I think, hold both campaigns' feet to the fire yesterday, asking pretty tough questions. They — as soon as the lawyers introduced themselves, the chief justice cut them off and wanted to know whether or not the court even indeed has the authority to intervene in the case.
AMY GOODMAN: Explain exactly what the judges will be deciding on today, Leslie Clark.
LESLIE CLARK: Well, they have not yet even officially agreed to take up the case. Their first question involved jurisdiction as to whether or not the Florida Supreme Court has the jurisdiction to look at the case and whether, because of the state constitution, that the legislature is not granted plenary power to select presidential electors. So their first question is going to be: do we even have the authority to be involved in this? Then, if they take that up, if they do indeed decide to take it up, their next question will be: what's the resolution? What do we do? Is it truly so many uncounted ballots that we need to order a recount? They're very worried about the time, as well. Tuesday, as you know, is the deadline for the states getting in their list of electors.
JUAN GONZALEZ: And assuming, of course, that if they did rule to recount the votes that the Bush team would immediately appeal to the U.S. Supreme Court, I mean, what realistic possibility is there for — even if the Supreme Court were to rule, for there to be enough time for these counts to be made? Everything we've heard so far says what, three to four days minimum or…?
LESLIE CLARK: Yeah. David Boies, the Gore attorney, said that the canvassing boards were going through ballots at about 300 an hour. And there's about, you know, 9,000 ballots alone in Miami-Dade County. He seemed to think, however, if they allowed one person, like a court officer, to look at the ballots, that it could go a lot faster. But I can't imagine the campaigns agreeing to have one supposedly nonpartisan, uninterested individual monitoring the ballots.
AMY GOODMAN: I know that you're going to have to go, Leslie Clark of the Miami Herald, but I wanted to ask you about this — about Judge N. Sanders Sauls of Leon County Circuit Court. The Times has it as a — New York Times has it as a front-page piece today how he was "hauled to the woodshed by the Florida Supreme Court in what many recall as the most extraordinary professional humiliation in North Florida's recent legal history." Explain what he did.
LESLIE CLARK: He apparently — I'm not all that familiar with the case, because I've been covering the cases in the circuit courts, but he apparently sort of took a personal interest in getting rid of one of the clerks of the court some years ago, and then he was removed from his position as the chief judge of the Circuit. But I've covered the Supreme Court, and they've — I think they've admonished, publicly reprimanded four South Florida judges this year alone.