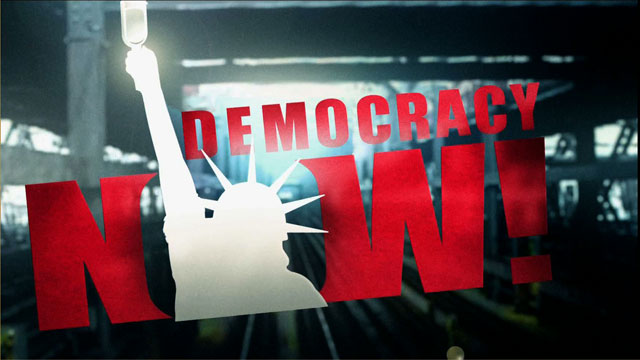 Media Options
Now we are going to talk about another controversy that is raging that goes to the heart of media and democracy, Low Power or Micro Radio: What micro radio is, why big broadcasters are fiercely lobbying against it, and we take a look at current legislation in Congress that may well kill it before it has a chance to grow. [includes rush transcript]
Guests:
Dennis Wharton, Senior Vice President of the National Broadcasters Association. Call National Association of Broadcasters: 202.429.5300.
Michael Bracy, Executive Director of the Low Power Radio Coalition. Call: 202.783.5955.
Related links:
---
Transcript
This is a rush transcript. Copy may not be in its final form.
AMY GOODMAN: As one friend put it, whether elephants are fighting or making love, the grassroots still gets trampled below. And now we're going to go to the grassroots. We're going to talk about another controversy that's raging that really goes to the heart of media and democracy. It's the issue of low-power or micro radio.

We're going to start out by just finding out what micro radio is and why one of the largest groups of the big broadcasters, the National Association of Broadcasters, is so powerfully lobbying against it in Congress.
<p.We're joined on the telephone by Michael Bracy, executive director of the Low Power Radio Coalition, as well as the senior vice president of the National Association of Broadcasters, NAB, Dennis Wharton. Let's begin with what low-power radio is, Michael Bracy.


MICHAEL BRACY:
Good morning. For the last several years, there's been a — this issue's been brewing here in Washington and throughout the country, and what the basic idea is, the basic debate is whether or not the federal government, through the Federal Communications Commission, should grant licenses for community groups and churches and educational institutions and local governments to make use of the FM airwaves by running what are called low-power or micro radio stations. Basically, these stations would run at 100 watts or ten watts, and they would cover a very, very small geographic area, as opposed to a full-power radio station, which typically would be — range anywhere from 6,000 watts to 50,000 watts or 100,000 watts.
And these groups, for the past couple of years, have pressured the FCC to try to let them go ahead and have these licenses, because they want to use radio, and FM radio particularly, as a communications tool or as an educational tool to try to reach out to whatever constituency they work with, whether it's elderly shut-ins, in the case of many churches, whether it's taking an educational station that already exists and getting it off the internet and onto the airwaves, or whether it's a local government that's trying to use radio as a supplement to the cable programming they do or the websites they produce to try to really help reach all Americans.


The beautiful thing about radio, as Dennis and the NAB certainly know, is that all Americans listen to radio. All Americans have access to radio, and it really, we feel, is really an underutilized communications tool. And the FCC voted January, after a very long public process, on what is basically a compromise plan that would allow limited applications for low-power stations for noncommercial applicants.


And after a very successful lobbying campaign led by the NAB — but also the National Public Radio joined in on it — the House of Representatives passed a bill about three weeks ago, I think, that would basically gut the plan and would — if this bill became law, it would take basically the authority away from the FCC and give it to Congress to make decisions on these types of FM-spectrum allocations in the future.


JUAN GONZALEZ:
Well, Dennis Wharton, what's wrong with giving the American people more choice in their — especially given in radio — especially given the enormous concentration of the commercial radio ownership in the country?
DENNIS WHARTON:
There's nothing wrong with giving Americans more choice. What's wrong is the notion that you give them more choice by creating more interference on the airwaves, where they can't hear what's being spoken. We're all for the First Amendment, but if you give everyone a broadcast license in the country, no one will hear what's being broadcast.
JUAN GONZALEZ:
When you say "everyone," what numbers were being tossed around in terms of the number of low-power stations that would be licensed?
DENNIS WHARTON:
Well, the number that originally came out was around 4,000, I believe. It's important to remember that what has been done in the House of Representatives will not block LPFM. It will allow LPFM service to go forward. It will simple preserve the interference protections that have always been critical —
AMY GOODMAN:
LPFM being low-power FM.
DENNIS WHARTON:
Pardon me?
AMY GOODMAN:
LPFM being low-power FM.
DENNIS WHARTON:
Yeah, it will — yes, low-power FM. It will preserve the critical interference protections between channels on the radio dial that every FCC has recognized as important, so that listeners can continue hearing their hometown radio stations.

I think it's also noteworthy that it's not just the National Association of Broadcasters that have raised questions about low-power FM, National Public Radio has voiced strong objections to this service. The Radio Reading Services for the blind have raised questions about this service. The religious broadcasters have raised questions about the interference issues. The Consumer Electronics Association, which are the companies that actually make boom-boxes and radios that you buy in Circuit Cities and elsewhere, have opposed this service, because of interference. So this is not just what some would characterize as the fat-cat broadcasters opposing this service. How does Chairman Kennard explain NPR and the Radio Reading Services for the Blind being opposed to this?
AMY GOODMAN:
Well, Michael Bracy, how do you feel about this issue of static?
MICHAEL BRACY:
Well, "static" is obviously a great word, because there has been a lot of it in the rhetoric on this issue for the last couple years. And, I mean, basically what we're talking about, and I think for most folks, you know, we can try to stay big picture on this; you know, if you want to get more into the technical details that Dennis raises, we can do that.
But, you know, really what you're talking about is the idea that the Federal Communications Commission is the federal government's authority on FM-spectrum allocation. They had a very, very long public process, at the end of which they said that, taking very seriously their role as guardian of the FM spectrum, they said that these stations will not cause significant interference. And basically what you have is NPR and the NAB, you know, concerned about these new stations coming on. They claim it's because of technical issues. Everyone else believes it's because they're concerned about simply adding competition, in terms of other stations.


But the reality here is that you have a broad-based coalition that ranges from religious groups like the US Catholic Conference, the Methodists, the Lutherans, you have the National League of Cities, you have the Consumers Union, you have the Leadership Conference on Civil Rights, you have the independent music industry. You basically have everybody lining up saying, "Yes, this is a good idea. We should have more access to the radio." And if the FCC, after their own process, says that this can be done, then it ought to be done.

And what — you know, Dennis has a beef with the engineers and the policy people at the FCC; we have a beef with Dennis and the NAB trying to get Congress to be the ones to make these decisions in the future, and we're fighting it out in the Senate.


JUAN GONZALEZ:
Well, Dennis Wharton, what about this issue of trying to go around the FCC, if they've already made a ruling on the issue?
DENNIS WHARTON:
Well, the Congress has oversight authority over the FCC, as they have oversight authority over every regulatory agency when they overstep their bounds.

What the FCC did in this process — Michael talks about this long process. Let me tell you, I'm a former reporter, and I covered the FCC for thirteen years before I joined the NAB. I can tell you that this was rushed through faster than perhaps any item I've ever seen in the FCC's history, in terms of a major public policy issue. This took less than probably about a year to implement. The digital television proceeding took fifteen years to implement. This thing was rushed through as quickly as I've ever seen a major policymaking decision done at the FCC.
I want to point out that there are — it's not that we are against voices. There have been 3,800 radio stations added to the dial since the 1980s. Even with consolidation in radio, there are still over 4,000 individual owners of radio stations in the United States. So the notion that the radio industry is somehow just massively consolidated, yes, there has been some consolidation in the last few years, and we think it's appropriate consolidation, and, by the way, we think there's actually more diversity in terms of program formats on the radio dial today than there has ever been. For example, before consolidation was allowed, there were fewer than 4,000 Spanish-language stations on the radio dial. Today, there are over 6,000 Spanish-language stations on the radio dial. So we think consolidation has led to increased diversity, in terms of program formats, rather than less.


JUAN GONZALEZ:
Well, when you talk about the speed of decision on this low-power radio situation, I'm sure it wasn't faster than how Congress passed the Telecommunications Act. That was done with lightning-like speed.
MICHAEL BRACY:
I'm sorry, that's just flat wrong. That took three congresses. It started about 1990 and culminated in 1996. So, you know, that's just not correct.
JUAN GONZALEZ:
OK. Well, I'd like to ask you, though — you mentioned digital, the standards over digital television. How has the digital revolution — and its impact on radio — how would this affect this whole issue of static? Wouldn't radio stations be able to more properly — or produce greater quality transmission as a result of the digital revolution?
MICHAEL BRACY:
I'm glad you asked that question, because we actually asked the FCC to make digital radio a priority, as opposed to the LPFM service, because we think a clear digital signal for every radio listener would be far more valuable for the radio-listening public than an LPFM service that, by their own admission, is going to have difficulty being heard, because they, at the very last minute, relaxed the interference protections, even for LPFM stations.
So it's unclear exactly how many listeners will be served by LPFM, but we do know that hundreds of thousands of listeners who listen to their current radio stations will be impacted and unable to hear this service in certain pockets of the coverage area. It's not going to be everybody who will not be able to hear their current stations because of LPFM, but there will be this Swiss cheese effect, where that if you are near an LPFM station, the likelihood is that, because they've relaxed this what's known as third adjacent channel protection, there will be harmful interference. The FCC claims there is acceptable levels of interference that have been introduced to the radio dial. That's, in our view, an oxymoron, an oxymoron. When every other communications technology is moving to the absolute clearest and best service possible, the FCC says, well, radio listeners are second-class citizens somehow and can be relegated to levels of acceptable levels of interference.


AMY GOODMAN:
Michael Bracy, we're going back and forth on this, but it does sound like a very serious issue. Is it, or isn't it?
MICHAEL BRACY:
Is it, or isn't it? I mean, it is a legitimate issue, and our group and other groups have said from day one it's a legitimate issue, and that's why you need experts like the folks at the FCC to make the decisions on how to implement this thing. That's why you don't need to have politicians and Congress be the ones who make these decisions.
You know, Dennis raises a lot of interesting arguments, and, you know, I think that the consumer part of this, or the citizen part of this, is whether or not we want to have radio be left to the forces who want to use radio to make money, which is primarily what the role of commercial broadcasters are. They are in the business of making money.


And what we are saying and what others are saying is that if you can implement this technology, these ten-watt or 100-watt stations, if you can use radio as a communications tool, if you can do it in a way that will have negligible or trivial impact on listeners, which is basically what the FCC has said in terms of this alleged interference problem, there really is no justification for the federal government to stand in our way.


AMY GOODMAN:
Michael Bracy, we have to break for stations to identify themselves. We are going to wrap up just after the break, and I want to ask you how the whole low-power radio movement came into being. We're talking to Michael Bracy of the Low Power Radio Coalition, as well as Dennis Wharton, who's senior vice president of the National Association of Broadcasters. After that, we'll go to the border, Tucson, find out about rancher vigilantes. You're listening to Pacifica Radio's Democracy Now! We'll be back in a minute.
[break]


AMY GOODMAN:
You're listening to Pacifica Radio's Democracy Now! I'm Amy Goodman, here with Juan Gonzalez, as we wrap up our discussion on low-power radio and the legislation now before the Senate that deals with the issue. Our guests, Dennis Wharton of the National Association of Broadcasters and Michael Bracy, executive director of the Low Power Radio Coalition. How did low-power radio, in a nutshell, come into being?
MICHAEL BRACY:
It's a very quick story. It came from two or three different trends that happened simultaneously. First of all, as you spoke to earlier, after the '96 Telecommunications Act went through Congress, there's been enormous consolidation on the FM band, and there is a general consensus around the country that radio is the same, we're losing local service, that people really want to get back to some sort of community-type platform. So partly it's what happened in the radio industry.
Secondly, it's been that there's been a general shift in our culture, where people become content producers and not content receivers, and you have thousands of organizations who look at the web, they look at television, look at all these different ways they can produce content, and they know that the radio is an underutilized tool that they can utilize also. So you have this grassroots energy, with all these different types of organizations who want to lay claim to spectrums.


So there's been two things. It's been a reaction against what's happened in consolidation, and it's also a positive movement where people are trying to use radio as a new tool.


AMY GOODMAN:
And since Michael Bracy has said some of the things that he considers legitimate about your arguments, Dennis Wharton, and of the National Association of Broadcasters, also NPR, in fighting low-power radio, what do you think are the valuable arguments of low-power radio? Do you think there is anything —
DENNIS WHARTON:
I think there's a — if there is a need for more voices — and we're not against voices — the option that is the logical option to me is the internet radio option. That way, you don't destroy the integrity of the spectrum, which, you know, there's a finite amount of spectrum that is used for — that are allocated for broadcast services.
It's the FCC's primary goal, ever since it was created, to be the spectrum police, to be the guardian of the spectrum, to make sure that when signals are sent, listeners can hear them. So an internet option is a wonderful option for getting more voices out without ruining the integrity of the broadcast spectrum.


JUAN GONZALEZ:
But now, one question on that, Dennis Wharton: isn't the FCC more than just a policeman? It's also supposed to assure that the waves are used, to some degree, in the public interest, aren't they?
DENNIS WHARTON:
Absolutely. I would make the argument that broadcasters are doing a terrific job serving the community. I live in Washington, D.C. I'm going to give you an example of what I'm talking about. Look at the number of radio stations in the Washington area. There are seven Spanish-language stations, there's a Korean station, there's all-news stations, all-gospel stations, all-Christian stations, all-jazz stations, all-sports stations, all-business stations. I could go on and on. But this, to me, demonstrates the diversity of what's on the radio dial. And Washington may be different than Salt Lake City but generally, if there's an audience to be served, radio stations are serving them in every community across the country.
AMY GOODMAN:
Michael Bracy?
MICHAEL BRACY:
I'll make two points. One, on the internet, clearly there are economic and there are social factors that are keeping people away from the internet. People — many, many people don't have access to the internet right now. And the day that commercial broadcasters, particularly the several hundred stations who currently operate at the same type of interference restrictions that the FCC wants to implement for low-power radio, the day that those stations are willing to go internet-only, while the FCC resolves these technical issues, is the day that, you know, we'll think the internet is a valid place for new voices in this argument.
The second point, though — and I'm glad that Dennis raised the issue of the Spanish stations in D.C. — there's a fabulous article in yesterday's Washington Post, where Alfredo Alfonso, who's the president of a large Spanish-language broadcaster, they have purchased two FM stations outside of D.C., which would, in one case, basically take away the only or the last local programmer, locally owned and operated station in Calvert County, Maryland, and Alfredo has decided that instead of fighting low-power radio, he's actually going to donate surplus equipment to a community group or a church group that's trying to get a low-power station, so they will have a local platform in Calvert County, instead of — you know, so while we lose the local programming in Calvert, at least he's going to help there be a low-power station to replace that.


AMY GOODMAN:
Finally, the legislation before the Senate now, which side are each of you on?
MICHAEL BRACY:
I think I can predict —
AMY GOODMAN:
No, but explain the legislation. Explain in terms of what the "yes" means and the "no" means.
DENNIS WHARTON:
Correct me if I'm wrong, Michael, but the last I heard, the legislation right now would simply roll back the FCC's — retroactively block the FCC from implementing the low-power radio. That's different from the House bill, which allows low-power radio to go forward, which we support, but it would keep the third adjacent channel protections that have historically been in place to protect listeners and allow them to continue receiving clear radio signals.
AMY GOODMAN:
And, Michael Bracy, you're lobbying for senators to vote against the legislation?
MICHAEL BRACY:
Well, we feel — I mean, we feel — and I'm sure Dennis would share this to a certain extent — I mean, we would like — we want the Senate to take no action. We think that the FCC should be held accountable for what they do. They should be allowed to move forward and implement the service, and if there are the types of problems that Dennis and his group claims there will be, than the FCC will most certainly be held accountable.
AMY GOODMAN:
You're websites or phone number, Michael Bracy, Low Power Radio Coalition.
MICHAEL BRACY:
DENNIS WHARTON:
And ours is www.nab.org, and I encourage listeners to go on and listen to actual real-life, not simulated interference, that is demonstrated in the Washington market by what happens when you squeeze in a third adjacent channel and don't assure continued protection for continued radio stations.
AMY GOODMAN:
And phone numbers?
DENNIS WHARTON:
Pardon me?
AMY GOODMAN:
Phone number if people want to get NAB or Low Power Radio Coalition.
DENNIS WHARTON:
429-5300, (202) 429-5300.
MICHAEL BRACY:
And Low Power Radio Coalition, (202) 783-5595.
JUAN GONZALEZ:
Well, our listeners have heard the arguments, and make up your mind and get in touch with your senator.
AMY GOODMAN:
I want to thank you both for being with us.