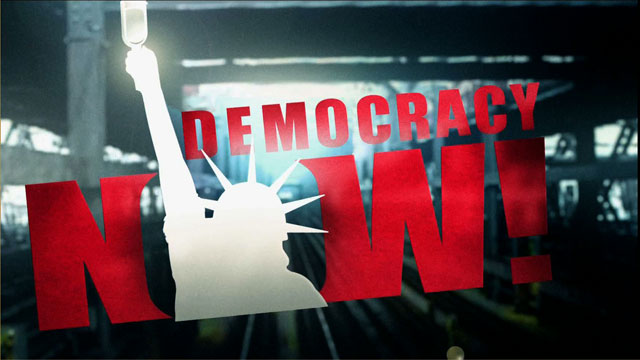 Media Options
Today is International Women's Day. For the next hour, we'll hear from women from around the world. But before we go to Ireland,England, Uganda, Guyana, and Spain, we thought we'd start right here in New York City, where this past weekend, hundreds of people woundtheir way through the city protesting sweatshops, stopping at Foot Locker, which carries Nike shoes, and The Gap, and ending up at thesite of the Triangle Shirtwaist Factory. There, 90 years ago, 146 women workers died in a fire as they were making shirtwaists. Thedoors were locked. The tragedy sparked new levels of women's union organizing.
We begin with Marion Larkin, of Radical Women, talking about the history of International Women's Day.
On International Women's Day two years ago, women all over Ireland stopped work to demand a millennium which values all women's work, andall women's lives.
A few months later, the Irish women leaders approached the International Wages for Housework Campaign at a U.N. meeting in New York, andthe strike went global. Women in 60 countries took part in the first ever Global Women's Strike on March 8, 2000, demanding pay equityand wages for all caring work, the abolition of Third World debt, access to clean water and affordable housing, an end to violenceagainst women.
Today, the global women's strike enters its second year. We will talk to women from Ireland to Uganda, Guyana to Spain to the UnitedStates, about what they are doing on this international women's day of action.
Tape:
Marion Larkin, talking about the origin of International Women's Day.
Comandanta Yolanda, speaking yesterday from Cuernavaca on the second week of the Zapatista march from Chiapas to Mexico City.
Guests:
Margaretta D'Arcy, (Galway, Ireland), of the Women in Media and Entertainment.
Nina Lopez-Jones, (London), one of the International Women's Day Coordinators, Spokesperson for the English Collective ofProstitutes.
Grace Loumo, (Kampala, Uganda), Kaabong Women's Group, International Women's Count Network
Andaiye, (Guyana), Red Thread, International Women Count Network, Mothers in Black
Sarah Williams, (Barcelona, Spain), Spanish chapter of the International Wages for Housework Campaign
Mary Kalyna, (Philadelphia), Wages for Housework Campaign
Related link:
---