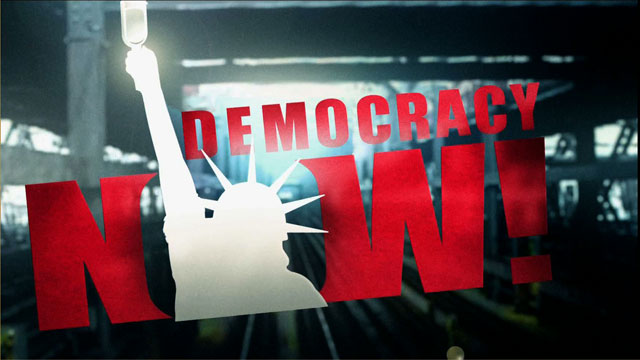 Media Options
Israeli Prime Minister Ariel Sharon meets with President Bush in Washington today for the second time since his Marchelection. The visit comes as Israel is threatening to break the June 13 cease-fire brokered by CIA director GeorgeTenet. According to a senior Israeli official who spoke on condition of anonymity, Sharon will seek to bolster tieswith the United States by pointing to "terrorist" threats that both countries face. At an address to Jewish leadersin New York yesterday, Sharon called Palestinian President Yasser Arafat "murderer and a pathological liar" and "thehead of a terrorist gang."
But many see Sharon as responsible for murder and terrorism, and now they are taking their case to court.
In 1982 up to 2,000 unarmed Palestinians in the Sabra and Shatila refugee camps outside Beirut were slaughtered by aLebanese Christian militia allied to the Israelis. The massacre unfolded over three days when Israel allowed itsLebanese Christian Phalangist militia allies into the refugee camps. Throughout the killings many of the victimswere stabbed and a large number of women were murdered after being gang-raped.
Sharon claimed that there were 2,000 "terrorists" in the camps, but the subsequent Israeli Kahan commission reportstated that Israeli troops surrounding the camps knew what was happening. Sharon was in overall command of theIsraeli forces. The Israeli inquiry found Sharon, "indirectly responsible," and he resigned.
Last week, Palestinian survivors of a massacre in Lebanon nearly 20 years ago asked a Belgian court to indict ArielSharon for crimes against humanity over his role in the carnage.
Guests:
Ellen Siegel, Jewish-American nurse who volunteered to go to Beirut in 1982. She was working at the GazaHospital in the Sabra camp at the time of the massacre.
Luc Walleyn, lawyer representing two survivors of the Sabra and Shatila massacre.
It is dangerous in this country to suggest that Israeli Prime Minister Sharon should be indicted for war crimes.Last week, Princeton University Professor Richard Falk took part in a BBC program in which he asserted that Sharoncould be charged under international law.
Professor Falk, who is Jewish, has since been placed under police protection after receiving threatening phone calls.
Guests:
Richard Falk, professor of international law at Princeton University.
Daniel Pipes, Director of the Middle East Forum and a columnist for The Jerusalem Post.
---