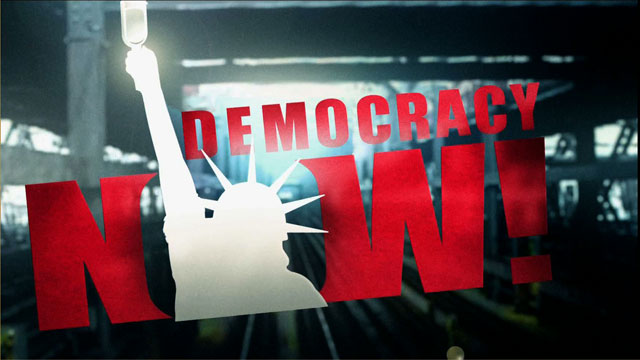 Media Options
Tape:
"Pie in the Sky", a poem of quotations by George W. Bush, compiled by Richard Thompson of the_Washington Post_. It was read by Terry Maroney from the Urban Justice Center, at a performance party in NewYork.
Federal regulators on Wednesday approved News Corporation's $4.4-billion acquisition of rival broadcast Chris-CraftIndustries, Inc., making Rupert Murdoch's Fox television group the most powerful media conglomerate in the nation.
The deal gives Murdoch 33 stations, reaching over 40% of the nation's 100 million households. News Corp. will owntwo major outlets in New York, Los Angeles and Phoenix.
The merger is in violation of at least 3 of the Federal Communications Commission's own rules. Broadcasters are notallowed to own two of the top four stations in a market; a company cannot own stations that reach more than 35% ofthe nation's households; and a company cannot own a newspaper and television stations in the same city. News Corp.already has a federal waiver in New York because it owns the New York Post and WNYW-TV. Now it will ownWWOR-TV as well.
The deal clearly bears the mark of the new FCC chairman, Michael Powell. When Powell took the reigns in January, hepromised a sweeping roll back in telecommunications regulations. He has admitted he doesn't know what "publicinterest" means. As an FCC board member, Powell strongly supported the AOL/Time-Warner merger; since then, hisfather, Secretary of State Colin Powell, has seen his stock options in the company skyrocket from $6 million tonearly $10 million. Michael Powell also opposed the FCC's own cautious plan to open up radio to 1,000 low-powerbroadcasters. Commercial giants had feared new competition.
What does all of this have to do with the President select's lexicon? We'll put that to Mark Crispin Miller, who hasjust come out with a new book, ??The Bush Dyslexicon: Observations on a National Disorder.
Guest:
Mark Crispin Miller, professor of media studies at New York University, director of the Project on MediaOwnership, and author of the new book, ??The Bush Dyslexicon: Observations on a National Disorder, (W. W. Norton& Co., 2001).
---