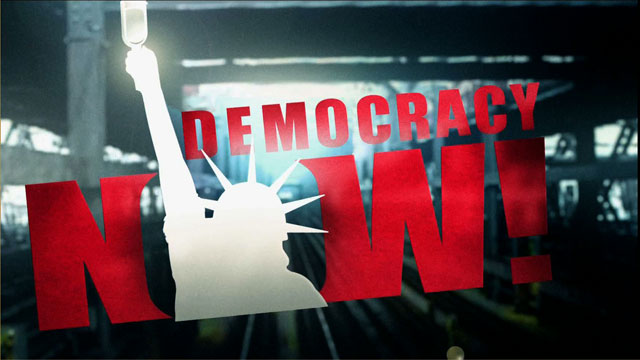 Media Options
Navy security personnel fired rubber bullets and tear gas at protesters and journalists on Vieques yesterday as the Navy resumed its bombing of the island. More than 23,000 marines, sailors and soldiers engaged in the largest military maneuvers on the island since a civilian was killed by Navy bombing two years ago. At least 12 protesters invaded the Navy range in an attempt to stop the latest round of bombing and shelling.
The bombing resumed despite a recent referendum in which the overwhelming majority of the people of Vieques voted to demand that the Navy stop bombing, pack up and get out. The White House, however, has made clear that the Navy will continue bombing Vieques regardless of the wishes of its residents until May 2003.
As protesters tried to stop the most recent bombing, union leader Dennis Rivera and environmental lawyer Robert F. Kennedy Jr. arrived in New York yesterday after serving 30 days in federal prison for trespassing on Vieques during a previous round of bombing. Kennedy was in jail for the birth of his son, whom he named Aidan Caomhan Vieques Kennedy.
---
Transcript
This is a rush transcript. Copy may not be in its final form.
AMY GOODMAN: And you are listening to Democracy Now! As we talk about being — people being released, Robert F. Kennedy Jr. and union leader Dennis Rivera were released from jail this week. They were protesting the Navy bombing of Vieques. Navy security personnel fired rubber bullets and tear gas at protesters and journalists on Vieques yesterday as the Navy resumed its bombing of the island. More than 23,000 marines, sailors and soldiers engaged in the largest military maneuvers on the island since a civilian was killed by Navy bombing two years ago. At least 12 protesters invaded the Navy range in an attempt to stop the latest round of bombing and shelling.
Well, it was electric at 1199, the union headquarters in New York, yesterday, as environmental lawyer Robert F. Kennedy Jr. and the union leader Dennis Rivera arrived after serving 30 days in federal prison for trespassing on Vieques during a previous round of bombing. Kennedy was in jail during the birth of his son.
We now go to the event yesterday. Among those who spoke was Ossie Davis.
OSSIE DAVIS: It was about 47 years ago, the Supreme Court passed its famous decision outlawing segregation. South was in turmoil, what to do about schools. The farmers in Mississippi and Georgia had to plant their crops, but they were denied capital at the banks if they signed the petition to send their kids to school. And who was among the first to step into the breach, raise money to send to those farmers in Mississippi? 1199. So, it's no surprise — it's no surprise that when the call goes out for help from Vieques, that 1199 becomes the focal point of resistance and offering its hand to help, and even its president to sit in jail to make the point. That is true 1199. And that is one of the reasons why I'm so happy to remain affiliated with this great, great union. Now, I — I don't know what we're doing up in Bronxville, but, you know, the next action, I'm sure I'll be there.
Now, I have had the benefit all my life of the presence of a strong, loving, caring woman, my mother, who is still alive at 103 today. Right? I have had the benefit of being married 52 years to Ruby Dee, who is a strong woman. I know a good, strong, beautiful woman when I see one. And I say to you, none is more beautiful, none more strong, none more dedicated to the cause, to the point where she puts her life or dignity on the line, than the one who it is my pleasure to present to you now: Jackie Jackson!
JACKIE JACKSON: 1199 in the house! Oh, let me thank you for the years and years of support that you have given to our cause, to my husband, to my family and to all the wonderful things we believe in. Give yourselves a round of applause!
I'm here for several reasons. First, I'm here to welcome home the prisoners of war, Dennis Rivera and Mr. Kennedy. I want to say, you can't help somebody without helping yourself. When I went to Vieques, I was proud enough and arrogant enough to think I was going over there to help somebody else. This was one of the richest experiences I have ever had and one of the life-altering situations that I have ever been in. I discovered in Vieques that the — first, I was a little confused, because when I went to court, I was sitting in a federal — under the federal government that I pay taxes to. And they said, "For those of you who cannot understand the proceedings, we want you to have — put on these translating headphones and machinery." So I said, "Give me one, because I don't speak Spanish." They said, "No, it's not for you. It's for the Spanish-speaking community." Here we are in another, 'nother place with a different language, governing a people with our tax dollars, and we are arrogant enough to do it in English so they don't understand it. I think that's when I made my greatest move. I asked that "Since you've insulted me and the people here, give me — release me based on my own recognizance." The jail bail is excessive. The people there can't pay the bail. I fought from the inside, because I stopped eating. It was a devastating experience to find them intimidating women the way they do.
I have another issue. I said you can't help somebody without helping yourself. It wasn't until I caught the plane that a Caucasian woman came to me and said, "Mrs. Jackson, I'm so glad you didn't submit or capitulate to the strip search," she said, "because women are made to bow and cough all over this country." Well, today, because I entered the prison system, and my number is 22113-069, and I am on probation as I speak, I plan to not only see to the deliverance of the will of the people of Vieques, but also that women are never subjected to this kind of humiliation as strip searching.
I need your help. I want you to celebrate. I want you to celebrate the release of Dennis and Mr. Kennedy. But I want you to know you are one second, one number, one incorrect number in the system, for being a number yourself. So don't just see us standing here on this stage as if we are just special, different. We are part of you. And based on the fact that now that we can be handcuffed because of a seat belt, and I was told in Puerto Rico that Robert v. Rhode Island did not even matter — that is the Supreme Court decision that says you are not — it is not necessary to strip search you anymore, unless you are suspected of carrying contraband. And I raised the question in jail: What makes you think I'm carrying contraband?
Do not let these people take the dignity that we've worked so hard for, to create around civil disobedience. Civil disobedience is as old as was before Jesus Christ. And if you take a journey into your religious history, you'll know Shadrach, Meshach and Abednego. You'll know Daniel in the lion's den. You'll know Paul and Silas. You'll know Esther. I want you to know. Get ready! Get ready! Get ready! Get ready! Get ready! Get ready! Because when women move, the whole Earth shakes. When Winnie Mandela — when Winnie Mandela moved in South Africa, I knew Mandela was going to be freed. When Rosa Parks moved in Alabama, I knew we were getting off the back of the bus. And I want you to know, because I know you are going to move the day, that we're going to see the bombs ended in Vieques, and we are no longer going to tolerate being strip searched. Thank you very much.
AMY GOODMAN: And that was Jesse — that was Jesse Jackson's partner, Jackie Jackson, speaking yesterday at 1199, the SEIU local, as the bombing continues in Vieques. We're going to skip the next break, alerting stations, as we are sometimes wont to do when we have critical information, as we bring you the words of Dennis Rivera and Robert Kennedy and others who spoke yesterday as Dennis Rivera and Robert F. Kennedy had just come out of prison in Puerto Rico. This is SEIU 1199 local president Dennis Rivera.
DENNIS RIVERA: I'd like to thank — and I feel very humbled to have here in the presence of Martin Luther King Jr., who's — to be here with us; Jackie Jackson, who basically took over the jail. She is legendary over there. She is a legend over there. They got her out of there. No, true story. You know, she — when she refused to submit herself to the searches, which some of us, we didn't have the courage that she had, and — because they send you to the hole, you know? And that's incommunicado by 23 hours. And we said, "Well, I don't know." So, this isn't that painful, you know? So, then, she was, at that point, not even in trial. So, at that moment, they basically found a judge, and they brought her, because she was meeting with all the women, and she was carrying all this. So, she is a legend over there. The guards — you could hear the guards talk about her.
I'd like to talk a little bit about Vieques, too. I think we all know what the problem is. But I want to update you. Last Sunday, there was a referendum held where 70% of the people voted to stop the bombing on the island of Vieques. They're going to start bombing today, and they're going to conduct the most massive maneuvers that they have ever done in recent time. So it's like if they want to basically send a message of who really is the bully in here. So, I will say that the following, that I made the following pledges, that on behalf of all of us here, that not only we were going to redouble our work and our effort, and that we were going to basically help and raise more money to help and assist, from many of our friends and our colleagues and our allies, to help and assist them in terms of — with fighting this fight of civil disobedience, to try to fight in the United States to make sure that President Bush stops the bombing in the island of Vieques. I made the pledge on behalf of all of you, that you communicated through the letters that you sent me, that we want to increase our participation and make sure that we are able to get the Navy out of Vieques.
AMY GOODMAN: Local 1199 president Dennis Rivera, speaking yesterday at union headquarters in New York, as well, Robert F. Kennedy Jr., environmental lawyer.
ROBERT F. KENNEDY JR.: I want to — I want to thank all of you for this wonderful greeting. When we got off the airplane this morning, we had no idea. I thought I was going to a press conference right now. And it's so great to see so many of my 1199 family, who have been here time and time again for me and for my issues, to give us this kind of greeting.
I have to say this: We just spent 30 days in jail down there. And for me, I'll confess something to you. I feel like we're perpetuating a hoax here, because, for me, there were a lot of people who were suffering in that jail with us, because they had — in order to satisfy their consciences. Many of them had lost jobs. Many of them were having difficulty supporting their families. I did not feel like I was one of them. I felt like, for me, I was on a 30-day Caribbean vacation. And my — the only hero in my family is my wife, who took care of my five kids and gave me a sixth one while I was gone.
So, I'm also really lucky to know this guy, your president, Dennis Rivera. Dennis was the one who got me into this mess. But I owed him a favor, and he said it wouldn't take long. He got me involved in Vieques. He said, "Would you come down here and look at some of these environmental issues?"
I found an island down there that is really a tropical jewel. It is the same size as St. Croix or St. Thomas, but it has more physical beauty than any of the Virgin Islands, where — that earn a quarter-billion dollars a year in tourism revenue. And there's no tourists that go to Vieques, because the Navy has made sure that there's no industry on that island and that there's no ability to support a livelihood for the people who live on that island. But it has these extraordinary tropical hardwood forests. It has some of the — it has 10 of the 20 finest white sand beaches in the Caribbean, these extraordinary — some of the most abundant reefs in the world. It has pelican rookeries that — for endangered species. There are 13 endangered species that live in the live-fire zone. And all of these things were being destroyed by the naval bombardment. The hardwood forests were being pulverized. The groundwater had been contaminated with deadly chemicals. The pelican rookeries were burned with incendiary bombs. The whales were bombed. The turtles who nest there on the beaches were bombed.
But the worst injury and the most shocking injury, to me, was to the people of the island. What I found was a series of reports — and the Navy now has criticized these reports and say, "Well, you know, they're not refereed. They weren't published in refereed journals." But I deal in these issues all the time, in these currencies, and I can tell you, these reports use the highest scientific standards that are available, and they are good science. And what they say is that this island, that 9,300 residents who live there have the highest infant mortality rate in the Caribbean. They have the highest overall mortality rate in Puerto Rico. They have the highest cancer rate in Puerto Rico. They have — of any municipality, that many of the people on the island are suffering from an enlargening of the liner of the heart, a disease called vibroacoustic disease. And recent federal studies have shown that — and then, also, that the people of the island have in their blood systems deadly levels or very high levels of antimony, arsenic, lead, zinc, cyanide and uranium, and that these chemicals also occur in all of the fishes that surround the island, the crabs, the seaweed, the grasses, and a recent report that shows that food crops in the residential areas also have all of these diseases — all of these chemicals which cause deadly diseases.
The worst injury, though, that I saw was the injury that I saw to democracy on Vieques. And this is what got me to do the civil disobedience.
AMY GOODMAN: Robert F. Kennedy Jr., talking about the case, the legal case, that he took to court.
ROBERT F. KENNEDY JR.: The black letter Supreme Court case law says that if you fail to do the biological assessment, the federal court must enjoin any disturbance of that area until the biological assessment is completed. And so, this, to me, seems like a very clear case that we should win against the Navy. I brought it to court, confident that we were going to win. And instead of listening to our case or giving us a hearing in court, the judge sat on that case for eight months and did not allow us into the courtroom, through two, and then three, and now four different sets of naval bombings.
Well, I had been to the island of Vieques, and I had the clients there, hundreds of clients, 28 different groups representing most of the fishermen and other people on the island. And what I found was that these were people who are American citizens, and yet many of them did not feel that they had the benefits of the judicial system or of being citizens of this country. The people of Vieques don't have a congressman, as nobody from Puerto Rico does.
Now, you may have heard recently that in Texas the government was considering bombing South Padre Island, switching their bombing sites from Vieques. And a few people on South Padre Island said, "We don't want that," and they called their congressman, and their congressman called the military. And he said, "If you do this, we're going to have you up for a hearing on Capitol Hill." And five days later, the Navy said, "We don't want to go to South Padre Island." And that's what's happened all across the country. There are hundreds and hundreds of places that are preferable to Vieques to bomb, but all of them have a congressman. And in Vieques, they don't have a congressman. And the people who live in Vieques are people of color, generally speaking, more than the rest of Puerto Ricans. They're the descendants of free Blacks and African slaves, who were drawn there during the sugar boom from 1850 to 1950, and Taíno Indians. So these are people who are disconnected from our political system.
And I went to them, and I said, "It does not matter that you don't have a congressman, because we have federal laws, and nobody is above the law, not even the United States Navy. And I am going to represent you — and I am going to represent you in federal court." And I have here, who I just saw, some members that — Foster Maer and other members of the Puerto Rican Legal Defense Fund, who were my co-counsel in those cases. And I said, "We're going to represent you in front of the courts, and we are going to make the Navy comply with the law." Then I went to court, and I got a judge who sat on that case for eight-and-a-half months, and the Navy kept on bombing. And at one point — and these people were people, the most humble people and the most wonderful, really inspiring people, poor and people who really — as I said, they are American citizens, but they do not feel that they enjoy the benefits of living in this country, the political benefits and the legal benefits. And I had promised them that I could get them in front of a courtroom, and I was unable to deliver that.
And at that point, I believed that I had exhausted my political and my legal remedies, and that I could offer them nothing except my own civil disobedience. And that's why I made the decision to get in that boat and go up onto the live bomb site. And it's a decision that I never thought twice about. And that has been one of the best things that's ever happened to me, because I met people in that prison who don't have two nickels to rub together, who are — whose families are suffering dramatically, who lost their jobs, and yet — and those people, it took real courage for them to do this. And they're doing something — a lot of them come from parts of Puerto Rico that are very far from Vieques. Many of them come from Vieques. But they went in and sacrificed, and made an authentic sacrifice of themselves, because they love that island, and because also they love our country and they believe in democracy.
Now, I love the United States Navy. I grew up in a Navy family. All — my father and my uncles were all part of the United States Navy. And I grew up knowing the songs of the Navy, and I still — it's still an icon of my childhood, and it's still a service that I love. But — and I believe also that every nation has the right to ask its citizens to sacrifice their lives for their country during times of war. And my family has risen to answer that call on many occasions. But I do not believe that any nation has the right or that the United States Navy has the right to sacrifice the lives of children and men and women without their consent for a dubious military exercise during times of peace. And that is not only an offense to Puerto Rico, it's an offense to everybody who considers themself an American, and everybody who loves our flag. And that's why I went and did that civil disobedience. And to me, it's the duty of every one of us to stand up for our country by standing up for the people of Vieques and Puerto Rico. Thank you very much.
AMY GOODMAN: Robert Kennedy, Dennis Rivera, Jackie Jackson, all released from prison after the bombing of Vieques, their protest. Al Sharpton remains in prison — his sentence, 90 days.
That does it for the show. Democracy Now! is produced by Kris Abrams and Brad Simpson. Anthony Sloan is our engineer and music maestro. Errol Maitland is our technical director. You can email us at mail@democracynow.org. And I've been told we should acknowledge those who make Democracy Now! possible. The Corporation for Public Broadcasting supports Pacifica Radio, and we'd like to thank the Pacifica stations, KPFA, KPFK, KPFT, WPFW and WBAI, as well as the Pacifica affiliates. All of that, of course, means all of you. We are Pacifica. From the embattled studios of WBAI, from the studios of the banned and the fired, from the studios of our listeners, I'm Amy Goodman. Thanks for listening.