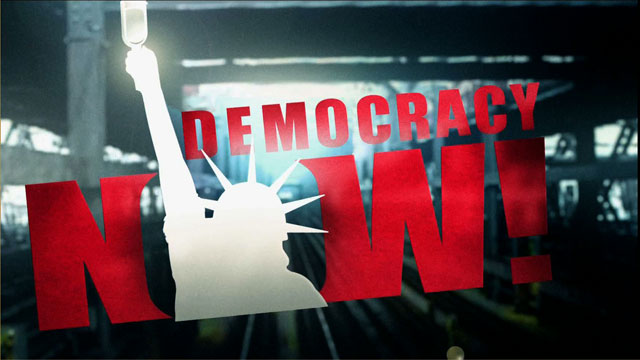 Media Options
Navy security personnel fired rubber bullets and tear gas at protesters and journalists on Vieques yesterday asthe Navy resumed its bombing of the island. More than 23,000 marines, sailors and soldiers engaged in the largestmilitary maneuvers on the island since a civilian was killed by Navy bombing two years ago. At least 12 protestorsinvaded the Navy range in an attempt to stop the latest round of bombing and shelling.
The bombing resumed despite a recent referendum in which the overwhelming majority of the people of Vieques votedto demand that the Navy stop bombing, pack up, and get out. The White House, however, has made clear that theNavy will continue bombing Vieques regardless of the wishes of its residents until May 2003.
As protestors tried to stop the most recent bombing, union leader Dennis Rivera and environmental lawyer Robert F.Kennedy Jr. arrived in New York yesterday after serving 30 days in federal prison for trespassing on Viequesduring a previous round of bombing. Kennedy was in jail for the birth of his son, whom he named Aidan CaomhanVieques Kennedy.
Tape:
Ozzie Davis, activist and actor from the TV's "The Ozzie and Harriet Show".
Jackie Jackson, civil rights activist; Rev. Jesse Jackson is her husband.
Dennis Rivera, President of SEIU local 1199 in New York City.
Robert F. Kennedy, Jr., an environmental lawyer who sued the Navy for environmental destruction inVieques.
Related link:
---