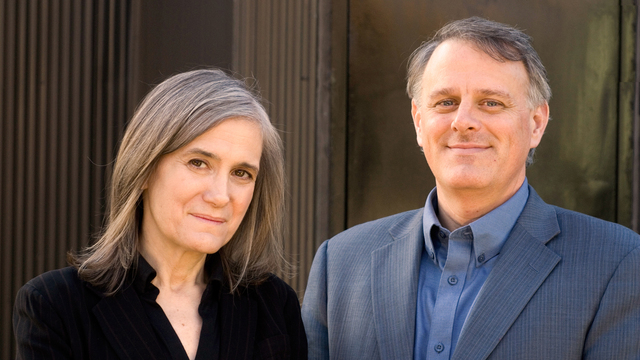 John Lennon would have turned 67 years old last week had he not been murdered in 1980, at the age of 40, by a mentally disturbed fan. On his birthday, Oct. 9, his widow, peace activist and artist Yoko Ono, realized a dream they shared. In Iceland, she inaugurated the Imagine Peace Tower, a pillar of light emerging from a wishing well, surrounded on the ground by the phrase "Imagine Peace" in 24 languages.
The legacy of Lennon is relevant now more than ever. The Nixon administration spied on him and tried to deport him, all because he opposed the war in Vietnam. Parallel details of the Bush administration's warrantless wiretap program and the Pentagon's participation in domestic spying, with mass roundups of immigrants, are chilling, and the lessons vital.
Ono conceived the peace tower 40 years ago, at the outset of her relationship with Lennon. She grew up in Japan, surviving the firebombing of Tokyo. She told me, "Because of that memory of what I went through in the Second World War, it is embedded in me how terrible it is to go through war."
She continued: "I thought of building a light tower, and John loved that idea, this light tower that just emerges once in a while. And so, he actually invited me in 1967, the first time that he invited me to his house. I thought it was a party or something, but, no, it was a very quiet day. And he said, 'Well, actually, I invited you because I wanted to know if you can build the lighthouse in my garden,' and I said: 'Oh, dear, no, no. It's just a conceptual idea. I don't know how to build anything,' and I was just laughing. But that's when he wanted this light tower, and that was 40 years ago."
Forty years ago, the young couple became increasingly active in the anti-Vietnam War movement. The FBI, under the direction of J. Edgar Hoover, spent tremendous resources targeting critics, most engaged in perfectly lawful dissent. This was later exposed as COINTELPRO, the FBI's counterintelligence program, which for decades spied on, infiltrated and disrupted domestic groups.
Lennon was a pacifist in the tradition of Mahatma Gandhi and Martin Luther King Jr. As the anti-war movement was growing in militancy, Lennon and Ono got married, and used their honeymoon as a public appeal for peace. They decided to spend a week in bed, as a "Bed In." Knowing their action would attract the global news media, the newlyweds ensured that their call for peace was heard and that all photos included the word "Peace." They launched a poster and billboard campaign, using the phrase "The War Is Over—If you want it." The actions were creative and lighthearted—but clearly threatening to the Nixon administration.
They developed a closer connection to the U.S. anti-war movement and, by 1971, were planning a massive get-out-the-vote concert tour to help defeat Nixon. Nixon and Hoover stepped up their campaign to neutralize Lennon.
The FBI increased surveillance and harassment of Lennon, followed by an attempt to deport him. Lennon's activities were also tracked by the CIA, as revealed in recently declassified documents. Arch-conservative Sen. Strom Thurmond wrote a secret memo pushing deportation to then U.S. Attorney General John Mitchell, and the effort moved into full gear. Lennon beat the deportation attempt, and by 1980, with the release of the "Double Fantasy" album, was back demonstrating his creative brilliance, only weeks later to be slain.
Today, revelations about current government wiretaps and surveillance continue. Verizon has just revealed to Congress that it supplied customer records to the government more than 94,000 times since 2005. The American Civil Liberties Union has uncovered collusion between the Pentagon and the FBI in circumventing the law to obtain financial and credit information on people in the U.S. I asked Yoko Ono to compare the Nixon and Bush administrations: "I'm not that concerned about professional politicians. I always believe that we can change the world by grass-roots movements. It is a very important thing to do. It is the first time that I realized that I respect America so much because there are so many Americans trying to shift the axis of the world to peace."
With major anti-war demonstrations set for cities around the country on Sat., Oct. 27 (see oct27.org), John Lennon's legacy lives on, from the illuminated sky above Iceland to the heavily surveilled streets here at home.
---