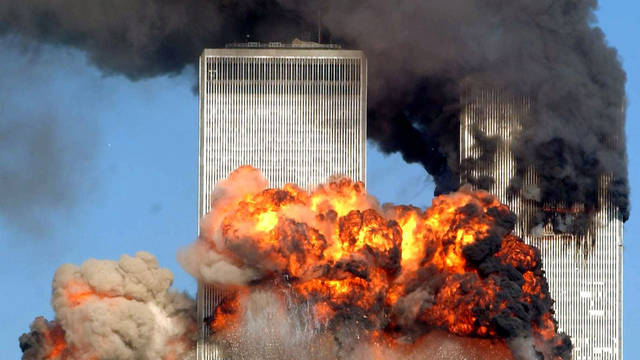 At the time of the September 11th attacks, Democracy Now!'s War and Peace Report, hosted by award-winning journalists Amy Goodman and Juan Gonzalez, was one of the few media outlets reporting on the voices of peace and dissent as the country went to war, suspended civil liberties, spied on dissident groups, and detained Arab-Americans, Muslim-Americans and people of South Asian descent. Eleven years later, we are showcasing our archive of in-depth reports documenting the attacks and their aftermath.
To get started, use this interactive timeline to see our most important coverage in the first year after the 9/11 attacks.
Select an entry on the timeline to see a summary of a report or interview, and a link to the broadcast.
We have also compiled a vast topical archive of our reports in the 9/11 Decade. Click the links below to browse related interviews, starting in the present and stretching back to September, 11, 2001.
9/11 Attacks & Their Aftermath.
Persecution of the Arab- and Muslim- American Community: http
---