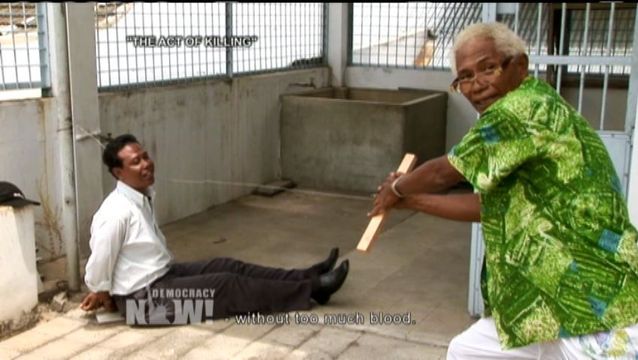 This week the Academy of Motion Picture Arts and Sciences announced the 15 films left in the race for the Documentary Feature Oscar. A record 147 films had originally qualified in the category. Watch our interviews with three of the filmmakers who made the shortlist, and see all of our Oscar-related coverage over the years.
Dirty Wars: Jeremy Scahill and Rick Rowley's New Film Exposes Hidden Truths of Covert U.S. Warfare

We interview investigative reporter Jeremy Scahill and filmmaker Rick Rowley when "Dirty Wars: The World Is a Battlefield" premiered at the Sundance Film Festival in Utah. "One of the things that humbles both of us is that when you arrive in a village in Afghanistan and knock on someone's door, you're the first American they've seen since the Americans that kicked that door in and killed half their family," Rowley says. "We promised them that we would do everything we could to make their stories be heard in the U.S. … Finally we're able to keep those promises."
'The Act of Killing': New Film Shows U.S.-Backed Indonesian Death Squad Leaders Re-enacting Massacres
We spend the hour with Joshua Oppenheimer, the director of the groundbreaking documentary called "The Act of Killing." The film is set in Indonesia, where, beginning in 1965, military and paramilitary forces slaughtered up to a million Indonesians after overthrowing the democratically elected government. That military was backed by the United States and led by General Suharto, who would rule Indonesia for decades. There has been no truth and reconciliation commission, nor have any of the murderers been brought to justice. As the film reveals, Indonesia is a country where the killers are to this day celebrated as heroes by many. Oppenheimer spent more than eight years interviewing the Indonesian death squad leaders, and in "The Act of Killing," he works with them to re-enact the real-life killings in the style of American movies in which the men love to watch — this includes classic Hollywood gangster movies and lavish musical numbers. A key figure he follows is Anwar Congo, who killed hundreds, if not a thousand people with his own hands and is now revered as a founding father of an active right-wing paramilitary organization. We also ask Oppenheimer to discusses the film's impact in Indonesia, where he screened it for survivors and journalists who have launched new investigations into the massacres. The film is co-directed by Christine Cynn and an Indonesian co-director who remains anonymous for fear of retribution, as does much of the Indonesian film crew.
'The Square': Jehane Noujaim's New Film Captures Egypt's Ongoing Revolution After Mubarak's Fall
As Egyptians marked the second anniversary of the Egyptian revolution, we looked at the new documentary that captures the ongoing protest movement in Egypt well after the downfall of Hosni Mubarak. "The Square" follows a group of activists as they risk their lives in the uprising that ousted Mubarak only to face further threats under the transitional military regime. We're joined by the film's Egyptian-American director, Jehane Noujaim, at the Sundance Film Festival in Park City, Utah. Noujaim's previous work includes the famed Al Jazeera documentary, "Control Room."
---