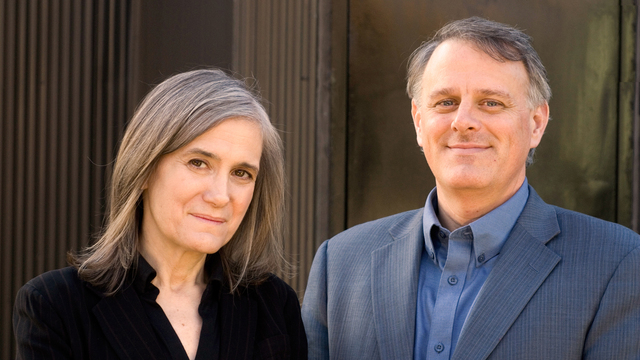 Media Options
By Amy Goodman with Denis Moynihan
Monday was Patriots' Day in Massachusetts, celebrating the day the American Revolutionary War began in 1775, at the Battles of Lexington and Concord. It is also the day of the annual Boston Marathon, which will now, sadly, go down in history as yet another episode of senseless mass violence.
Martin Richard's image has circled the globe since his murder that day. In it, the 8-year-old holds a sign he made that reads "No more hurting people. Peace."
The Richard family was watching the marathon when the bomb went off. His mother, Denise, and his sister, Jane, were seriously injured. His father, Bill, suffered shrapnel wounds. Martin's older brother, Henry, was not harmed—at least, not physically.
Across the street from the blast, Carlos Arredondo and his wife, Melida, were watching from the bleachers. They were waiting for a member of the National Guard who was running the race in memory of Carlos' son, Alex Arredondo, a U.S. Marine who was killed in the battle of Najaf, Iraq, in August 2004. Back then, immediately after he learned of his son's death, Carlos got into his van and set fire to it. He survived, with massive burns, then dedicated himself to peace activism, traveling the U.S. with a flag-draped coffin in memory of his son. Seven years after they lost Alex, in 2011, his younger son, Brian, who became depressed after Alex's death, committed suicide.
At the marathon, Carlos, who is originally from Costa Rica, was wearing a big cowboy hat, and images of his fearless race to rescue people after the explosions also have gone global.
Within seconds, the lives of these two individuals, Martin Richard and Carlos Arredondo, from neighborhoods of Boston not far from each other, were thrust onto the world stage.
---