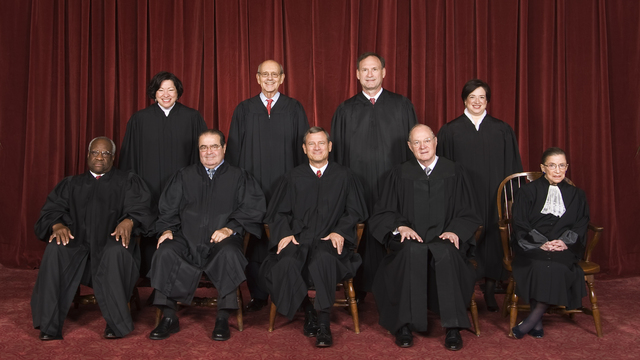 The Supreme Court has just struck down Section 4 of the Voting Rights Act in a 5-to-4 ruling. The court ruled in favor of officials from Shelby County, Alabama, in finding that a formula in the act that determines which states need federal approval to change voting laws is invalid.
"Congress — if it is to divide the states — must identify those jurisdictions to be singled out on a basis that makes sense in light of current conditions. It cannot rely simply on the past," wrote Chief Justice John Roberts in the majority.
"In the Court's view, the very success of Section 5 of the Voting Rights Act demands its dormancy," wrote Justice Ruth Bader Ginsburg in the dissent. "There is no doubt that these improvements are in large part because of the Voting Rights Act. The Act has proved immensely successful at redressing racial discrimination and integrating the voting process."
According to Reuters:
"The court, split on ideological lines, did not go as far as striking down Section 5 of the law, known as the preclearance provision, which requires certain states to get approval from the Justice Department or a federal court before making election-law changes. But a majority did invalidate Section 4 of the act, which sets the formula for states covered by Section 5 and was based on historic patterns of discrimination against minority voters. Although Section 5 is technically left intact, it is effectively nullified, at least for the near future, as Congress would now need to pass new legislation setting a new formula before it can be applied again."
Read analysis on ruling from ScotusBlog
---
Watch past coverage of the Voting Rights Act from Democracy Now!
A Racial Entitlement? Supreme Court Threatens Voting Rights Act, One of Civil Rights Era's Key Gains

NAACP: New Election Commission Needed to Address Voter Suppression, Attacks on Voting Rights

Rep. John Lewis, Civil Rights Icon, on the Struggle to Win, and Now Protect, Voting Rights in U.S.

---