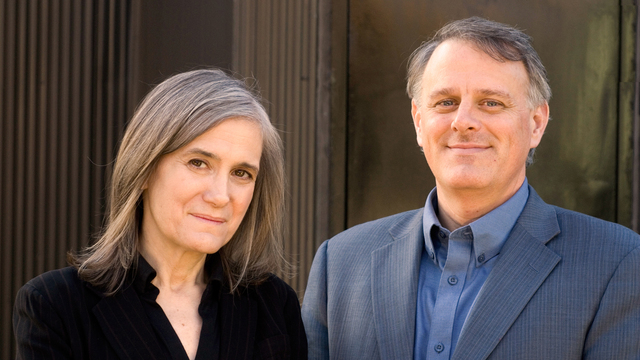 Media Options
By Amy Goodman and Denis Moynihan
On the outskirts of the northern French town of Calais, a massive, makeshift refugee camp called "The Jungle" grows daily, swelling with asylum-seekers fleeing war in Afghanistan, Syria, Iraq, Sudan and beyond. Their countries of origin are a map of the targets of U.S. bombing campaigns. More than 6,000 people in this, France's largest refugee camp, hope for a chance to make the last, dangerous leg of their journey through the nearby channel tunnel to England. Wind whips off the North Sea, blasting the shelters made of tarps, tents, plastic sheeting and scrap lumber in this sprawling, ramshackle end of the line. The roads in the camp are muddy; the portable toilets are filthy. The charity health clinic had been closed since mid-November. The main entrance to the camp is below a freeway, with several police vans parked with lights flashing and armed officers stationed above.
Most who arrive here have endured arduous journeys of thousands of miles, hoping to cross to the United Kingdom. The channel tunnel offers asylum-seekers a way to make it to the U.K. without risking a dangerous crossing of the English Channel, by stowing away on either a high-speed passenger train or a freight train. Accessing either type of train involves significant risk, and accidental deaths occur almost weekly when people leap onto moving trains or stumble under truck tires.
A few days before we visited the camp, a Sudanese man named Joseph was killed when he was run over by a car on the highway. Camp residents were protesting that the police had not stopped the driver, holding signs reading "We are Humans, Not Dogs" and "Do survivors of war not have the right to live in peace?" We asked a young man named Majd from Damascus, Syria, why he fled his country: "I escaped from the war. I don't want to die. This war is not my war." We asked him who was attacking his country. He said: "Who? Everyone. Russia and America and Iran—everyone."
Days before we met Majd, the British Parliament voted to attack Syria, and began bombing immediately. In the few months prior, the British government built multiple layers of high, razor-wire-topped fences in Calais, sealing off the tunnel entrance and the rail line for miles before the tunnel, as well as the staging area where freight trucks line up to drive onto the rail cars that will carry them through the tunnel. Each truck also is subjected to an infrared scan to look for stowaways. Before the enhanced security, scores of asylum-seekers might get through the tunnel nightly. Now, it is almost impossible. The more the West bombs their countries, the more it shuts out those who flee its wars.
In the Afghan section of the refugee camp, Sidiq Husain Khil was eager to speak about the 14-year-old U.S. war in Afghanistan—the longest war in U.S. history. Like many, he did not want his face to be filmed. We asked him about the effects of U.S. bombing and drone strikes on Afghanistan. He replied: "If they are killing one person or 10 persons, 100 of them are joining the group of Taliban. … The war is not the solution for finishing terrorism. They have to talk face to face."
As we roamed the camp, pulling our coats tightly around us in the cold, we looked for a woman who would be willing to speak. We met Dur, an Afghan professor of English, who also did not want her face shown. She traveled more than 3,000 miles with her four children, by car, bus, horse, foot and boat. In almost perfect English, her 12-year-old daughter described their unimaginable route: "First we go to Nimruz province of Afghanistan. Then we went to Pakistan. Then we walked to Saravan, Balochistan. Then Iranshahr, Kerman, Shiraz, Tehran, Kurdistan and Turkey. Then we start walking in mountains. Then we went to Istanbul, Izmir. Then we arrived to the sea." Dur hired a smuggler to take them in a leaky boat from Turkey to Greece. She told me, "When I saw that boat … I called all my children and I start to cry … I spent all my money to buy them death." Miraculously, they survived. Whether they make it to their destination, Britain, is another question.
As we left the camp, Dur's relative, Najibullah, raced up to us. An Afghan who worked with the U.S. Marines as a translator, he applied for a special visa for Afghans who put themselves at risk by working for the U.S. He said he was turned down because he hadn't worked for the Marines for a full year. "Working with the U.S. government … just one day or a year … it doesn't matter to the Taliban," he told me. "As long as you work with them just one hour, you're condemned to death."
"Today, Joseph. Tomorrow, who?" read one of the many signs at the protest earlier that day. These refugees are the roadkill of war.
---