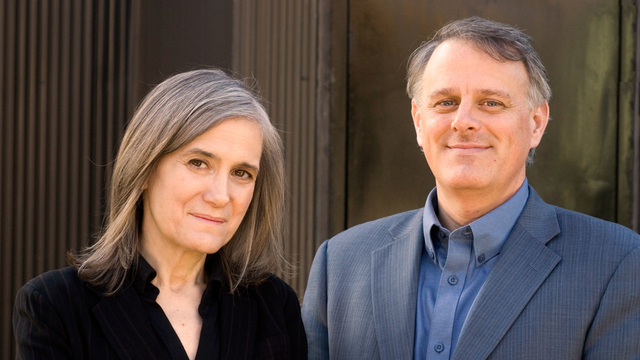 Media Options
By Amy Goodman & Denis Moynihan
On a recent snowy January night in upstate New York, a grandmother turned herself in to the Jamesville Correctional Facility, to serve a six-month sentence. Her crime? Taking photos. Mary Anne Grady Flores was photographing eight others protesting at the gates of Hancock Field Air National Guard Base outside Syracuse, N.Y. The group, the Upstate Coalition to Ground the Drones and End the Wars, gathered there on Ash Wednesday, Feb. 13, 2013, protesting the weaponized drones used in the Obama administration's targeted killing program. It was only one of many of the group's peaceful vigils.
"It was Ash Wednesday, it's a day of atonement in our tradition … as Catholic workers," Grady Flores told me on the ""Democracy Now! news program, hours before turning herself in. "It's really important to get the word out of what's going on at the base, which are war crimes." Hancock Field is the home of the 174th Attack Wing of the Air National Guard, which operates a fleet of MQ-9 Reaper drones, "a persistent hunter-killer of emerging targets," in the U.S. Air Force's own words.
Grady Flores stood away from the vigil, taking photos, in part because a judge had issued an "order of protection" against her and other protesters as the result of a 2012 protest, when the group managed to block three entrances to the base for an hour. The order was issued at the request of the 174th Attack Wing's Mission Support Group commander, Col. Earl A. Evans. Violation of the order to stay away from Evans' home, school or "business" is considered a felony punishable by up to seven years in prison. Grady Flores learned upon her arrest that the base's property reached well beyond the gate, across the road to where she was standing.
"Taking photographs, of course, is a First Amendment-protected activity. Demonstrating is a First Amendment-protected activity," Jonathan Wallace told us, appearing with Grady Flores on our program. Wallace is an attorney who has worked extensively with the drone resistance movement. "These orders of protection are a pre-printed form with blanks that police and prosecutors fill out every day to protect battered spouses and witnesses who are assaulted."
Another colonel weighed in on the case. Col. Ann Wright served in the military for 29 years, then as a high-level State Department official. In 1997, she was given the State Department Award for Heroism for helping evacuate thousands during the civil war in Sierra Leone. She was deputy chief of mission when the U.S. embassy reopened in Afghanistan in 2001. In 2003, she resigned her post to protest the war in Iraq. "I find it quite embarrassing and ludicrous that a U.S. military commander decided that his personal security is so threatened by peaceful, nonviolent protesters of the drone policies of the U.S.," Wright wrote in support of Grady Flores. "I would have expected a U.S. commander to have had the courage to meet with the group of concerned citizens rather than obtaining a cowardly order of protection."
Two months after the Ash Wednesday protest where Grady Flores was charged with violating the order, on May 23, 2013, President Barack Obama delivered a speech at the National Defense University defending his drone program: "Before any strike is taken, there must be near-certainty that no civilians will be killed or injured—the highest standard we can set." Despite his pledges, the civilian death toll from U.S. drone strikes continues to climb.
We all too rarely learn the names of these victims. On Oct. 24, 2012, for example, the CIA launched a drone strike in North Waziristan, Pakistan. Mamana Bibi, a 67-year-old grandmother who was picking okra, was killed. Bibi's grandson, 12-year-old Zubair Rehman, and his 8-year-old sister, Nabila, were among the injured. After multiple surgeries, Zubair and Nabila came to the United States with their father, Rafiq, a schoolteacher, to testify before Congress. After they testified, they made their way to our studios in New York City, where we interviewed them. In his congressional testimony, little Zubair said: "I no longer love blue skies. In fact, I now prefer gray skies. The drones do not fly when the skies are gray. … When the skies brighten, though, the drones return, and so, too, does the fear."
Mary Anne Grady Flores was wearing a scarf on the day she went to prison—but not for protection from the snow. "I'm wearing a blue scarf today, and the kids from Afghanistan were the ones that sent this bolt of cloth," she told us, so "that someday we could live with the vision of the future of blue skies, of peace."
---