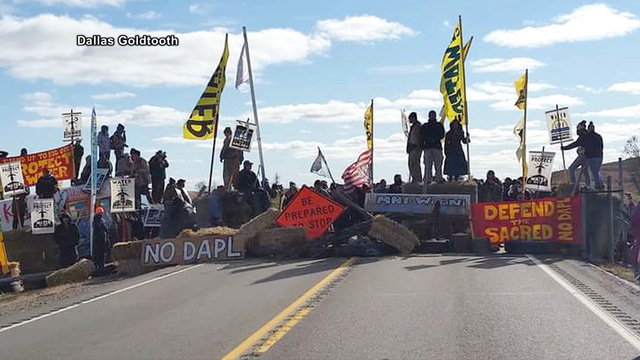 New York magazine interviews Democracy Now's Amy Goodman about coverage of the standoff at Standing Rock over the Dakota Access Pipeline.
Reporter David Marchese writes:
If it's possible in this oversaturated age for a mass-protest movement to fly under the radar, the battle over the building of the $3.8 billion Dakota Access pipeline certainly qualifies. Just this past weekend in Morton County, North Dakota, 127 people were arrested during protests over renewed construction, which follows what protesters believed was relief from the federal government, in the form of a multi-agency letter to the pipeline builders, Energy Transfer Partners, asking them to halt building for tribal consultation and the preparation of environmental-impact statements. The construction has continued apace.
And yet the clash hasn't quite risen to the level of front-page news. That's despite the efforts of investigative journalist Amy Goodman, the host of the Democracy Now! independent news broadcast, who had an arrest warrant issued for her in September after her coverage of the situation. (A judge dismissed the charges.) "Not enough people realize what's going on out there," says Goodman. "It's a bigger story than the amount of attention its received."
---