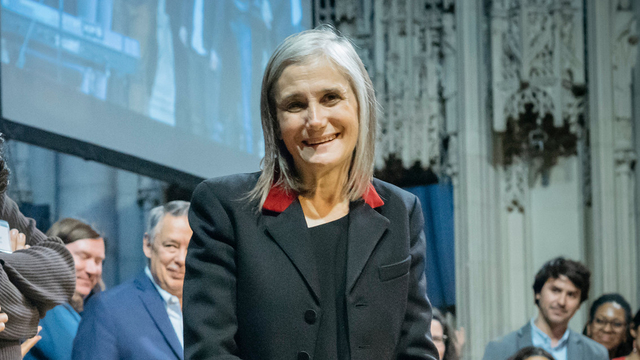 Image Credit: Rafael Shimunov
On Monday, December 5, Democracy Now! celebrated its 20th anniversary in New York City. More than 2,000 people packed Riverside Church to hear from legendary activist and singer Harry Belafonte, leading dissident Noam Chomsky and musical guests like Patti Smith and Tom Morello, and to look back on two decades of reporting by Amy Goodman and the Democracy Now! team.
Salon's Julie Sokolow writes:
Back in Harlem, the church lights dimmed and a video montage played — a highlight reel of Goodman's coverage, from the 1991 East Timor independence movement and the 2008 Republican National Convention to this year's pipeline protests and everything in between. What's significant about the reports of those three events is that in each case Goodman risked death or arrest simply in order to point a camera at real people and real problems. Goodman's 20-plus years of fearless reporting and unquestioned integrity distinguishes her, for many people on the left, as a journalist to trust in face of a bewildering Trump presidency. …
Now more than ever, independent journalism demands a strategy built around championing the truth and the people willing to tell it. …
Perhaps after 20 years on the job, Goodman is well positioned to lead a media revolution, one in which we demand that our news stands truthful, independent and fearless in the face of lies.
Read the piece in Salon here: A hero of real news: Amy Goodman and "Democracy Now!" celebrate 20 years of fearless journalism in the age of lies
Or, click here to watch the special live broadcast and discussion from Democracy Now!'s 20th Anniversary Celebration.
---