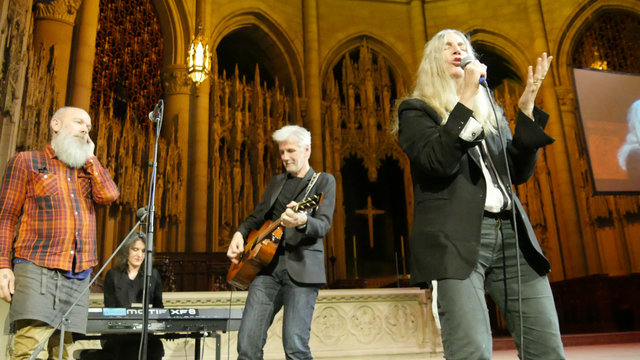 Image Credit: Rafael Shimunov
The legendary singer, poet and author Patti Smith performed on December 5th, 2016 at Democracy Now!'s 20th anniversary celebration. Smith opened with "Peaceable Kingdom," a song she wrote for Rachel Corrie, the American activist killed by an Israeli bulldozer in Gaza in 2003. Smith dedicated the song to the young artists who died in Friday's fire in Oakland, as well as young journalists and activists who have lost their lives. Michael Stipe of R.E.M. then joined Smith on stage to perform "People Have the Power."
Rolling Stone's Jon Blistein writes:
Noting that the song was originally written for Rachel Corrie, an activist who died during a peacekeeping mission in the Gaza Strip, Smith also paid tribute to young activists, artists and journalists striving for peace and change. She then added: "And we also would like to remember all the young people who lost their lives in the Oakland fire. And when you look at the pictures of them, all of them brimming with such hope, we need our young people. We pin our faith on them. They are going to make the most revolutionary changes in human history. They will continue to build peace movements, to protect our environment. And so we sing this little song for them."
Read the piece in Rolling Stone and see a video of Smith's performance here: Watch Patti Smith Honor Oakland Fire Victims With 'Peaceable Kingdom'
Or, click here to watch the special live broadcast and discussion from Democracy Now!'s 20th Anniversary Celebration.
---