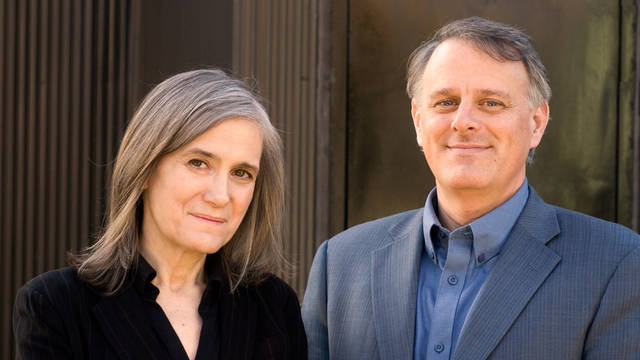 Media Options
By Amy Goodman and Denis Moynihan
There are 10 million people in North Carolina, and 9 million hogs. Judging by the smell, the hogs are winning. Or, rather, the giant corporate factory hog farms are. Hogs are the largest agricultural product of the Tarheel State, adding at least $2 billion to the economy there. How the hogs are raised and slaughtered, and how the waste is handled, is making life miserable for many North Carolinians. Billions of gallons of pig feces and urine are collected in lagoons, mixed with blood and rotting pig body parts. To keep these fetid ponds from overflowing, the toxic liquid is pumped skyward with enormous spray devices, aerosolizing the waste, which is carried away by the wind. Neighbors suffer indescribably bad odor and an array of illnesses. The notoriously regressive Republican majority in the North Carolina statehouse has passed a bill—H.B. 467, Agriculture and Forestry Nuisance Remedies—to protect the factory hog farming industry from liability, which the state's recently elected Democratic governor has yet to sign—or veto. In the meantime, impacted communities, mostly African-American, are fighting back.
Naeema Muhammad, organizing co-director for the North Carolina Environmental Justice Network (NCEJN), described the problem on the "Democracy Now!" news hour:
"The hogs are kept in tin metal housing [with] slats in the floor. Whenever they go to the bathroom or abort baby piglets or whatever, it falls through the slats in the floor, and it's piped out into the open-air lagoon. This urine and fecal matter produces methane, ammonia gases, and so you can smell it … it smells like rotten eggs, sometimes rotten collard greens—it's just a terrible smell. And they [local residents] have been forced off of their wells, because they were seeing remnants of the waste in their well waters by the coloring and the odors."
NCEJN, together with the Waterkeeper Alliance and the Rural Empowerment Association for Community Help, filed a complaint with the Environmental Protection Agency. Naeema Muhammad explained: "We joined together and filed a Title VI complaint, under the Civil Rights Act of 1964. Title VI states that governmental agencies cannot do business in a way that intentionally or unintentionally have a disproportionate impact on low-income communities."
The complaint includes research findings from Steve Wing, associate professor of epidemiology at the University of North Carolina's Gillings School of Public Health. Wing was interviewed by Mark Devries, a filmmaker and animal-rights activist. Devries took the first aerial drone footage of North Carolina's factory hog farms, with their expansive reddish-brown waste lagoons. Wing told Devries, "It can, I think, very correctly be called environmental racism or environmental injustice that people of color, low-income people, bear the brunt of these practices."
In addition to the EPA complaint, impacted residents have filed a series of lawsuits alleging violations of property rights, since people are forced to stay indoors to avoid the smell and the constant clouds of filth raining down. The target of the lawsuits is the largest factory farmer in the state, Murphy-Brown LLC, which is the hog supplier for corporate food giant Smithfield Foods. Smithfield Foods, in turn, is owned by WH Group, a Chinese-owned multinational food corporation listed on the Hong Kong Stock Exchange. These lawsuits are not targeting family farms, but heavily polluting, foreign-owned factory farms.
Will Hendrick, staff attorney with the Waterkeeper Alliance and manager of the organization's North Carolina Pure Farms, Pure Waters campaign, elaborated on "Democracy Now!":
"The attempt here is not to drive this industry out of North Carolina. Agriculture has been and will continue to be an important part of our economy. However, no industry is worth the impacts on public health and the environment that we have seen in this industry. And so, the attempt here is not to bleed that industry dry, but instead to make sure that that industry is conducted, that these operations are managing waste, in a way that doesn't harm their neighbors."
Elsie Herring, a resident of Wallace, North Carolina, was interviewed by Devries. She told him: "This is where they spray animal waste on us. This is about eight feet from my mother's house. … You think it's raining. We don't open the doors up or the windows, but the odor still comes in. It takes your breath away. Then you start gagging. You get headaches."
Despite the enormous impact on so many residents, factory farming has its loyal defenders in the North Carolina Legislature, among them state Rep. Jimmy Dixon. At a hearing on H.B. 467, Dixon, who has received at least $70,000 from factory farm contributors, said "These claims are at best enormous exaggerations and at worst outright lies. Is there some odor? Yes. But I would like you to close your eyes and imagine how ham and sausage and eggs and fried chicken smell."
Something is rotten in North Carolina. Gov. Roy Cooper can't veto the smell, but he can veto this noxious bill.
---