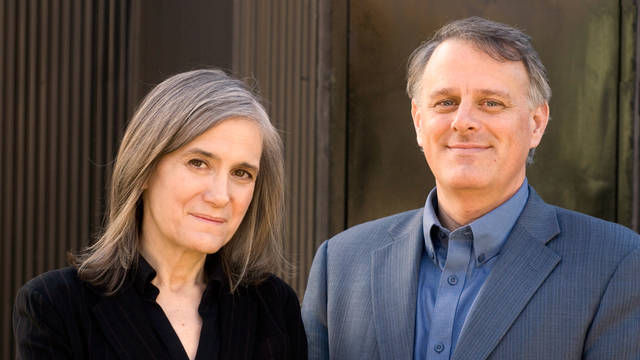 Media Options
By Amy Goodman and Denis Moynihan
Wendy Newton and Nicolette Green didn't have to die. Trapped in the back of a sheriff's van in rural South Carolina, the two mental health patients in their mid-40s were being transported when their van was flooded following Hurricane Florence. The deputies driving the women managed to escape, but the two helpless patients died an unnecessary, agonizing death by drowning.
"We have two hurricanes," the Rev. William Barber explained on the "Democracy Now!" news hour. "The hurricane of poverty and lack of health care and lack of living wages that existed prior to the storm, and then we have the storm, and now everything that was already tough for people has been exacerbated." Barber is the North Carolina-based pastor who co-founded the renewed Poor People's Campaign, inspired by Martin Luther King Jr.'s 1968 movement of the same name.
The storm, while downgraded from a Category 4 hurricane to a tropical depression, crept along at just a few miles an hour, drenching the Carolinas in what has been called a "thousand-year storm." Despite mandatory evacuation orders, many were trapped, too poor to escape. Prisoners remained in their cells, stranded by state and local authorities who refused to relocate them. The destructive deluge was further compounded when coal ash ponds and fetid hog manure lagoons were overwhelmed, sending their toxic contents running with the floodwaters into nearby communities of mostly poor people of color. President Donald Trump made a carefully stage-managed visit to the region on Wednesday, stopping by command centers and aid stations staffed mostly by white people. Predictably, he gave himself and the federal emergency response great grades.
"Trump is coming to visit today, but the negative impact of his policies were visited on the poor and low-wealth long before he came," the Rev. Barber said. "There are over 4.7 million residents in North Carolina that are poor. There were over a million people in North Carolina, before the storm, that did not have health care. The counties that are being hit the hardest are Tier I and Tier II. Tier I is the most distressed county in terms of housing, health care and poverty, and Tier II is the next level," he added.
Barber pointed out that "people are looking at what happened on the coast. We actually dodged a bullet on the coast. But if you come inland now, where mostly the poor live, along these rivers, in these rural communities, they are being devastated." Children aren't going to school, so they aren't receiving the daily food they get there. People with hourly wage jobs, living paycheck to paycheck, are not working, so they are not getting paid. "When the governor and others said evacuate, they couldn't evacuate, because they don't have the money, they don't have the cars, they did not have the ability," Barber stressed. "The president will say he's going to give federal money. But this state has refused federal money that would have helped the poor prior to the storm, so that they would have buffers against the storm."
The floodwaters not only drown, but poison and pollute. A complex, toxic brew is unleashed when floods reach and overtop open-air holding ponds that contain either coal ash from coal-fired power plants or manure lagoons at industrial hog farms. Additional toxicity can potentially flow from Superfund sites that dot the Carolinas, and innumerable chemical facilities. Will Hendrick of the Waterkeeper Alliance said, as of late Wednesday, that coal ash breaches had been documented at two of Duke Energy's North Carolina coal-fired power plants, the Sutton plant near Wilmington and the H.F. Lee plant near Goldsboro, just over 6 miles from the Rev. Barber's Greenleaf Christian Church. Coal ash contains a slew of heavy metals, which, if consumed, can cause an array of serious health problems, including cancer and birth defects.
The North Carolina Dept. of Environmental Quality reported Wednesday that at least 21 hog manure lagoons were overflowing, with five showing structural damage and 83 close to overflowing, unleashing torrents of pig feces, urine, blood and body parts into the floodwaters and potentially infecting people nearby.
Like President Trump, the Republican majority in the North Carolina Legislature denies climate change, passing a law six years ago prohibiting state and local agencies from making decisions based on the latest climate science about sea level rise. If their deliberations were based on facts and guided by climate justice concerns for the most vulnerable, it's likely that many North Carolinians, as well as downstream victims of Hurricane Florence like Wendy Newton and Nicolette Green, would be alive today.
---